There is a reason why everyone is talking about 3daysofdesign. Only 10 years old, this Copenhagen design festival is a relative newcomer compared with the many others that take place around the world, yet its influence is growing rapidly — and it's not hard to see why.
Most design events centre around an out-of-town fair where huge halls are filled with exhibition stands — think the Salone del Mobile in Milan or the Stockholm Furniture Fair. These stands are expensive to build, hugely wasteful in terms of material lifespan, and create an environment where visitors have no sense of the city they are in. At 3daysofdesign, things are done very differently.
Denmark's incredible design heritage means that many leading brands have their headquarters, or at the very least a showroom, in Copenhagen. It's a list that includes the likes of Hay, Kvadrat, Ferm Living, Gubi, Muuto, &Tradition and more. This makes it possible for 3daysofdesign to primarily take place in venues across the city.
The most recent edition, which took place from 7 to 9 June, 2023, was the biggest yet, with a whooping 290 brands exhibiting. Significantly, it also had a huge international presence. Brands like Tom Dixon, Magis and Vitra found a clever way in by partnering with lesser-known Scandinavian brands, fostering an enjoyable sense of collaboration. All in all, it felt like a place where new conversations were being started.
There was so much to see, far more than was possible in just three days, but I have picked out seven key highlights that capture the spirit of this inspiring festival:
Three
The American Hardwood Export Council (AHEC) was out to make a statement with this exhibition of objects produced by three Scandinavian designer-makers, notably all women. Anne Brandhøj from Denmark, Pia Högman from Sweden and Anna Maria Øfstedal Eng from Norway were each given a different wood and given free rein to experiment. The striking results included a trio of consoles pierced by undulating curves, chairs with vivid colour finishes and a set of shelves that were shaped with a chainsaw.
Hay
Led by husband-and-wife duo Mette and Rolf Hay, Danish homeware powerhouse Hay never fails to impress. Its latest offerings, shown in the Copenhagen showroom called Hay House, included a surprisingly comfortable wooden lounge chair by Norwegian designer Andreas Bergsaker, a highly elegant desk lamp from British designer John Tree and even a set of pyjamas, by Danish designer Tilde Bjerregaard. But the star of the show was a conference table developed by German designer Stefan Diez, which — thanks to ingenious use of extruded aluminium — is extremely lightweight and flat-packable.
Tableau
Julius Værnes Iversen has an incredible eye for interiors, so no surprise that his studio and concept store Tableau, which started out as a flower shop, has become a treasure trove of avant-garde design. For 3daysofdesign, it presented two exhibitions. The first, a collaboration with Finnish brand Vaarni, showcased pine wood furniture that challenged the perception of this humble material. The second saw Iversen uncover a rarely seen before lamp from the archive of late Danish artist Poul Gernes and faithfully recreate it in hand-shaped aluminium.
Design in the age of AI
SPACE10 is a design research lab that works on behalf of Swedish furniture giant IKEA to explore how new technologies and shifting behaviours will disrupt our homes and lifestyles in the future. With Artificial intelligence, or AI, looking set to do exactly that, it staged this eye-opening exhibition to show what an AI-designed future might look like. The biggest conversation starter came courtesy of experimental Swiss studio Panter&Tourron, which used AI to develop a reconfigurable sofa that can be folded up and carried like a briefcase.
Louis Poulsen
Louis Poulsen has produced so many iconic mid-century designs that you can sometimes forget this Danish lighting brand is also looking ahead to the next generation. That message came across loud and clear during 3daysofdesign, thanks to a collaboration with uber-cool New York glass artists Home in Heven. This talented duo, known for their recent work with on-trend French fashion label Coperni, put their own stamp on celebrated works by Poul Henningsen and Vilhelm Lauritzen. The addition of devil horns, flower petal shapes, octopus tentacles and swirling colours made these classic designs feel impressively fresh and edgy.
The Sensory Society
The most visually satisfying exhibition of the week came from Danish designer Helle Mardahl, whose candy-coloured glassware looked good enough to eat. Taking over an entire apartment, Mardahl took inspiration from Wes Anderson's Grand Budapest Hotel to create an interior that appealed to all the senses. A grand dressing table was stacked high with glossy creations in pleasing pops of red, pink and blue, while a bar showcased the designer's statement tableware, including her latest creation, a wine glass with a gloriously bulging stem.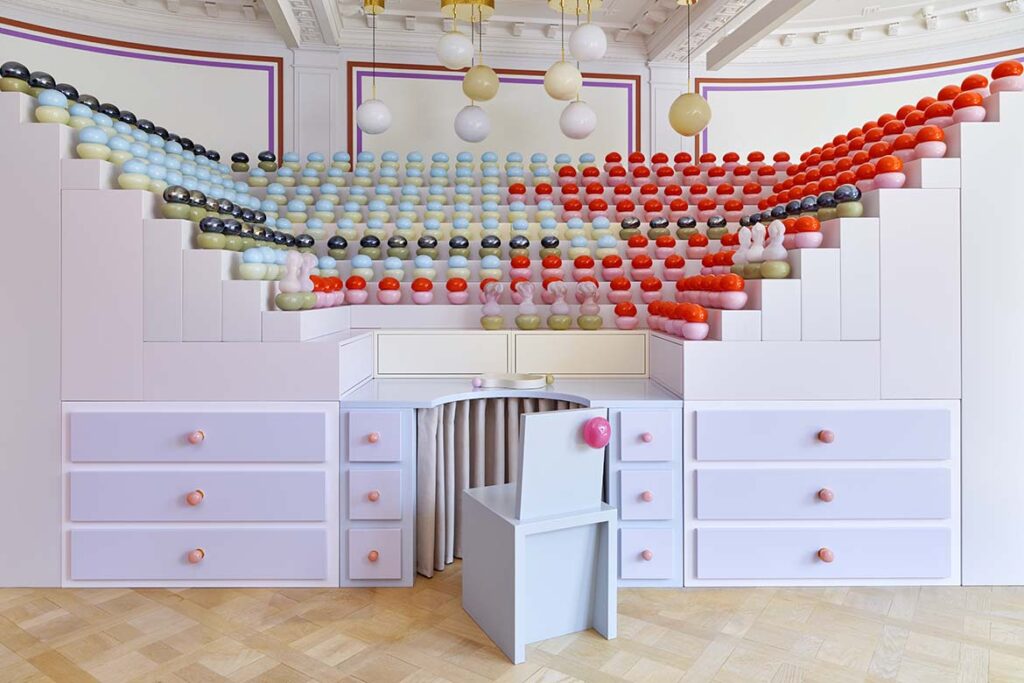 Refshaleøen
A journey across the water to the official 3daysofdesign hub at Refshaleøen was a must. This former industrial shipyard, now home to art gallery Copenhagen Contemporary, offered a feast of projects focused firmly on the future. A favourite was Human Nature, a mega-display of leather-like biotextiles from Copenhagen-based Natural Material Studio, while the Ukurant exhibition revealed emerging designers exploring exciting new forms of material craft.
---