Year on year, the events of Salone del Mobile and Fuorisalone ignite the ancient city of Milan with an inimitable showcase of contemporary design. And, year on year, Milan Design Week does not disappoint.
Building on the precedent of multi-sensory design set by last year's iteration of the fair, exhibitors throughout Milan Design Week 2023 delved deep into the notion of immersive design, serving up a plethora of hypnotic installations and provocative design juxtapositions – where tradition met technology, perfect met imperfect, furniture met fashion, hard met soft, and past met future.
The increasingly high calibre of installations and exhibits on display throughout Milan Design Week continually raises the bar for what it takes to stand out from the crowd. Add to that the jetlag, long days, and even longer nights, and it's no small feat for an exhibitor to make a lasting impression.
Here are eight designers and installations that caught (and held) my attention during the flurry that was Milan Design Week 2023.
Hermès
Luxury French fashion house, Hermès, has made a habit of showing up at Milan Design Week and wowing spectators with its ever-impressive – at times, excessive – installations. This year, however, Hermès stripped its staging of all excess, to display a framework composed of iron rods and concrete. Its interplay of grids and lines created an ideal yet very real space for representation. The brand's new homewares on display asserted strength through subtraction with effortless presence. This is the very essence of design, drawing inspiration from materials and expressed through skilled know-how. Hermès' simple yet impactful use of such quotidian, industrial materials such as steel re-bar and concrete took something ordinary and created something extraordinary.
Grohe Spa Experience
Grohe's installation at Milan Design Week 2023 was, without doubt, a show-stopping exhibit that encapsulated everything there is to love about Salone del Mobile and Fuorisalone. Simultaneously a tribute to the period architecture of the iconic Pinacoteca di Brera, and a truly immersive showcase of contemporary design, the Grohe Spa Experience stood out as considered, contemplative, and captivating. The installation enabled you to experience this historic, neoclassical building in a whole new perspective.
Occhio, 'New Horizons'
Amidst the historic grounds of Villa Necchi Campiglio – a private 1930s Milanese house-turned-museum – German lighting brand, Occhio got inventive with a small space and inexpensive materials to present an immersive lighting exhibition aptly titled 'New Horizons'. In the spirit of a total work of art, 'new horizons' was a completely new, holistic experience of Occhio's evocative approach to lighting design. The whole thing was like an illusion; deceptive and somewhat disorientating, but in the best possible way. At the same time the idea of 'new horizons' went far beyond this installation, representing Occhio's endless drive to innovate, to always strive for something new, and to never stand still.
Nilufar Depot, 'The Bright Side Of Design'
Visiting the impeccably curated exhibits of Milan's most renowned contemporary galleries is always a highlight of Milan Design Week. This year, my hat goes off to Nilufar Gallery founder, Nina Yashar, for her outstanding exhibition: 'The Bright Side of Design'. Unfolding across dual venues – Nilufar Gallery and Nilufar Depot – The Bright Side of Design served to shed light on parallel and congruent paths to explore state-of-the-art collectible design.
Amongst the classics, The Bright Side of Design presented Poikilos, a new series of ethereal furniture and homeware designs by New York/Athens based research and design studio, Objects of Common Interest, that celebrates the fluidity and iridescent quality of resin.
Mario Tsai, Light from Architecture
In its usual creepy-cool fashion, Alcova invaded the grounds of a former slaughterhouse, Ex-Macello di Porta Vittoria, and brought the abandoned shell of a building back to life with a showcase of experimental and progressive high-end design. Amidst it all, one particular independent designer, Mario Tsai, caught my eye with its architecture-inspired lighting designs. Exploring layered architectural structures filled by invisible light sources, Mario Tsai Studio has created three variations, based on nature and structure: Bloom, Grid Lighting, and Pagoda. I walked away from Mario Tsai's stand with a renewed appreciation for minimalism, and the power of subtraction.
Alessandro Ciffo at Rossana Orlandi Gallery
Curated by the great Rossana Orlandi – a stalwart figure on the Milanese design scene – and displayed at her eponymous gallery, RoCOLLECTIBLE 2023 once again served up an inimitable showcase of classic and contemporary collectible design. Comprising pieces from 80 different artists and designers, hailing from 30 different countries, the exhibition was wholly inspired. But it was the work of self-taught design maestro, Alessandro Ciffo, in particular that I admired. Using silicon as his material of choice, Alessandro had reinterpreted ancient ceramic forms to create a collection of amazing silicone vases that seem to be generated by a time machine. With their unconventional and intriguing use of materials, these pieces were fascinating, and just begging to be touched!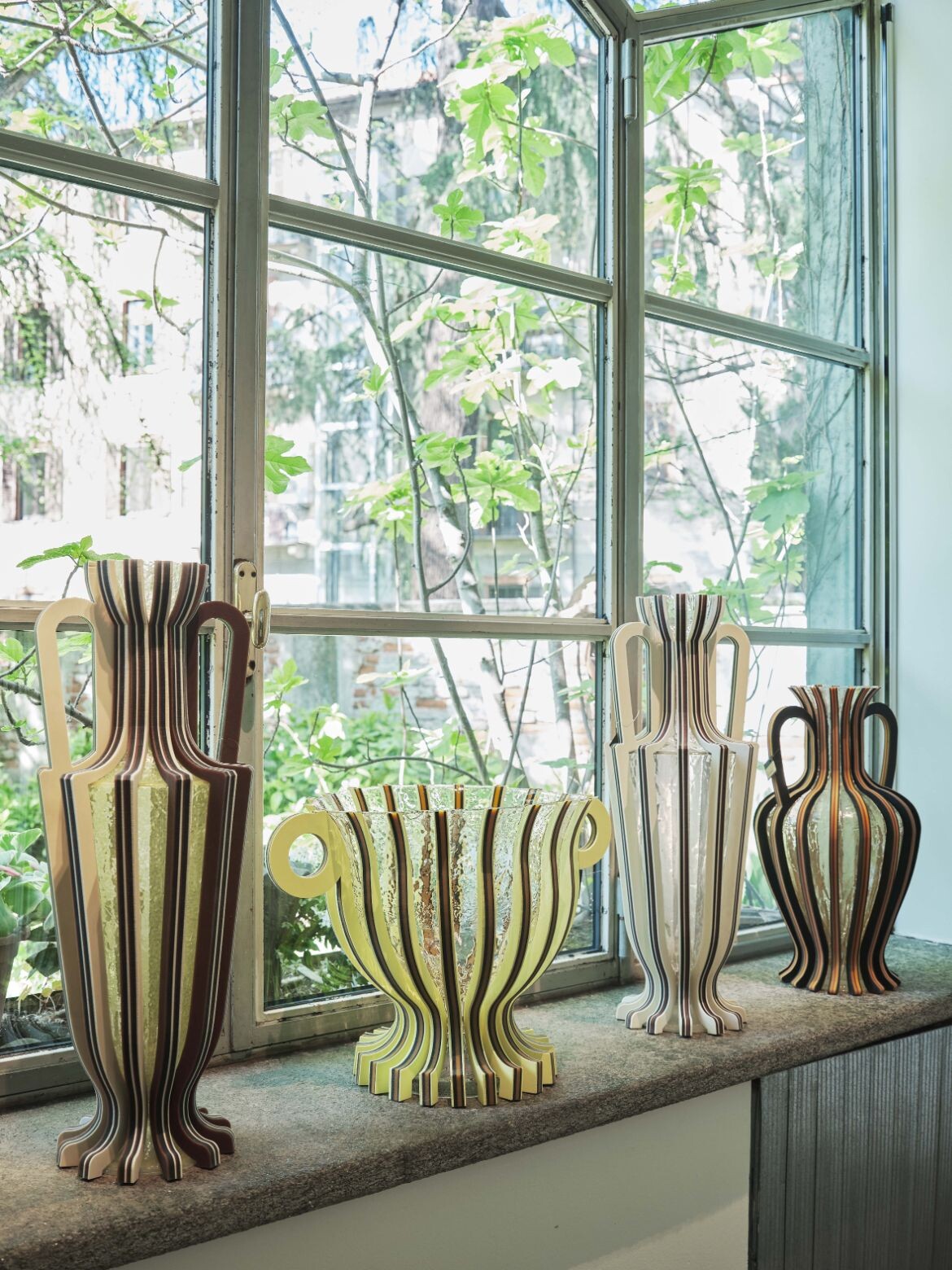 Draga & Aurel at Rossana Orlandi Gallery
For the third year running, Draga & Aurel (deservedly) played a leading role at RoCOLLECTIBLE, an event dedicated to collectible design and presented during Milan Design Week in the city's iconic Rossana Orlandi Gallery. Like a brimming waterfall, colours, light, and transparency seize the space. For this new project, the couple drew inspiration from the Lighting Boxes by artist and composer Brian Eno: similarly, Draga & Aurel propose an encompassing immersive experience, in which design objects and artworks meet and complement each other once again. Evoking the free-spirited nature of the 70s, I love that Draga & Aurel's pieces manage to be at once experimental and playful, yet highly considered and curated.
SolidNature, 'Beyond The Surface'
There's a reason SolidNature's Beyond The Surface exhibition is being touted as 'the most unforgettable exhibit' on display at Fuorisalone 2023. Designed by OMA, and featuring sculptural collaborations designed by the likes of Sabine Marcelis, SolidNature presented an immersive multi-sensory experience. Below ground visitors discovered a sequence of spaces, exploring parallels between the life of stone and the formation of human character in seven acts.
The final act unfolded upstairs, in the garden of Casa Maveri. Here the exhibition continued with sculptural pieces by celebrated artists and designers, celebrating stone in its glorious, finished form. Here, Sabine Marcelis' sculptural banquet table was utterly drool-worthy. The styling was exquisite, and the juxtaposition of the ombre, sunset-toned glass against the stone was a work of art in itself. No charcuterie board will ever compare.
This article was written by Cera Stribley's head of interior design, Jessica Coulter.
Cera Stribley
c-s.com.au
---