Rooted in Singaporean culture and situated above Chinatown's historical shophouses, Mondrian Singapore Duxton is one of the newest additions to the Lion City's hospitality landscape. Designed from the ground up by DP Architects with interiors crafted by Studio Carter's principal and founder, Robbyn Carter, the hotel eschews the traditional with a philosophy of 'deconstructed shophouse chic'.
"Rather than a direct translation of the classic shophouse, we took its parts and deconstructed it into contemporary forms," shares Carter, whose design was informed by her experience living in a shophouse for six years in Singapore before returning to Los Angeles. "We wanted to recognise it but also reinvent it, that Singapore silhouette, and rediscover old details in contemporary and unexpected touches."
Carter's vision comes to life throughout the hotel, particularly in the Shophouse Suites. These suites infuse traditional elements with modern touches, featuring vaulted ceilings and arched wooden shutters, with Murphy-style beds that transform the space from a bedroom into a meeting or entertaining area.
In the hotel rooms, inspiration abounds, with sleek glass shower boxes protruding through rough plaster walls and a minibar Carter calls the 'cloud bar', which was inspired by her frequent travels into Singapore by air. Warm timber accents, stunning lighting options, copper or steel-coated arches, and custom contemporary furniture bring a touch of Mondrian's iconic design.
As a nod to Duxton's vibrant neighbourhood that has a strong sense of community, Carter eschewed the traditional lobby for a living, breathing restaurant and bar vibe. Guests are welcomed into Bottega di Carna, a vibrant hotspot where the kitchen buzzes with chefs, flames from the Josper grill, and displays of meat in a jewel box showcase. 
"We didn't want the lifts and reception to be the main thing when you walk into the hotel," says Carter of her unique approach. The space is dressed in bespoke furniture and looks out onto the lush garden. Large, wavy metal mirrors play with reflections, evoking the water-centric nature of Singapore, and an artist-commissioned graphic artwork on the ceiling of Bottega di Carna was inspired by Singapore's flora, fauna, architecture, and cultural melting pot. "This graphic also carries through into the hotel rooms," Carter adds.
Accessed by a secret tunnel adorned with greenery that illuminates at night, the Jungle Ballroom is a tropical cocktail bar that celebrates the ultra-vibrancy and wild nature of Southeast Asia. Unlike this hidden gem with a sunken lavastone bar, the Canyon Club Rooftop Bar and Poolside Cabanas at Mondrian Singapore Duxton transports guests to the glitz and glamour of 1970s Hollywood. With a 360-degree backdrop of the Singapore skyline and Chinatown shophouses, this oasis offers retro-vibed low velvet seating at the bar and vibrant striped cabanas by the water.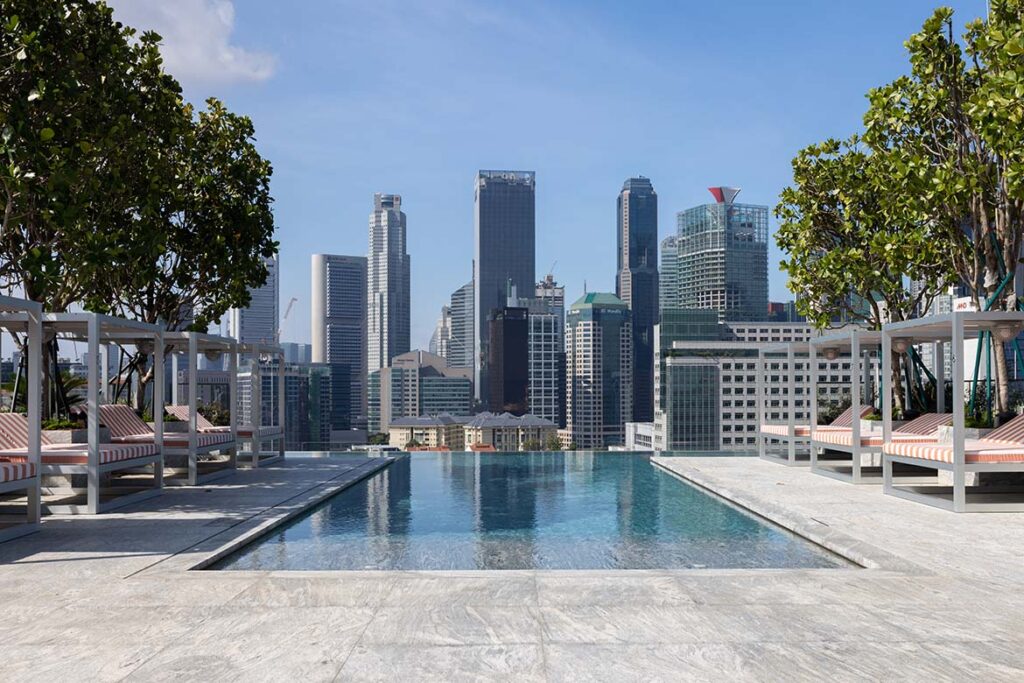 Carter's design encapsulates Duxton Hill's vibrant spirit while DP Architects' facade design pays homage to the rich history of Duxton. "It echoes the scale and proportion of adjacent shophouses while common decorative elements are abstracted into architectural features," shares Suneeth Changaroth, director at DP Architects. The result is a minimalist and modern design adaptation that respects tradition while embracing the contemporary.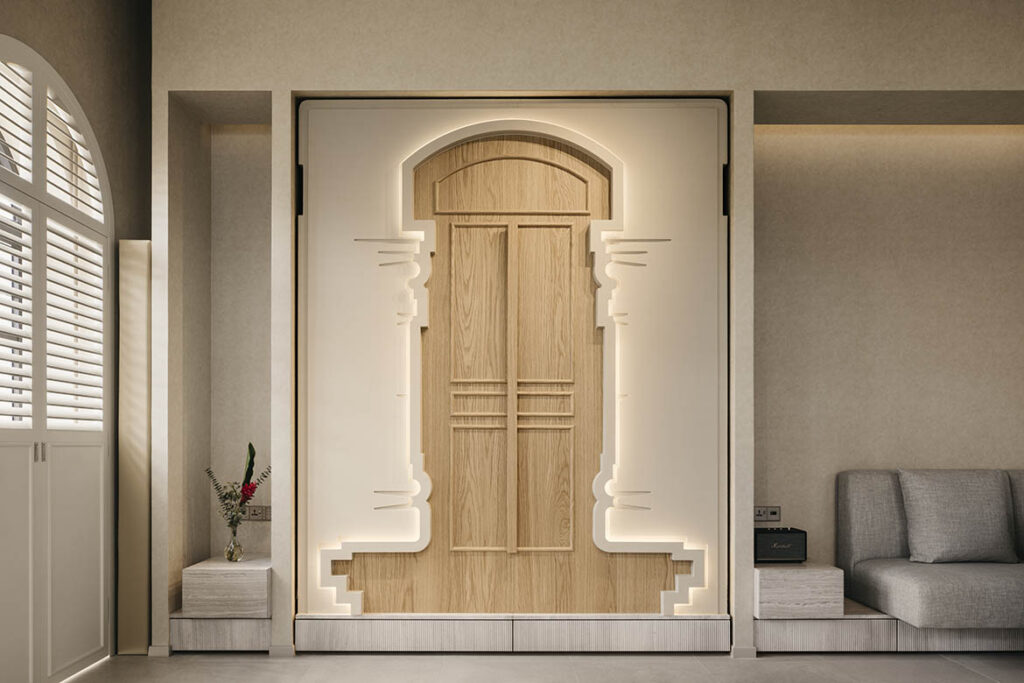 ---