Water was the starting point for the design of Hogan Lovells' new LEED-certified office in Beijing. Designed by MCX Interior, the project drew on the idea that the law firm moves as one fluid team; united, yet with many perspectives.  
Hogan Lovells' previous office had been in the same building, China Central Place. In fact, the American-British firm had two separate offices in the same building; one for the corporate practice group, and one for intellectual property. When a full-floor space came up in China Central Place, the law firm saw it as an opportunity to unite its teams in one 25,000-square-foot workplace. 
In addition to bringing people together in a welcoming and inclusive workplace, the firm also wanted to operate sustainably. Globally, it has set net-zero carbon targets. For Beijing, this meant building a sustainable space; one that has since received LEED Gold certification. 
Hogan Lovells brought MCX Interior on board to help them achieve this. As well as offering expertise in workplace solutions and sustainability, the design studio brought another ace to the table. R. Shane McNamara, Co-Founder and Managing Director of MCX Interior, is a Hogan Lovells alumnus. He not only knew what a law firm would need in its office, but he also had first-hand knowledge of the inner workings of this particular law firm. 
He knew, for example, that they would need traditional meeting rooms for confidential client conversations, and private offices for some of the partners. The new office delivers this while bringing it back to the water theme. MCX Interior drew on the idea that, at the water's edge, you can find plenty of life and plenty of different perspectives. Around the outside of the office, therefore – at the edge of the 'water' – are focus areas, collaborative spaces and pantry areas for those casual collisions. 
The formal meeting spaces are flexible, too, giving the whole office a sense of fluidity. Movable partitions from Clestra allow the reception area, meeting rooms and a business lounge to transform quickly and with ease into shared spaces for town halls and events, and then back again.
As part of Hogan Lovells' sustainability drive, MCX Interior focused on water, and how they could reduce water wastage in the office. Water-saving fixtures have done the trick – water usage is down by 38.22 per cent. 
Other sustainable design features include Energy Star computers and monitors, which reduce energy consumption by around 30 percent, compared with non-Energy Star devices. MCX Interior used low-emitting materials – from adhesives and sealants to flooring, composite woods, and thermal and acoustic insulation and furniture – to boost air quality. Meanwhile, low-power, long-lasting lighting, along with motion and daylight sensors, have helped reduce energy consumption in this office by 30.52 per cent. 
The lighting system runs in 'flowing rivers' along the ceilings, drawing the eye upwards and creating a sense of water-like connection between each room – and each team.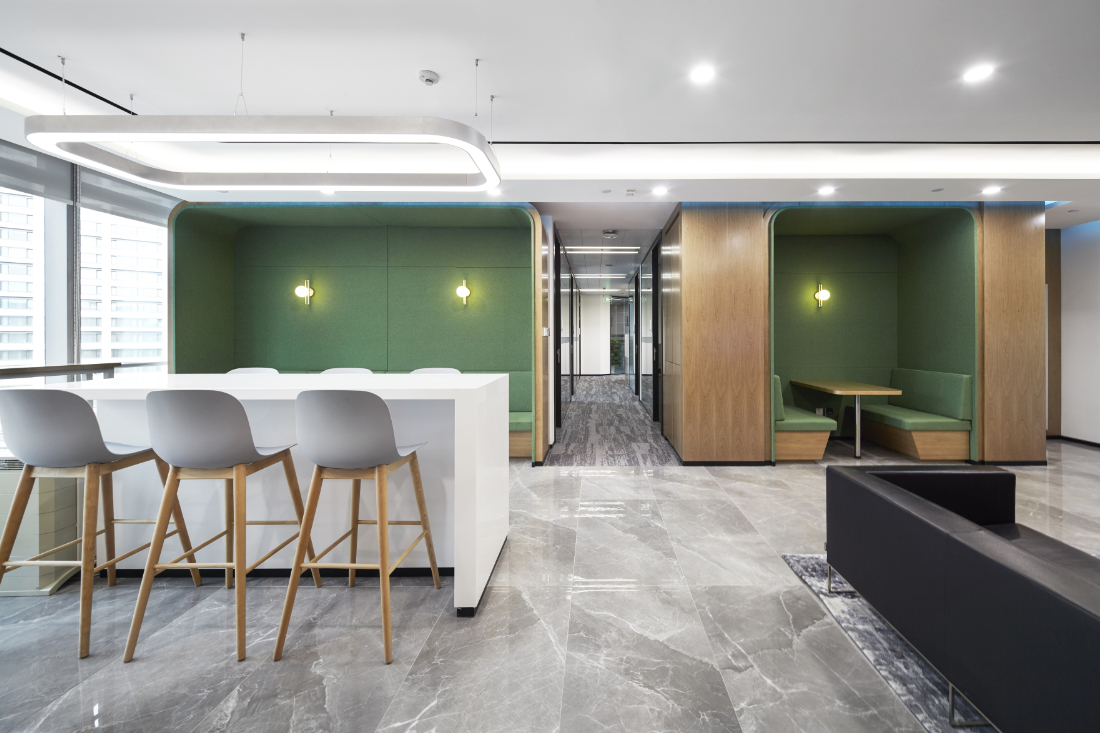 MCX Interior also designed the space in such a way that light reaches the inner areas, minimising the need for artificial lighting. The meeting rooms use a polarised electronic glass system to create privacy when it's needed while maintaining access to natural light. Glass panels are double-paned to support discretion.
Alongside access to natural light, ergonomic chairs and height-adjustable desks support employee well-being at work. Plants bring vibrant life into the common areas, with rich shades of forest green and wood-panelled walls add a sense of warmth against a cool, crisp white backdrop. It's an inspiring space that invites people to come together, respecting their differences, their diverse working needs – and the planet. 
.
Hogan Lovells' Beijing office
Client: Hogan Lovells
Location: Beijing, China
Interior Designer: MCX Interior
Project Team: Archie Cruda, Dante Naval, Jane Jian, Manhong Xiaoa, Micah Gonda and Shane McNamara
Project Management: F+G
Lighting Designer: MCX Interior
Date of completion: December 2020
Time to complete: 4 months
Total floor area: 2,322 sqm
Finishes: Aerial collection carpet tiles in open workspaces, Partner rooms and meeting rooms from nora by Interface
Furniture: HAT Elements workstations in open workspaces and Partner rooms from Haworth
---