RMBL has gone about its business delivering financial services, in an orderly manner, for over 60 years. Expectedly, the office at the head of the whole operation has been one of regimented sorts, in both its programme—a grid-like assemblage of offices, meeting rooms, boardrooms and lines of workstations—and its practices, which were conventional at best. That was until GOLDEN stepped in and threw the monotony out the window.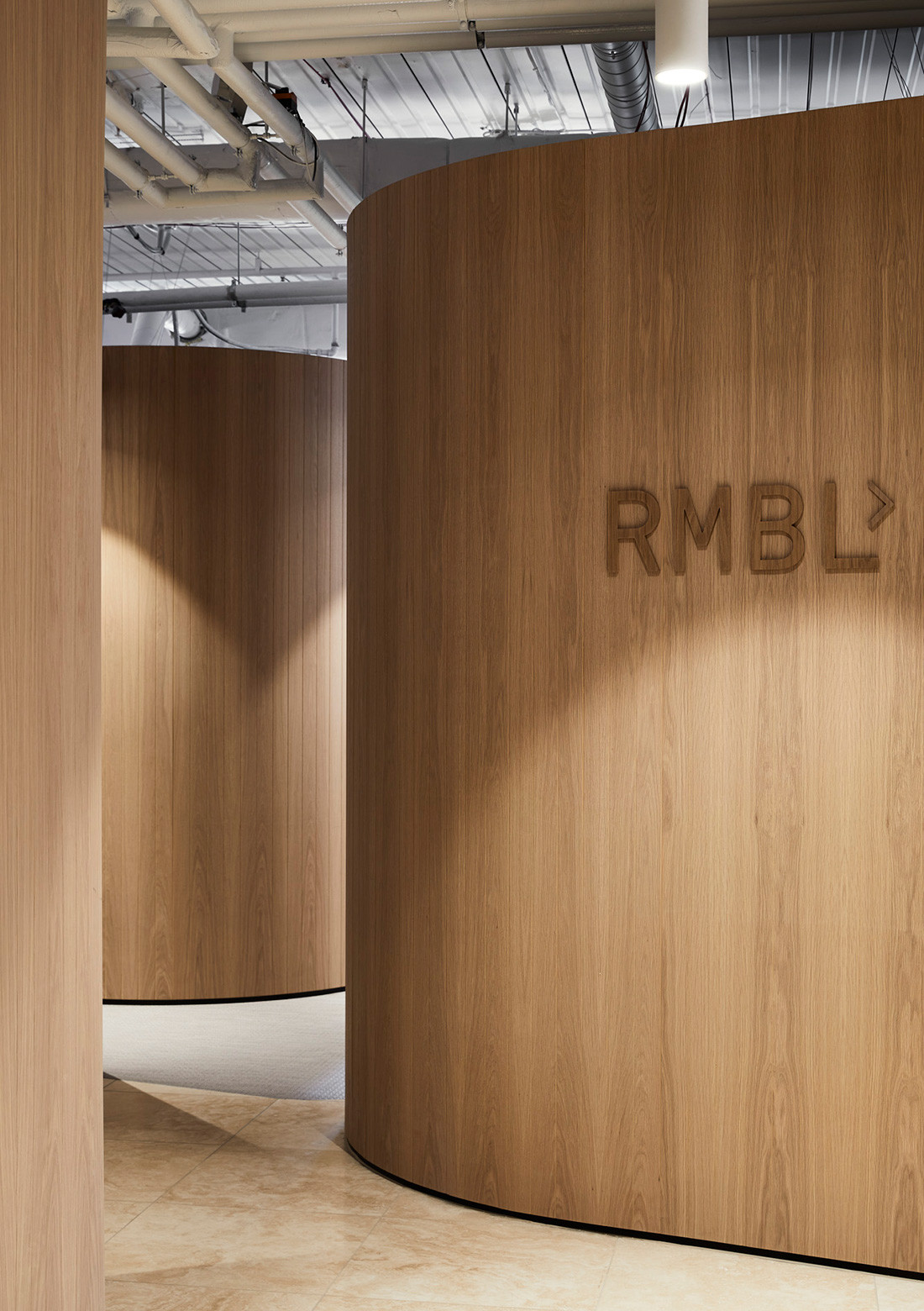 Based in the industrial centre of Dandenong—in the outermost of south-east Melbourne's industrial outskirts—RMBL has a new HQ and a new way of working, to boot. The new workplace has been designed by GOLDEN, the Melbourne-based design practice of Kylie Buhagiar and Alicia McKimm, whom RMBL engaged to design a modern, open-plan fit-out conducive of an activity based working model.
The brief had prescribed a variety of work settings suited to different day-to-day activities and cultivate a culture of collaboration and knowledge sharing amongst RMBL's loyal and long-standing team. In response, GOLDEN designed a dynamic, comfortable workplace comprising flexible workspaces, some open and some enclosed, that facilitate both collaboration and focused work in a variety of different ways.
Situated above Dandenong's public library, the new office boasts luscious views of the infamous Dandenong Ranges. Throughout the floorplate, there are workstations, timber-enclosed pods and glass-walled meeting rooms. RMBL staff host client presentations in the meeting rooms, while confidential negotiations or consultations can take place in the pods. Visiting consultants can also use these workspaces if needed.
That's just where the focused work happens; there's also the more informal, flexible workspaces, as well as zones for downtime and socialisation. A dedicated breakout area, that channels the vibe of a cafe, is where staff can socialise and eat. It is also equipped to become a presentation space, when facilitating large groups. Furniture of different types and heights, including low seating and bar stools, allow for diverse modes of collaborative work. All desks are ergonomically optimised sit-to-stand desks, of course.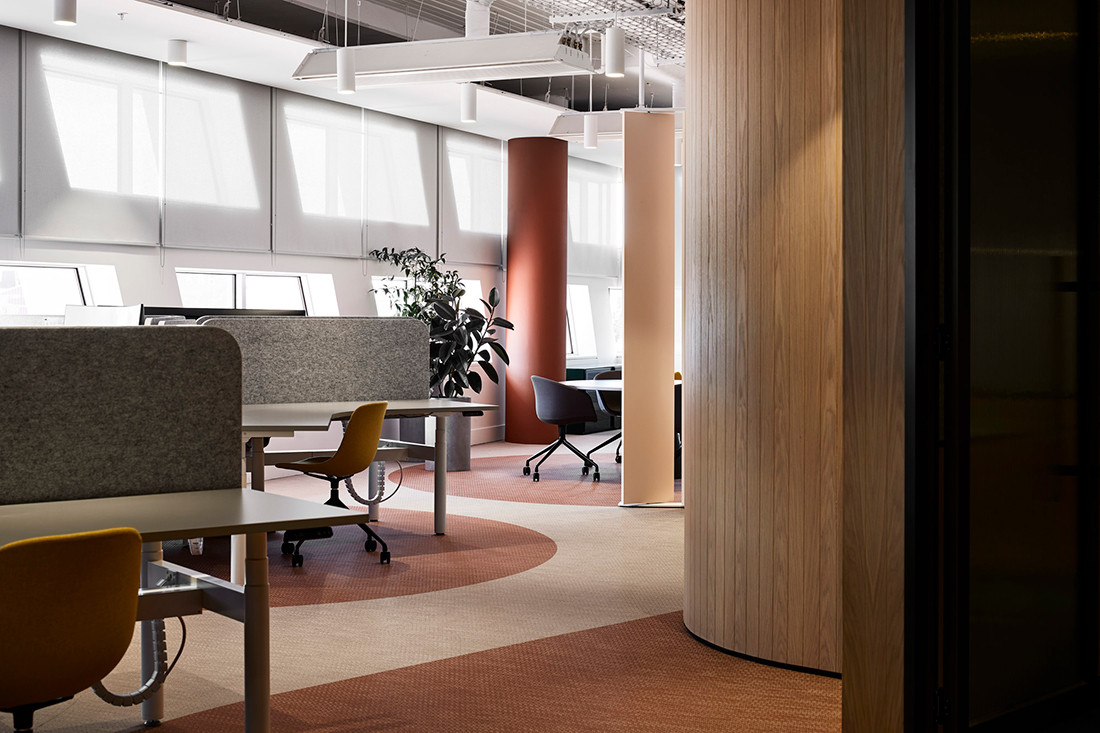 Behind the scenes, the pragmatic nuances of acoustic design, zoning and wayfinding work hard to harmonise the experience of multiple flexible workspaces in an open plan office.
The modern design aesthetic is intended to encourage new ways of working together and sharing knowledge in a social office environment. Behind the scenes, the pragmatic nuances of acoustic design, zoning and wayfinding work hard to enable all that to be in the same place at the same time, without being chaotic or disruptive.
Acoustics are the achilles heel of open-plan offices required to facilitate collaborative and activity based work. To ensure RMBL would be able to work harmoniously, together and at once, in the new space, GOLDEN worked closely with an acoustic consultant. In completion, all private and quiet areas, such as the phone booths, offer optimum acoustic insulation. An acoustic treatment and white noise signals have been installed on the exposed ceiling in the key hub areas where the expressed ceiling height would otherwise bounce sound. The separators between desks have also been applied with an acoustic fabric (E-C-O-U-S-T-I-C.), which is low VOC and made from recycled plastic bottles.
A palette of orange, rust and green adds vibrancy, warmth and depth to the workspace, while acting as a means of wayfinding and delineating between programmatic zones. Green references the colour palette of the office level above, while orange hues are in line with RMBL's branding. Bright orange is used on moveable louvre screens that can be open or closed for visual connection or privacy, and muted tones to the Bolon floor aid with zoning and circulation. A neon RMBL sign illuminates the breakout area.
GOLDEN's use of colour adds vibrancy, warmth and depth to the workspace, while acting as a means of wayfinding and distinguishing different zones within the programme.
"The RMBL team has embraced the new space," says Matt Purves, RMBL's chief information officer. Though the events of 2020 threw a curveball at the RMBL team—who had to put their shift to activity based working on hold, in favour of practicing OH&S and social distancing instead—the flexible workspaces designed by GOLDEN have proved their adaptive value in dealing with the unexpected circumstances.
"As our staff return to the office, we are seeing more collaboration in the open spaces, which is also something that wasn't previously possible," says Purves. "This allows our more junior staff to have better context of organisational matters and to observe our leadership team's behaviours and practices."
"We are proud that RMBL has embraced the latest in work collaboration styles, along with supporting its core business model with flexibility of space," say McKimm and Buhagiar, the directors of GOLDEN. As they should be. With the exception of one other project—Brickworks, a mixed-use project c.2017—the RMBL office is GOLDEN's debut foray at workplace design. And it's evident that the new office and its flexible workspaces have been realised with great success.
Photography by Sharyn Cairns