"If you condense down the entirety of human evolution, millions and millions of years, into just 24 hours, we've only had electrical artificial lights for the last 10 seconds. We've evolved as a species and spent most of our existence under the sun," said Will Darvill, Design Manager for Dyson's lighting category.
Darvil was giving a perspective on the importance of natural lights during Dyson's product launch event last Tuesday, where the brand introduced three new machines: purifying fan Dyson Pure Cool Me, the latest generation of its signature cordless vacuum cleaner Dyson V11, and task light Dyson Lightcycle.
Dyson Lightcycle marks the brand's debut into consumer lighting product. The company has been developing its lighting portfolio for the last six years. The first lighting product to launch in Singapore was the Cu-Beam Duo light last year, which is a B2B product aimed for commercial and contract projects.
A culmination of a two-year development involving 90 engineers and 982 prototypes, Lightcycle is designed to provide the right light for the right time of day, personalised to individual users.
Modern humans spend 90 per cent of their time indoors. Artificial lighting can prolong our activity after sundown. But artificial lighting still has a host of issues that have affected the way we feel and function.
For example, the light emanated by our gadgets, the colour and intensity of which are at odds with natural daylight, can affect the body's production of the hormone that signals nighttime information and prepares our body to sleep, leading us to feel tired but strangely unable to fall asleep (and thus we continue to mindlessly scroll the social feed).
Dyson Lightcyle uses an algorithm driven by its user's unique time, date and location (anywhere in the world) to calculate and continually adjusts its colour temperature and brightness to closely match local natural daylight. Its software validation was supported by data from over a million satellite-based measurements of light conditions in the earth's atmosphere at different times of day
The product features three warm and three cool LEDs work in tandem to simulate daylight colour temperatures from 2,700-6,500 Kelvin. Manual adjustment and presents can be controlled via a mobile app Dyson Link.
Existing presents include the Study mode for concentration and reduced eye strain, the warm Relax mode for reading, the Precision mode which achieves a colour rendering index that is very close to daylight, the Sleep mode, and the Away mode that enabled it to be used a security light.
Dyson Lightcycle is projected to maintain its light quality for 60 years. The product comes with a five-year warranty – the longest warranty offered by a lighting product currently in the market.
"We would like to increase that to a ten-year warranty, but we've only got enough time to observe for a five-year warranty for now. We're working on it!" shared Darvill.
Dyson Lightcycle is available as a desk lamp and a floor lamp in white or silver finishes. The product will be made available from Dyson's online store as well as major retail outlets starting July 2019.
Dyson capped the trifecta of product launch with a tour to Dyson Home, an elaborate residential setting located on the second floor of 72-13 Mohammad Sultan Road. View images from the event in the gallery below!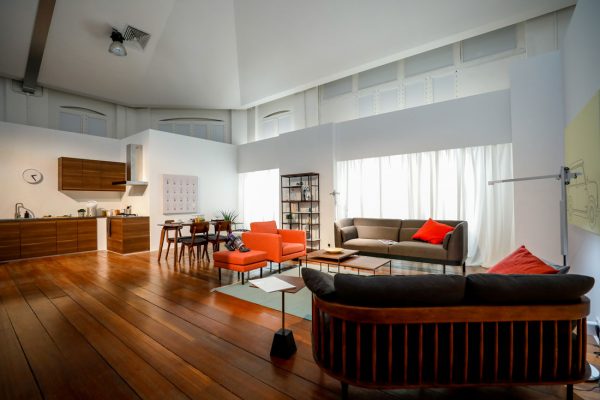 ---