Hybrid, decentralised, agile and flexible. These adjectives have now officially entered our collective lexicon. Untethered, yet grounded by our needs and preferences, we have embraced this fluidity, sharing our time and attention between our homes and offices. Here, and , CDA International's retired Project Director Bingah Suseno and Senior Interior Designer Louisa Sutanto, talk about how this shift has influenced workplace design, explore the similarities between our offices and our classrooms – and talk about how versatile designs, like Herman Miller's Zeph, bridge the gap between different typologies and needs.
The power of versatility
"The idea of a versatile workspace is one of the most important workplace themes," Sutanto starts without hesitation. "Office spaces must cater to hybrid working, accommodating different types of activities, different types of work settings and different types of employees. A versatile workspace enables you to accommodate individual and communal workspaces, cater to group activities, or even workshops and town hall meetings. And it's crucial that all these things can happen within one workplace."
With that comes a greater shift from individual to shared space, a transition that might not come as naturally in Indonesia, Louisa says. "We love our individual spaces here," she explains with a smile. "But offices here don't need a one-to-one ratio for all employees anymore – not all of them are at the office all at once. The spaces have to reflect that."
But that's not all workplaces have to do. As Sutanto points out, the high-rise offices we predominantly see in Jakarta don't come cheap, and as a result, they have to work extra hard. "These are premium spaces, and they have to be as functional as possible," she states. "The space needs to be able to do many things at once, and enable the organisation to grow and evolve down the line, too."
Back to school
And while premium commercial real estate in Jakarta's CBD might not seem at odds with a school setting, in essence they have much more in common than one might imagine. "If you think about it, the type of activities that define workplace and educational typologies are in many ways the same," Sutanto points out. "Students need to have both individual workspaces and opportunities to regroup and collaborate, and so do employees at a workplace. At school and at work, you need to be able to relax and find respite in a breakout space. And so the type of spaces you end up creating will be quite similar."
She adds that while the overall aesthetic might differ between both typologies, the functionality won't as much. And in both cases, versatility of design has to underpin every element of the fit out, ensuring that the set-up works for every individual and activity.
One to rule them all
Enter Zeph. The latest addition to Herman Miller's acclaimed range of performance chairs, this exciting newcomer embodies the brand's commitment to iconic design and ergonomics, making it a highly versatile design for both workplace and educational interiors. Zeph's compact mono-shell body evokes the famed contours of Herman Miller's mid-century designs, while creating a more practical alternative to the more robust seats. That makes it suitable for a variety of settings, including smaller spaces, like phone rooms.
"Zeph's size and portability make it incredibly versatile," Sutanto says. "The chairs can be easily configured as part of a table setting, but if you have a large event – like a seminar or town hall – you can just move them over easily."
While smaller than some of the other Herman Miller designs, like Mirra or Aeron, and designed to mimic the natural movements of the user's body for ultimate comfort, Zeph's solid body provides a grounding sense of security. "Zeph's mould hugs your body in a way that fosters concentration and focus," Suseno says. "In a way, you might feel like a student just by sitting in it."
But that's not the only reason this playful chair is also perfect for an educational setting. "Zeph might be relatively small but it's certainly not flimsy," Suseno points out. "And while it's not too heavy, it's actually really sturdy. It's just right," she enthuses. And this well-measured balance of size and durability lends itself to the demands of a school setting. "Kids can be quite harsh and unforgiving with the objects that surround them," Suseno explains. "With its solid design, Zeph will definitely last longer than many cheaper options."
This sturdy character is further augmented by Zeph's kinematic monoshell that senses the weight of the user, providing the proper recline resistance and ergonomic sit. "As soon as the user gets up, the system activates and the chair won't move," Suseno explains. "Whether it's a workplace or an educational setting, these interiors often have hard floors and if you don't have the soft castors, the chairs might end up rolling about, which can get messy. Zeph's design can help avoid this."
She says that this added level of stability acts as a safety attribute, too, because the user can grab onto the chair for added support. "It's a great feature," praises Suseno.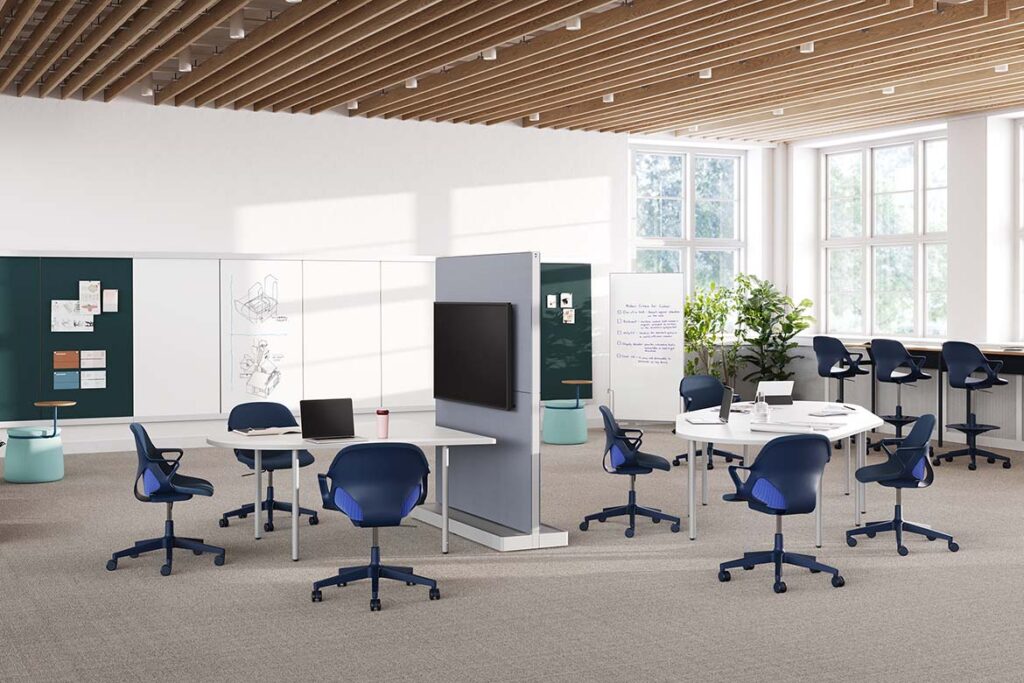 Dynamic multitudes
Now, while Zeph might nurture focus and concentration, and provide a sense of stability, Suseno says that Zeph has another side to it, too. Available in a range of unique colours – including Herman Miller's signature dipped-in-colour style – Zeph's dynamic silhouette is imbued with a palpable sense of joy.
"Comfort, wellbeing and playfulness have to come together in a chair," expresses Suseno. "Zeph has all three qualities. Some of the iconic chairs, like Mirra, have a bit more of a serious look to them. Zeph is a lot more playful, and I think that makes it perfect for spaces where people engage in conversation and more social behaviours – like brainstorming areas or cafeterias, for example. Zeph's shape is dynamic and will make people more engaged."
And this is really important because – and Bingah remarks – we're social. "Working and studying at home is wonderful, particularly with Jakarta's traffic and air pollution," she smiles. "But we're social beings, and face-to-face interactions are still more natural, and more efficient."
Understanding the human body
Great to focus and socialise in. Wonderful for short sprints of intense work or study and for collaboration and brainstorming. Sturdy and grounding, yet light and portable. A high performer, but with a beautiful sense of playfulness. Zeph is yet another versatile design from the Herman Miller range that meets the evolving and diverse needs of the users across both typologies – and neither Suseno nor Sutanto are surprised.
"One of the reasons Herman Miller's designs continue to be relevant is because they focus on the human body and ergonomics," Sutanto says. "And they really understand our working behaviours. That's why their designs are so timeless." She points to Aeron as an example of Herman Miller's overarching design philosophy. "Aeron has been around for so long because it works for such a broad spectrum of people." Sutanto, a self-proclaimed short person, agrees enthusiastically. "Trends come and go, but Herman Miller's designs stay relevant."
Created by Studio 7.5 with the help of their students at the Berlin University of the Arts and the Weissensee School of Art and Design Berlin, Zeph was conceived to bridge the gap between Herman Miller's iconic mid-century designs and the ergonomics of today's work chairs. It's fair to say that its creators not only achieved, but surpassed that goal because the versatile Zeph bridges the cross-section of different typologies, contexts, users and behaviours, undoubtedly emerging as one of Herman Miller's design icons.
---