A study room is a room in a house that has been dedicated for working from home. Working from home activities include studying, reading, completing paperwork and completing computer work. Study rooms may be multi-functional as a guest room with a pull-out couch, but usually they have a sole purpose.
Over recent years study rooms have risen significantly in popularity throughout Singapore. A likely factor in this is the impact of the global pandemic, which has seen more people working from home than ever before. To work from home means creating a productive study area, something that has been quite a struggle for many.
Study room design has a direct impact on productivity. Things like colour, layout, art and furniture can all drastically influence your ability to work effectively. There are a few tried and tested design strategies that can maximize productivity. A good study room design should be tailored to your individual working habits and targets, rather than following the current trends. To help inspire your study room remodel, here are some examples of the best study room design ideas for different jobs, working hours, habits and circumstances.
Study room Singapore: The top study room ideas for your HDB home office interior design
10. Study pod with bed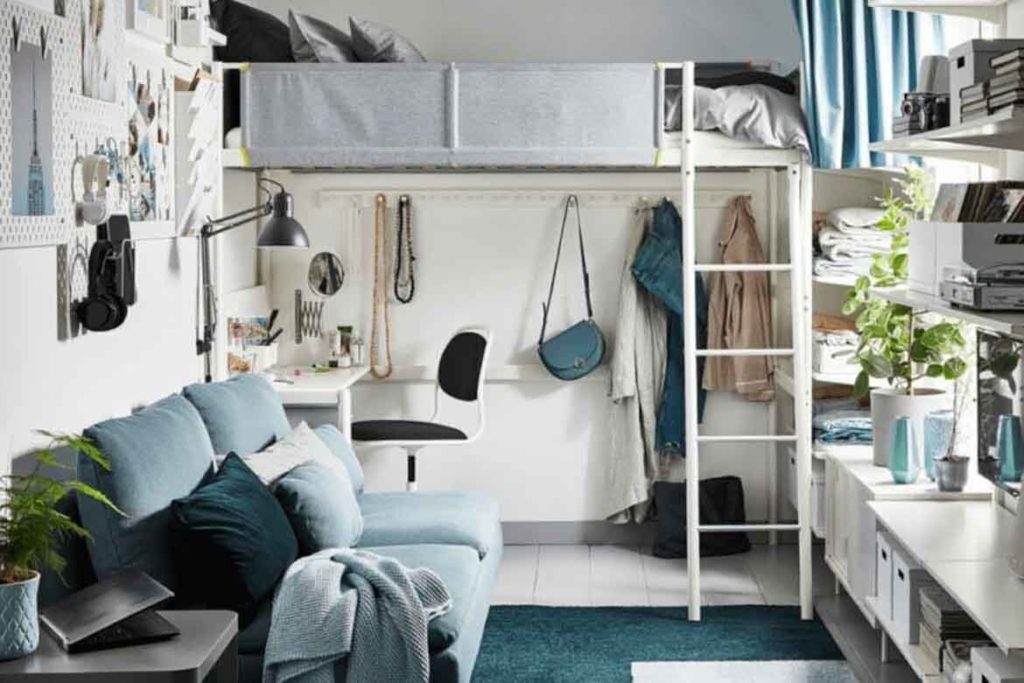 Loft beds are a space-conscious designer's holy grail. The wealth of extra space offered by a loft bed makes it more than worth climbing a few rungs for a good night's sleep. Double loft beds are sidling into fashion at the moment, with the model pictured above available here from Ikea. Designer loft beds are also becoming more common, inspired by adult designs and gorgeous materials such as brushed brass.
09. Luxury
A large study space is something that you may only be able to achieve in a large HDB 5 room or HDB 4 room flat. If you are lucky enough that this is the case, the possibilities are endless. The Décor should expand to fit the space, with extravagant cabinets, large desks and bookshelves.
08. Room dividers
Room dividers are a great way to make the most of a small living room with study area. A room divider can section off part of the living room to create a functionally separate study room. This is a great way to take advantage of a small space and keep your work-life divide firmly defined.
07. Wallpaper
Part of creating a functional workspace is ensuring that you are personally inspired by the colours and décor. Wallpaper provides an excellent opportunity to build an inspiring atmosphere. To browse some of the most artistic examples of high quality wallpaper in Singapore, see here.
06. Minimalist
Minimalism is one of the most recommended design philosophies for a modern workplace. This is because minimalism privileges simplicity above all else, creating an environment free of distractions. Minimalism is particularly effective if you have a bedroom and study room combined. It limits the amount of clutter in your study corner and will help the space feel tidy at all times.
05. Bookshelves
Creating an inspiring workplace might mean surrounding yourself with your favourite books. Books inspire academic success which can help you to focus on your work. There are a huge number of ideas and shelf types for displaying books.
Stacked shelves packed with books upon books create a cosey atmosphere that will make you feel like you are curled up in your favourite library. Floating shelves displaying only your favourite books in the world will inspire you to work hard and remember your principles. For more bookshelf design ideas, see here.
04. Study desk
The desk upon which you do your everyday work is a crucial element of your home office. Firstly and most importantly, the desk can have a direct impact on your physical health. Making sure that you have a desk that is the right height and a chair to match can save you from extreme discomfort throughout the day and prevent spinal issues down the line.
For a space conscious study table design, consider a wall mounted desk like the one pictured above. This is a great idea for a small study room design as many wall mounted desks can be tucked up against the wall when not in use to open up the area once again.
03. Glass study room
For a large home such as a 5 room BTO flat, consider a glass study room. This is a luxurious statement piece that will help to conceptually separate your home office from your recreational spaces without making the room feel small. Glass is a hot material at the moment, with homes all around Singapore incorporating glass partitions, cabinets and even wardrobes into their décor.
02. Inspiring objects
Surrounding yourself with items that hold personal significance is a great way to keep yourself motivated throughout a long work day. Consider filling your workspace with things such as your favourite plants, paintings that mean lot to you, or personal pictures of family and friends.
01. Colour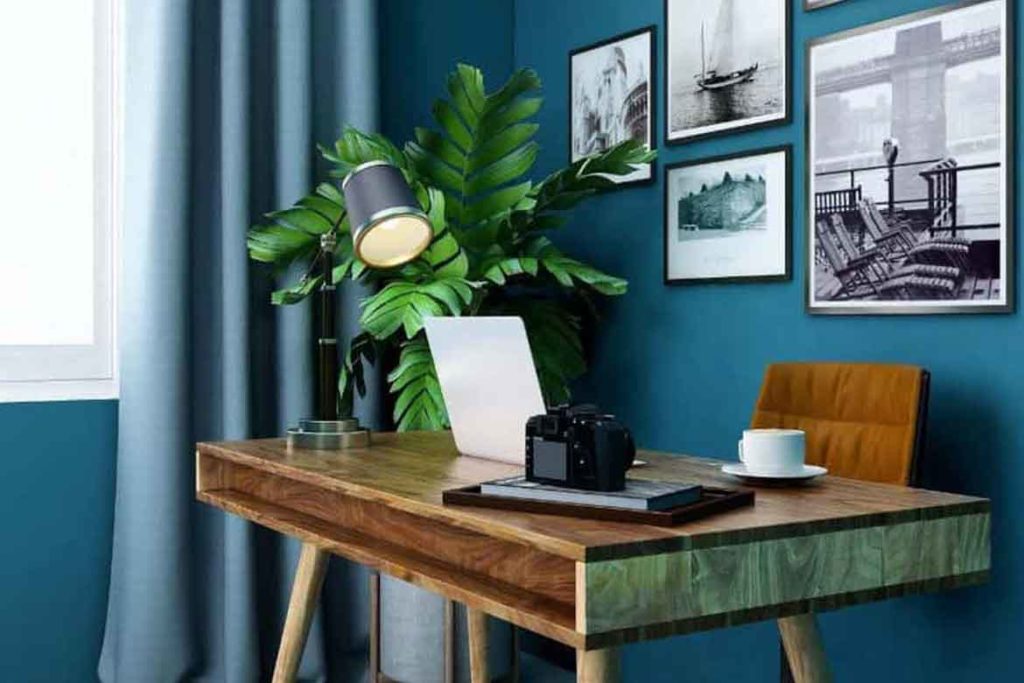 Colour has one of the most profound effects on workplace productivity. Studies have shown that exposure to different colours in a workplace environment can affect the mood, attitude, efficiency and concentration of an individual in many different ways.
White is without question the worst colour for workplace productivity as it stifles creativity. Red has merits for focusing on detail-oriented tasks, but it is a strong colour than can be overwhelming with prolonged exposure. Green is a stimulating colour for creative tasks, and blue was found to be calming. For more information on how colours may affect productivity, see here.
---