Space-saving furniture is the latest trend in interior design. It combines style with practicality, finding new and inventive ways for people to organize their homes in an ergonomic way. Furniture which is engineered to tuck away or hold hidden storage compartments can drastically cut down on the amount of unnecessary clutter in a home. This makes the room appear more open, brighter and larger.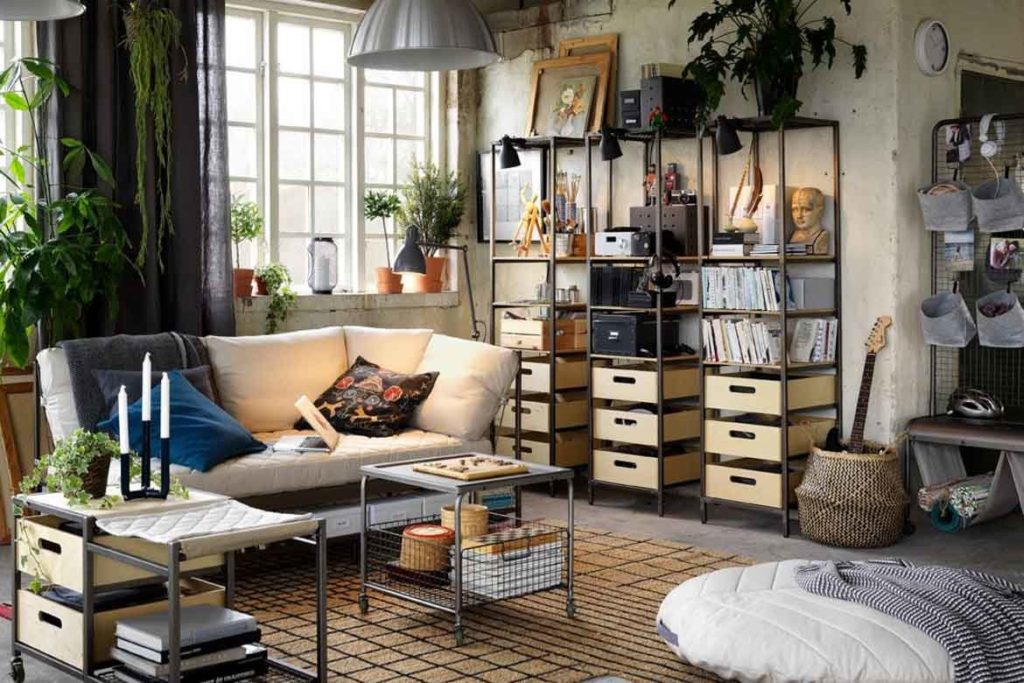 The absence of bulky furniture pieces is a subtle but effective method of streamlining a room's aesthetic, and space saving furniture takes this a step further by providing innovative solutions to other space-related problems. Whether you live in a large or small home, there are always benefits to using storage-smart solutions. Here are some options of the best space saving furniture available for purchase in Singapore.
Space Saving Furniture Singapore
5. Hideaway Murphy Beds
The well-established company Hidden Wall Bed has been revolutionizing the world of space-saving furniture by engineering wall beds which can be easily tucked away until they are needed. The Murphy Bed in particular provides an excellent opportunity to save a huge amount of space in the bedroom. This folding bed can be retracted into the wall on a specialized hinge, allowing for the room to be multipurpose during the day.
Working from home without an office space? Your room could become an office by day and a bedroom by night. With Hidden Wall Bed technology, the bed actually appears to disappear when folded as it takes the appearance of a wardrobe. The benefits to a space saving bed like this are numerous. The Murphy bed would also make an excellent choice for a guest room if you have one because the bed will be needed more rarely, so the room is yours to do as you please with during the day and you still get to surprise your guests with a comfortable (secret!) bed for their stay.
Each bed is completely customizable and can be adjusted to suit the specifics of your room. This makes Hidden Wall Beds one of the best furniture options in Singapore, as you can purchase exactly what you want without having to compromise on colour or size. However, it does mean that the process of obtaining the perfect Hidden Wall Bed for your home will likely take longer than simply purchasing a standard size from another store.
You can book an appointment to talk to someone from Hidden Wall Beds on their website here: after describing the basics of your needs, they will be able to give you a quote and a time frame to help you understand the process. But for the perfect bed, surely a little extra wait can't hurt.
4. Forty Two Wardrobe
Forty Two are known for their robust and compact wardrobe design. Each design by Forty Two maximizes storage while still keeping the aesthetic appeal of a well-made wardrobe. Whether you are after a standalone or a modular wardrobe, the diversity of sizes and styles in the Forty Two catalogue is sure to have something that will suit your home.
Modular wardrobes are an excellent option for those with a little extra space who still want to keep their storage ergonomic. Modular wardrobes are segmented and can be assembled to suit your needs (i.e. can be assembled to differently in accordance with corners or the size of the space).
They look extremely organized due to the segmental structure, which will make storage much easier for you. The Sanders Modular Wardrobe Series above is one of the most versatile and stylish modular wardrobe products currently available, with multiple sizes and colours to choose from. It is currently on sale and can be purchased here for just under $700.
Standalone Wardrobes are generally cheaper and cannot be adjusted or assembled differently. One option for a standalone wardrobe is to lean into the size of the piece and make it a feature of the room, like this Myro 4-Door Wardrobe.
The laminate finish of this wardrobe gives it a rustic, raw wooden appearance which is sure to draw the eye. This is another space saving technique as it allows you to have more storage without sacrificing style, directing attention away from the size of the room. The Myro 4-Door Wardrobe can be purchased online from the Forty Two website here, currently on sale for around $400. Dims (cm) = 124w x 180.50h x 52d.
For those who prefer a more neutral style, there are many more options online. Another common technique for those attempting to make a room seem larger is to have mirrored wardrobes; the reflection of light will brighten the room and create the illusion of more space.
3. Courts tables
Renowned furniture store Courts has a number of clever storage-conscious products which are sure to keep your furniture space-smart. Coffee tables are an excellent way to gain a little storage while also making the room feel homely.
A table like the one pictured – with a storage platform below – will go a long way towards reducing clutter in the living room – and it looks great! You can purchase this table online from the Courts website here for approximately $250. Dims (cm) = 105 x 60 x 38.
Another popular choice for space-smart furniture systems is an extendable table. Extendable tables are perfect for small areas as they can be elongated in accordance with your guest's needs but can easily be made smaller once your meal is finished, opening the room back up for other things. You can buy the extendable dining set pictured above here from Courts for $1,200. Dims (cm) Normal: 150l, Extended: 180l.
2. Loft bed with desk
Though loft beds have previously been considered a popular style of bed for children, recently adult loft beds have been growing in popularity. They are incredibly space-smart, saving at least a third of the room, which would previously be taken up by a bed. Furthermore; they're fun and add a little excitement into everyday life. They also do an excellent job of separating the bed from the rest of the room, which is likely to help with sleeping as there are less distractions and climbing the ladder should rewire your body into recognizing that it is sleepy-time. You can buy the loft bed and desk top pictured above here from IKEA for just $369. Dims (cm) = 900 x 200cm.
1. Forty Two Sofa Bed
Sofa beds and lounges with hidden storage compartments are some of the cleverest ways to invisibly invest in save space furniture. The sofa pictured above does both! The elongated cushion can be lifted up for storage underneath, and the bottom of the lounge pulls out to form a bed.
It even has pockets on the side for storing remotes or reading materials. The lounge comes in a variety of colours and can be purchased from Forty Two here for $1,361.90. Dims (cm) = 263w x 92/158d x 90h.
---