A rooftop garden is the ideal solution to the lack of nature in high-rise living. Most plants demand high levels of natural sunlight to remain healthy, which can make them difficult to keep in abundance if a HDB apartment lacks a balcony or the shadow of surrounding buildings limits sunlight exposure through the windows.
Similar problems arise on the ground in highly developed urban areas; skyscrapers and other multi-story buildings will cast shadows that can make it very difficult to grow plants even in the natural earth. The solution? A rooftop jungle.
Rooftop gardens are simple in concept, though can be tricky in execution. A rooftop garden is an area of cultivated plants on the rooftop of a building (usually tended to by building staff or residents themselves). They are most common on skyscrapers and other multi-story residential buildings, though it is possible to have a rooftop garden on a traditional house.
Rooftop gardens have many benefits beyond just decoration. The purpose of a rooftop garden usually involves temperature control, architectural enhancement, improving environmental and ecological consciousness, providing habitats and nourishment for native wildlife, and boosting hydrological efficiency.
There is also a substantial financial incentive to support the installation of a rooftop garden as they can significantly increase the market value of a property, for re-sale and rent. One of the main reasons for the installation of a rooftop garden, however, is entirely to do with the personal benefits for residents.
Gardening has been proven time and time again to have substantial physiological benefits. It can lower stress and blood pressure levels, improve everyday moods, decrease the risk of dementia, and improve brain function in general. On top of this, those who garden regularly will usually have more exposure to vitamin D (found in sunlight) which helps to strengthen the bones and immune system.
Rooftop gardens specifically foster a unique sense of community due to their status as a shared space. They are a place to encourage connection between humans and nature – but also between individuals. This is part of what makes them a popular feature in retirement villages, as they help to build relationships between residents.
On top of that, the simple act of being around plants has been proven to unlock a host of physical and psychological benefits. Seeing and being surrounded by plants has been linked to a feeling of freedom and vacation which is known to improve moods, inspire creativity, lower stress levels and even improve concentration. With all of this in mind, rooftop gardens become one of the best strategies to improve the lives of residents in high-rise building.
Singapore is one of the leading countries in rooftop garden design. Nicknamed "the City in a Garden," the city-state of Singapore holds esteem as one of the world's greenest cities. This is in large part due to the many lush parks, including the Bukit Timah Nature Reserve, the Botanic Gardens and the Gardens by the Bay which are home to millions of plants. Many of the gardens that contribute to upholding Singapore's green status are rooftop gardens.
Rooftop gardens Singapore: the five best examples of rooftop garden design
5. Design Orchard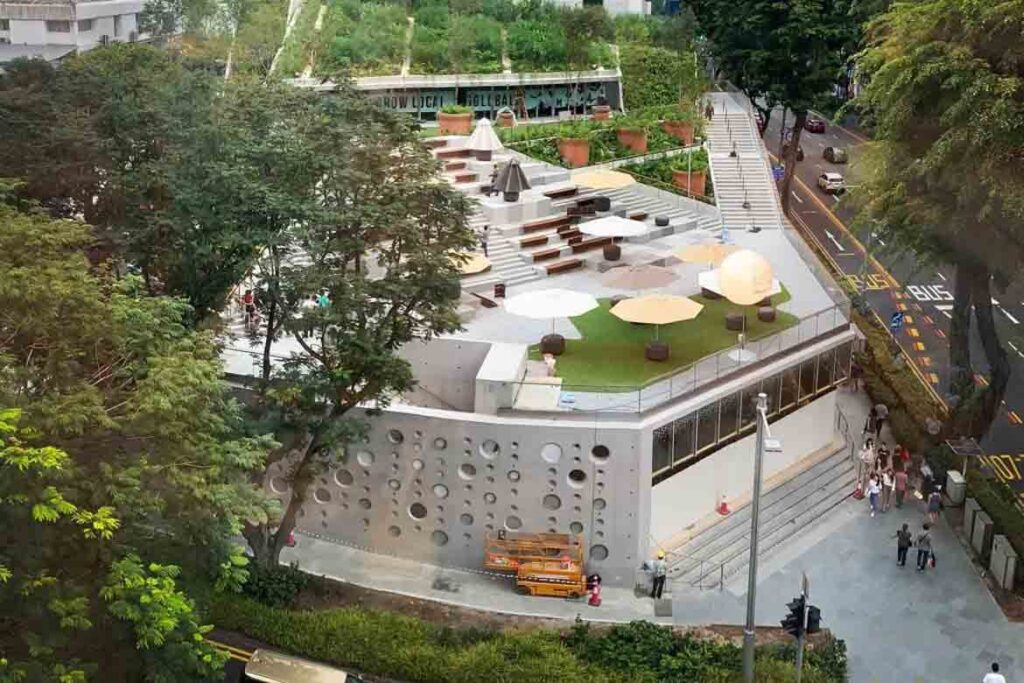 Design Orchard is a two story building with a roof terrace featuring lush gardens. It was designed by the globally renowned architecture and design firm WOHA and developed by the JTC Corporation. This building contains multiple levels.
The ground floor is a retail space featuring over 61 famous Singaporean brands which was overseen by the Singapore Tourism Board. Levels two and three are working spaces primarily occupied by the Textile and Fashion Federation of Singapore to nurture upcoming designers. The upmost level is home to the rooftop garden and is sloped into the shape of an amphitheater.
4. Singapore Chinese Cultural Centre
The Singapore Chinese Cultural Centre (SCCC) is a building which regularly hosts celebrations and collaborations between art, cultural, and community groups. The SCCC is home to exhibitions, seminars, fairs, performances, and a vast variety of other community events with the goal of promoting the vibrancy of Chinese culture in Singapore.
The SCCC rooftop garden can hold up to 480 people at a time and spans a remarkable 2000 square metres, all adorned with various levels and types of greenery. The SCCC has forged a new design path for the modern rooftop and many of Singapore's architects have taken note of the rooftop garden ideas employed in the design of this building.
3. Kampung Admiralty
Kampung Admiralty is Singapore's first vertical retirement village with one of the most notable rooftop gardens in Singapore. The sheer amount of greenery that composes most of Kampung Admiralty's rooftops and walls is notable in itself, but the rooftop garden holds value beyond its aesthetic appearance.
For the senior residents of Kampung Admiralty, this garden is also community farm which provides many of the residents a space to come together and feel connected with nature while admiring the spectacular view. Read more about the Kampung Admiralty here.
2. National Gallery Singapore
This building contains the largest art gallery in all of Singapore, complete with a stunning rooftop garden. The garden itself is home to an iconic exhibit: Horizon Field Singapore (2021) by renowned artist Antony Gormley, which is the latest edition of the Gallery's annual Ng Teng Fong Roof Garden Commission Series. The garden houses more than 30 plant species and various art installations that make a stroll along the grounds an exciting and unpredictable experience.
1. Edible Garden City (Funan)
This Urban Farm is operated by Edible Garden City, a firm which has long campaigned for Singaporeans to begin growing their own food. This 18,000 square foot garden contains a huge variety of fruit and vegetables such as mushrooms, basil, lemongrass, eggplant, and passionfruit. It is open to the public and provides an educational space for individuals to learn about the production process of growing vegetables, from seed to harvest.
---