Modern has many different connotations in the design world. Modernism was an interior design movement which originated in the early 1900s and emphasizes monochromatic colours, clean lines, minimalism, and naturalism. However, modern can also mean contemporary – and contemporary wardrobes are innovative, sleek, and boundary-pushing.
Modern wardrobes designs are incorporating technology now more than ever. Internal lights are all the rage, with a well-lit closet serving both practical and aesthetic functions.
Handles seem to be a thing of the past, with the majority of modern wardrobe handle designs instead favouring a J-pull or rail opening mechanism. This is particularly helpful in making the wardrobe appear sleek and minimalist by cutting down on bulk and creating a more symmetrical appearance.
Open or glass closets are also rising in popularity, with the effortlessly organised look coming into fashion. Wardrobes with no doors have an industrial minimalism that lends perfectly to contemporary décor. Similarly, a glass wardrobe has a nothing-to-hide air that exudes luxury and clean living.
What should you look for in a modern wardrobe?
First, remember your practical concerns. How large or small does the wardrobe need to be? How tall can it be? Will it fit through your doors? What is your budget for the project? Do you want a free standing or built-in design?
You should also consider how much space you need for each individual clothing item type: will you need lots of drawers or shelves – or is hanging space more important? Wardrobe internal layout will play a big factor in your life after the purchase, so you need to make sure that you've found a wardrobe which satisfies your specific layout needs.
Once you know all of the parameters that your wardrobe needs to satisfy, you can apply these to your search for the right modern closet design. This includes things such as style, handle type, colour, finish, material and design.
When it comes to wardrobe interior design, most people aim for a wardrobe that will blend in with the rest of their décor. However, modern wardrobe design ideas are leaning towards a more show-focused model, aiming for the wardrobe to stand out as a central feature of the room. To help you decide what style is right for you, here is a list of the best designs for a wardrobe Singapore.
Modern wardrobe designs for bedrooms: The best of wardrobe design Singapore
7. L shape black and white modern wardrobe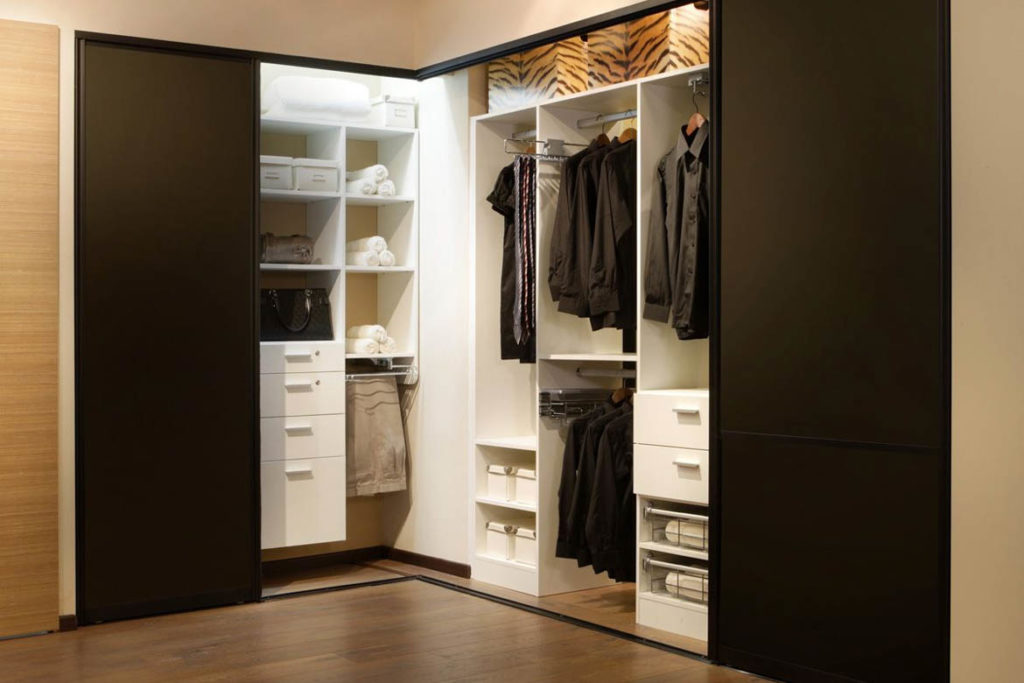 L-shaped wardrobes are the perfect way to take advantage of a corner space. If you decide to have this closet built in, the room will feel much larger as the closet seems to extend the parameters of the room. They also have more storage space and take advantage of a wall that likely would not contribute to the room design otherwise.
6. Wardrobe with dressing table
A built in dressing table is a great way to cut down on bulk and streamline your getting-ready station. This is perfect for those who don't need a lot of space for clothes – whether they have other storage units or don't keep that many clothes – and who like to take their time when getting ready. You can purchase this wardrobe here from Ali-express for $1,459.20.
5. Wardrobe with study table
Similarly, a wardrobe with a built in study table can save you a huge amount of space by avoiding cramming a bulky desk into the bedroom. The study table also helps to refine the design of the wardrobe, giving it a sense of structure that is much more interesting than a plain, solid wardrobe that stretches from wall to wall.
4. Modern sliding wardrobe
This modern wardrobe design takes heavy influence from principles of Scandinavian décor by emphasizing crisp lines and a monochromatic palette. The sliding doors have very simple handles which make the design feel more futuristic. This style also helps to make the wardrobe seem smaller overall, as it blends back against the wall and can be closed completely.
3. Timber laminate design pattern wardrobe
For an affordable design with a gorgeous aesthetic, consider a laminate-coated wardrobe. Laminate is a multi-layer synthetic material which is used in many places around the home including flooring, benchtops, cabinets, tables and backsplashes.
Laminate can be printed to look like just about any material in existence including timber, brick, steel and natural stone such as marble or graphite. Laminate looks particularly good when paired with other materials of varied textures, such as mirrors or a feature piece.
2. Two colour combination
Colour combinations are extremely important when it comes to interior design. There are a number of potential ways to go about combining colours; whether you want colours that are situated closely on the colour wheel which tone together similarly, or opposite colours which provide stark contrasts.
Some of the most popular colour combinations are orange and yellow, blue and white, orange and pink, orange and red, and blue and green. White is a very popular choice for colour combinations as it is neutral and can blend with almost any companion colour.
The best part about a 2 colour combination wardrobe is that it is an easy task to DIY – you can paint the wardrobe yourself whichever colours you like. For more information on colour theory and how to choose the best combination for your home, see here.
1. Walk-in
A walk-in wardrobe is the absolute height of luxury. If you have the space and the budget to do this, it could change your life. Walk in wardrobes have been around for centuries. Walk in closets are small rooms with storage wardrobes that are usually attached to the master bedroom.
If you are considering building a walk-in closet, keep your master bedroom design in mind. Walk in closets are not entirely separate rooms, so you want the styles to match without being identical. Read more about master bedroom design ideas here.
---