Backsplash meaning
A backsplash is a barrier behind a sink or stove which protects the wall from damage. This can be water damage or even droplets of food that spits onto the wall during the cooking process. Backsplashes are inexpensive, low maintenance, and very easy to clean.
Kitchen backsplash materials are diverse as a backsplash can be created from virtually any type of tile. The most common type of back splash is ceramic, though glass is also popular. Backsplashes are quite popular in Singapore – and growing more so – for the practical and aesthetic opportunities they afford.
Kitchen backsplashes protect your walls in both the short and long term. They will stop the wall from becoming stained by spillages, scuffed, scratched, or discoloured. A kitchen backsplash will also prevent long term water damage which could compromise the wall's structure. Their popularity means that they are also readily available, and in many different sizes.
A fast-rising trend in kitchen design is the use of the backsplash as a focal feature. Bright colours, funky patterns, whimsical shapes – all of these are coming into style as a new era of personality-driven kitchen design takes centre stage. Kitchen backsplashes function like art in the kitchen space, reflecting the preferences of the kitchen owner and their unique aesthetic palette.
For information about the Singaporean backsplash ideas gaining the most traction across the nation, here is a list of the best kitchen backsplash designs for kitchens everywhere.
How to tile over existing backsplash
It is possible to install tile over the top of existing tile. This makes the overall process much quicker and is a cheap alternative to learning how to remove tiles on your own or paying a contractor to do it. It is also a solid idea for renters as it will not permanently impact the appearance of the kitchen.
However, remember that tiling over the top of existing tiles will essentially double the amount of bulk that the tiles take up overall. This could make your kitchen appear and feel much smaller than you anticipated – so be aware of how exactly this renovation project will affect the feel within your space.
Modern kitchen backsplash: Prices, designs and materials for a beautiful HDB backsplash Singapore
12. Grey glass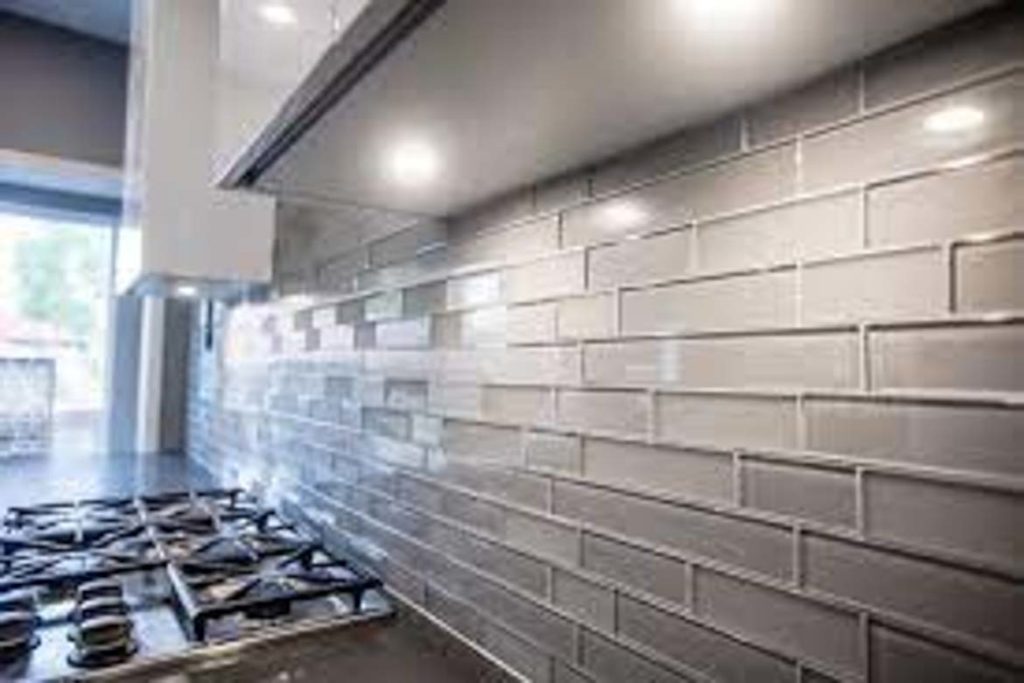 Glass tiles are a very popular choice for countertop backsplashes. This is because they are non-porous and completely resistant to stains. Glass tiles are also a very hygienic choice, because they cannot harbor germs or bacteria.
Grey glass tiles in particular are very sophisticated choice for a modern kitchen. Grey is a calm, neutral colour that is often chosen for floors and carpets. Accenting your kitchen with a subtle colour like grey is an excellent way to accentuate the structure of the room without cluttering the atmosphere or clashing design features.
11. Crystal white
White kitchens are undeniably in fashion, having swept across the nation in recent years. This is because white kitchens have an air of sophistication and cleanliness that perfectly encapsulates what a kitchen should be. Crystal is the perfect pair for white kitchens as it adds a new texture into the area (something that modern white kitchens occasionally forget).
10. Herringbone Laminate
Laminate is a durable, affordable and easy-to-install material that will protect your walls for the years to come. Laminate can mimic most other materials including timber and natural stone. Herringbone is beautiful a style of parquet flooring that refers to the criss-cross layout of the wood.
09. White glass
White glass is available in both tiles and sheets, but a white glass sheet like the one above is easily one of the simplest types of kitchen backsplashes to maintain. This is because there is no grout or gaps between the solid glass for dirt and/or grit to get caught in.
08. Tempered glass backsplash
Tempered glass is also known as toughened glass. Tempered glass is glass which has been chemically or thermally treated to increase its strength. When it is broken, tempered glass will fracture into small pieces rather than dangerous jagged shards. Tempered glass is the ideal type of glass for kitchen backsplashes due to its safety.
07. Stainless steel
Stainless steel is an ergonomic choice for kitchen benchtops as it will never rust, is easy to clean, and will all forms of damage. Stainless steel has appeal as a symbol of raw elegance, bringing a sense of industrial chic into your home décor.
06. Black glass
Black glass is a darkly sophisticated décor choice which will elevate the overall style of the room. Paired with stainless steel and white marble, this black glass has a contemporary vibrance sure to impress.
05. Marble
Marble is a luxurious material universally recognised as a symbol of decadence. It is softer than most materials, but will work perfectly as a backsplash if you have the money to spare.
04. Kompacplus
Kompacplus is a newly developed material which has burst onto the kitchen scene. It is water, fire and steam resistant as well as nonporous and extremely durable. For more information about Kompacplus, see here.
03. Quartz
Quartz is easily one of the most popular materials for kitchens in general, from countertops and benchtops to splashbacks. This is because it is one of the hardest materials in the world and will last an extremely long time. Quartz is ideal for those who have found their forever home and are looking for a renovation that will bring joy for decades.
02. Terrazzo
Terrazzo is a composite material made of chips from quartz, marble, granite and glass bound together. It comes in a variety of finishes, styles and colours that give you full control over how you want the kitchen aesthetic to appear.
01. Subway tiles
Subway tile is the number one most popular type of backsplash. It is elegant and refined, and brings an extra layer of texture into the kitchen. Subway tile is also easy to install (often peel and stick) and very affordable. It will not damage the walls over time and you will never get bored of the dreamy sophistication it brings into a home.
---