What is Cottagecore?
Cottagecore is an aesthetic that takes elements of simple, rural cottage life to create a natural and summery atmosphere. Within interior design, the cottagecore aesthetic is often created using an abundance of lush decorative houseplants, warm colour palates, and raw natural materials such as exposed brick or stone. However, what makes cottagecore such an interesting cultural phenomenon is how far it expands; cottagecore is a quality that can be attributed to housing, clothing, plants, accessories, music, novels, and especially lifestyles.
Cottagecore began in early 2017 on Instagram and Tumblr. The suffix "core" is used to mimic the word "hardcore," as a way of identifying a specific style. Cottage core is defined by its focus on cottage life; rural aesthetic, natural beauty, and the simplicity of country life. As a trend, it gained popularity very quickly, migrating from Instagram/Tumblr to TikTok where it began to receive global attention and even made its way into one of the world's most popular games: Minecraft.
Cottagecore is best seen as a reclaiming of historical lifestyles. It is not a romanticization of the past, but a tribute to what the past could have been if those from marginalized communities were able to live in peace. The stresses of modern life are left behind in the cottagecore aesthetic – it represents a freedom from technology and the challenges of crowded city life.
Cottagecore is a very liberal movement, celebrating racial diversity and elevating content creators of colour. It has also become a symbol of the Lgbtq+ community, especially for wlw. This is in large part because of the separation that cottagecore seems to offer from society: cottagecore represents a safe space for those who are tired of the world's most prevalent problems. And for those who have spent much of the past two years stuck inside during lockdowns, Cottagecore provides an escape – even if they can't actually leave the house.
Just about anything can be cottagecore. Cottagecore is essentially about creating the vibe of romantic simplicity, and as such can include food, clothes, houses, activities, rooms, etc. Read on for a list of some of the best and most interesting examples of Cottagecore today.
10 examples of contemporary Cottagecore's beauty
10. Bedrooms
For many, restyling their rooms was where their interest in cottagecore began.
Transforming bedrooms into rustic, fairytale escapes was a popular trend during lockdown as the majority of people were unable to enjoy the more outdoorsy aspects of cottagecore.
Cottagecore style bedrooms are usually filled with plants, old books and rustic furniture, as well as art and simple linen pillows/sheets.
09. Décor
Decorative choices are a big part of creating the cottagecore aesthetic.
Cottagecore décor will typically feature a large number of hanging plants and vines, as well as fairy lights.
Lamps and other furniture will be rustic, and art will have earthy, natural tones.
Cottagecore wallpaper might also be an option for those looking to redecorate – typically you will want to look for vintage and faded warm tones.
08. Activities
One of the main things that sets cottagecore apart from other aesthetic movements is the fact that it is not limited to material objects.
Cottagecore focuses on living in harmony with nature, and any activities which match this philosophy can be considered cottagecore activities.
This includes things like farming, gardening, picking wildflowers, hiking, meditating, dancing, singing, cooking, crafting, reading and many more. Basically anything which captures the feeling of a simple rural life can be considered cottagecore.
07. Plants
Plants are a major part of cottagecore, in keeping with the nature theme. You will have noticed the abundance of plants being used as décor in the earlier images, but plants are often also the focus outdoors in connecting to nature.
Many of the most popular cottagecore creators on Tiktok actually run small hobby farms, growing strawberries or flowers for themselves and to share videos with their followers.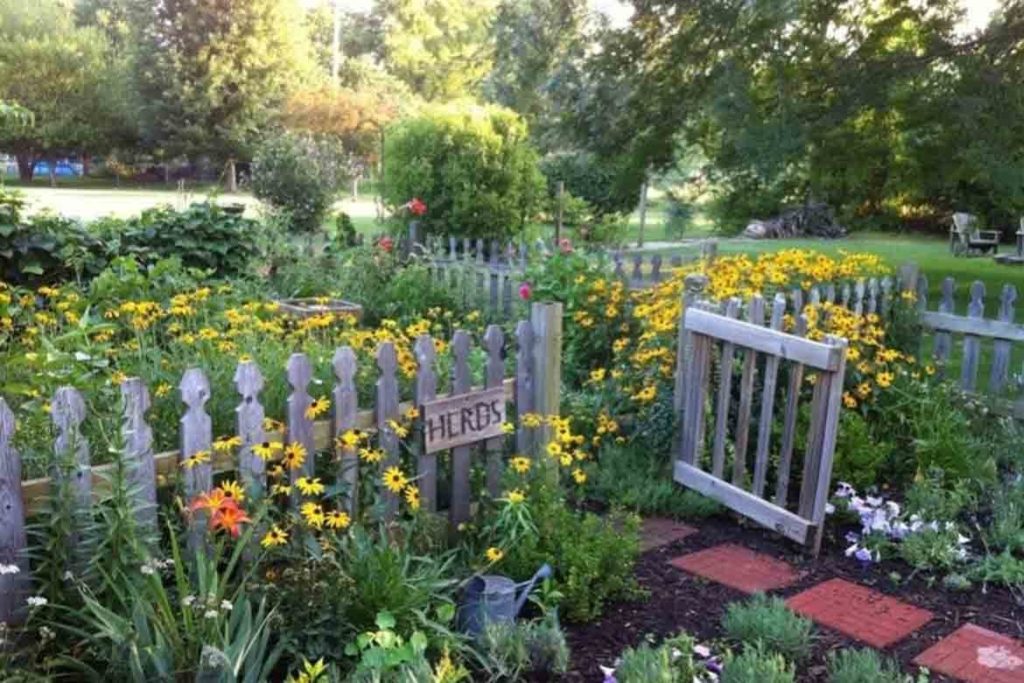 Tiktok user wai.iti.ridge is the perfect example of this: she posts regular videos of her harvests and cooking adventures as well as the animals on her small cottage farm.
The Tiktok profile vaughanhouse is another example of the bright colours and décor of cottagecore, posting mostly videos of their greenhouse and the vibrant nature around their area.
06. Food
Making food from scratch is one of the most popular cottagecore lifestyle activities. It involves a lot of baking, usually things like pie or bread. Typically cottagecore food is very traditional and simple.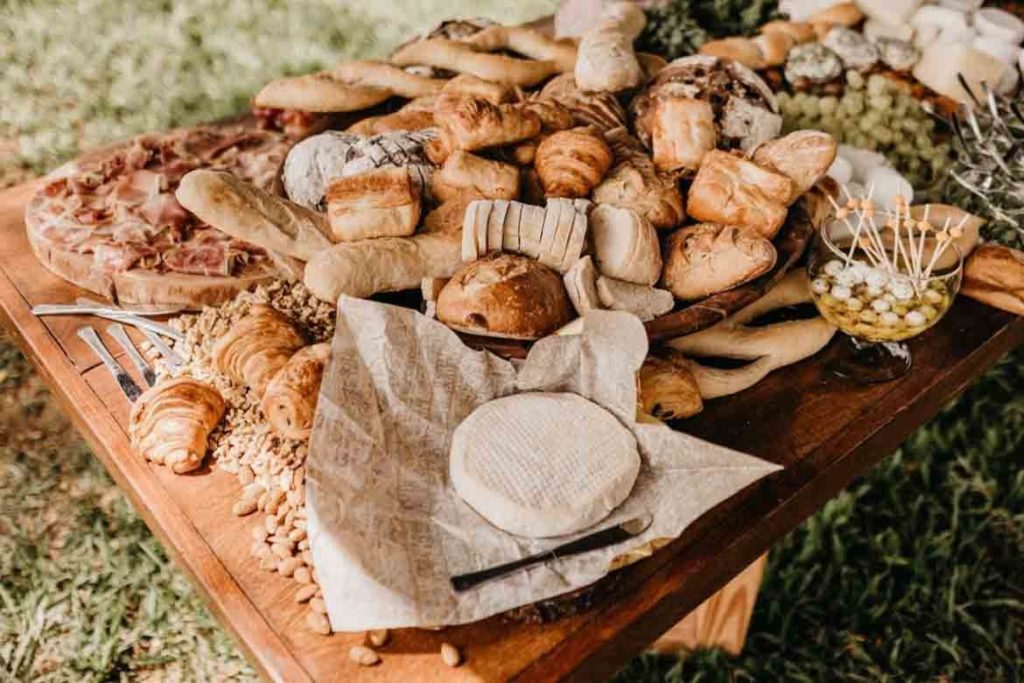 The imperfections in homemade food as opposed to store-bought is part of the attraction; slightly lumpy or asymmetrical food just adds to the pristine rural aesthetic.
05. Flowers
Bright flowers are one of the most beautiful aspects of cottagecore. Slightly overgrown fields and wild bunches of flowers are a staple of the aesthetic movement.
They create an atmosphere of freedom and happiness that one can't help but be drawn in by. Sunflowers are often a feature of cottagecore flower gardens as well, due to their cheerfulness.
04. Animals
Another of cottagecore's many charms is the animals. Ducks are a typical feature of many cottagecore photos, perhaps because they have an endearing goofiness to them. Other traditional farm animals are often included in the cottagecore aesthetic, such as sheep: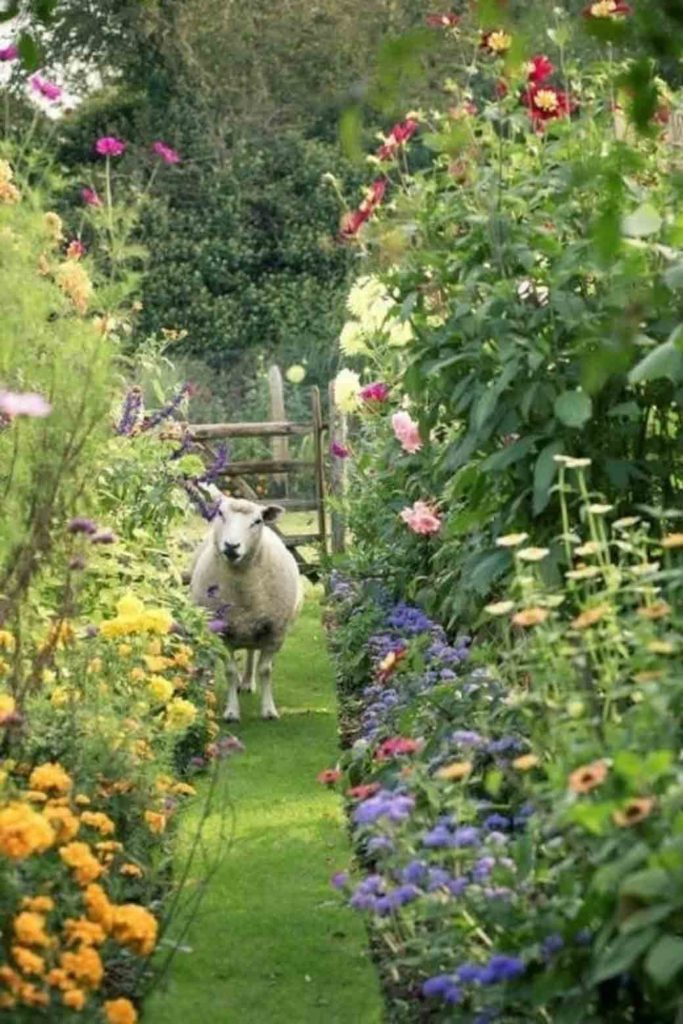 As well as insects like bees and butterflies.
03. Lifestyle
For the most dedicated of the cottagecore aesthetic pioneers, the cottagecore lifestyle involves trying to live completely sustainably, farming and cooking all of their own food, making their own clothes and paper, and taking care of the land around them. Arts and crafts is a staple of the lifestyle, from pottery to embroidery to even just clothing repairs.
The lifestyle also involves a certain level of removal from city life, embracing the rural isolation and only really interacting with other people when they have been invited over.
02. Fashion
Probably the most popular form of cottagecore is fashion, because it is the most accessible (i.e. you don't actually have to buy a house in the countryside to participate).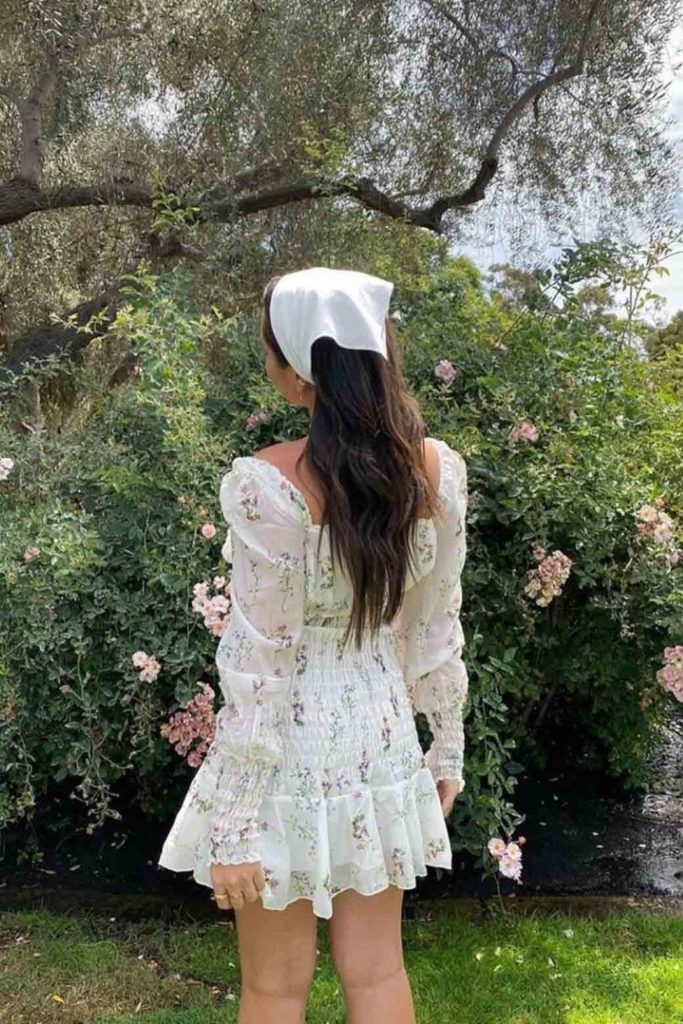 Cottagecore fashion is basically a return to classic provincial style, often with large hats and long dresses or skirts. Colours will usually be a washed white, bright yellows/red/pinks or vintage floral patterns.
01. Homes
Finally: the rarest of all, an actual cottagecore … well, cottage. But cottagecore homes go beyond just the style of building – they involve the surrounding nature and the outside details like vines and fences and flowers.
They are typically isolated, appearing to be the only house within a substantial radius. Cottagecore homes emanate a sense of quiet and peace, tucked somewhere far away from bustling cities and high traffic roads.
Only the most dedicated of cottagecore enthusiasts are willing to actually move into a cottagecore house – most tend to peruse photos over social media instead (giving rise to the term 'digital cottagecore' and the subgenre 'dark cottagecore').
But for even the most dedicated of city-dwellers, it's impossible not to look at these gorgeous houses and think: … wouldn't it be nice?
---