Generally, any bathroom within the 30-40 square foot range is considered a small bathroom. A bathroom cannot be any smaller than 15 square feet, which is categorized as a tiny bathroom. Tiny bathrooms will generally only fit a small toilet and a sink, which is known as a "half-bath.". By contrast, small bathrooms can usually squeeze a shower as well as the toilet/sink. Showers usually require around 30 square feet to fit. Most small bathrooms will have no room for baths (as a general rule, you need around 40 square feet to fit a bathtub).
The majority of bathrooms in Singapore will fall inside the range of 36-72 square feet. This incorporates both small bathrooms typical in one-bedroom HDB flats as well as the large bathrooms of executive condos and private retail. The standard dimensions of a bathroom include:
4 x 6
6 x 6
6 x 10
7 x 7
8 x 8
There are a number of unique challenges that come with decorating a small bathroom. For one, the appliances that are installed in a bathroom require a lot of space, making designing more difficult in a small area as the designer is limited in what they can choose and how much open space they can have. For another, the appliances must be connected to plumbing which limits the freedom of the designer to make decisions about where to place the items and how to work within the space.
Finally, bathrooms are areas which see high levels of water – and in a small bathroom, the water is more likely to splash over a greater surface area. This means that waterproofing is an especially important concern and the majority of the bathroom will have to be protected by waterproof material such as wall and floor tile. As such, the material used to clad the bathroom is integral to the bathroom's functionality – though for larger bathrooms, the shower and the floor may be the only tiled areas.
Because of these challenges, styling and designing a small bathroom is a challenge that many interior designers relish. Small bathroom designs need to be creative, innovative and clever to account for all of these stipulations. Small bathroom renovations also tend to be cheaper than larger bathrooms, meaning that homeowners can choose more luxurious materials or appliances as they are cladding a smaller area.
Redesigning a small bathroom does not have to break the bank either. Small bathroom remodels can be successful on a very low budget depending on the desires of the homeowners. Furniture pieces can be replaced, a floating shelf wall can be installed, plants can be added and tile can be updated or swapped for a relatively small total cost. This is an even more achievable task if one chooses to DIY, cutting down on the cost of contractors and installation. (Note that it is important to be aware of the HDB renovation guidelines if you are renovating a HDB flat).
Small space small bathroom ideas are intelligent and focus on making the space appear bigger. Here are some pictures and decorating ideas for how to organise a very small bathroom layout for a master ensuite or a small shared bathroom.
Small bathroom ideas for small spaces: The best small bathroom design ideas for a HDB bathroom
5. Appliances
Choosing your appliances carefully is one way to cut down on the bulk of a small bathroom. Naturally, a small bathroom probably will not be able to have a whole shower room. If it is really small, you may not even be able to fit a walk in shower – in this case, perhaps a bathtub with a shower head would be a good opportunity to cut down on size.
Sleek, non-bulky showers, toilets and sinks are the obvious choice for a small bathroom. Another option is an open shower or one that is not blocked off by glass. While this may make cleaning somewhat more difficult (as splash-back and shower water will travel further around the room), it will cut down on the hulking box of space that showers usually take up in a bathroom.
4. Detail
Decorative details are deceptively important to the overall aesthetic and feel of a small bathroom. Things that may not necessarily be first priority – such as the entry door or the choice of storage cabinetry – are some of the most important contributors to the atmosphere of the bathroom. You want to form a cohesive design within your bathroom, so try to select pieces which will match or otherwise compliment a singular interior design style. Popular choices for small bathrooms include Scandinavian, Japanese, Japandi, minimalism, and cabin.
3. Mirrors
Mirrors are one of the most simple and easy ways to make a small bathroom feel bigger. Mirrors reflect light around the room, appearing to brighten the atmosphere and creating the illusion of more space. They are also more functional as most bathrooms need mirrors for grooming in the morning. Mirrors work best when placed directly next to a light source, so they will direct the maximum amount of light into the room. For small areas, one large mirror works much better than many small ones.
2. Lighting
Bathroom lighting is often overlooked, but it can be integral to the overall aesthetic of small bathroom designs. Simple overhead lighting is a waste of modern potential, with interesting lighting forms such as LED, hanging lamps, vintage fixtures and false ceilings providing many different avenues for your small bathroom to behave better on a functional and aesthetic level.
1. Colour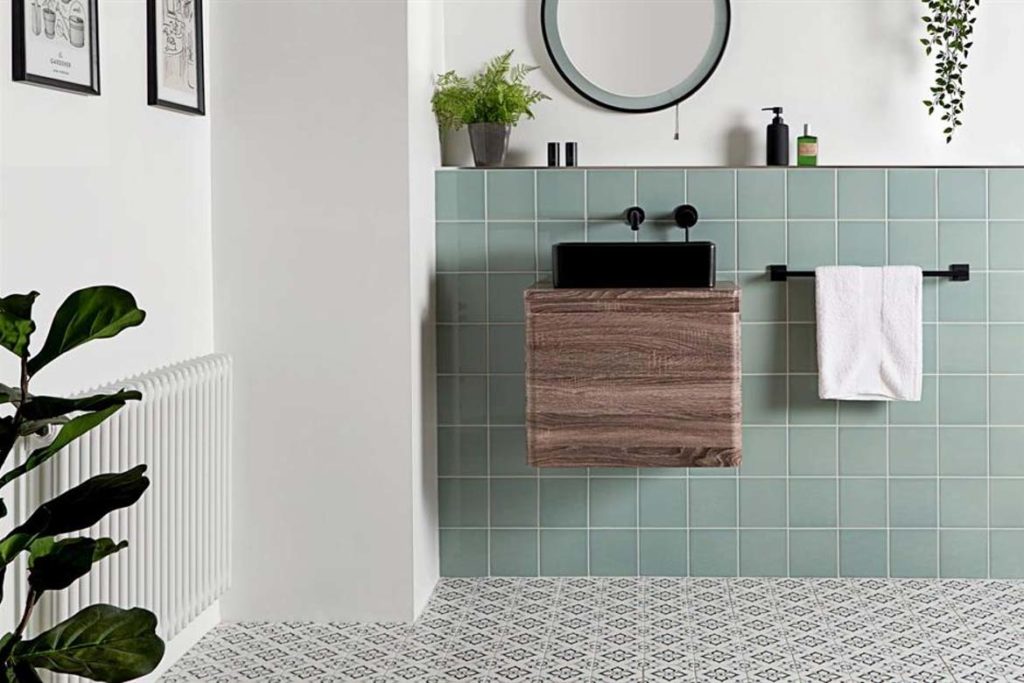 The vast majority of small bathrooms are painted white. Why is this? Well, white has a similar effect to a mirror in that it helps to reflect light around the room. A white-painted bathroom is more likely to bounce light than darker colours which might absorb it such as brown, black, or purple. This makes the space feel more open and therefore larger.
However, this does not mean you have to have a cookie-cutter all white bathroom just because it is a small space. Ways to make a bathroom more visually appealing whilst still capitalizing on the benefit of a light colour scheme include: painting/adding feature walls of patterns or colour, painting with lighter colours rather than all white, varying the texture of materials, and decorating the space with bright colour accents that make it pop such as cobalt blue or bright yellow.
---