If your building was constructed after 1996, there's a high chance that you will have a household shelter in your apartment. This is because of legislation and building code regulations which came into effect in the late 90s and dictated that all apartment buildings must be constructed with a bomb shelter.
The household shelter must have reinforced walls, floors and ceilings as well as a blast proof door. This is primarily to protect the occupants of the house from shock waves, shrapnel and flying furniture in the event of an emergency. Modern high-rise buildings are extremely sturdy. The most immediate risk to your safety in the event of an earthquake or bombing is flying debris, collapsed walls or shrapnel. A household shelter can protect you and your loved ones from all of this.
In Design
Despite the safety they offer, modern Singaporean homeowners have one common complaint about the mandatory bomb shelters: they're something of an eyesore. Now, we all know that it is better to be safe than sorry. It is certainly better to have a shelter and never use it than need one and not have it. But that doesn't mean the shelter needs to detract from your décor and your personal stylistic expression.
There are a few rules when it comes to renovating the bomb shelter. You cannot do anything that will interfere with the effectiveness of the shelter at providing safety. This rules out any kind of drilling into the walls, floors, ceilings and door. You also cannot switch out the door or modify the vents.
However, there are a few simple things you can do without a permit. You will not need a permit to undertake superficial renovations on the external wall of the bomb shelter. This means you can install wallpaper, paint, shelving or cabinetry along the outside wall. Repainting the bomb shelter door is also allowed provided that you remove the existing paint coat beforehand. You can also fill the interior of the shelter with whatever storage or furniture you like, though you should make sure there is still enough room for your family if needed.
A well-designed household shelter will blend in with the rest of the room décor. Many interior decorators have managed to make their household shelters almost invisible through clever design strategies. You should also make the most of the shelter space as well – they can be extremely useful for storage or even a music/study room if you're low on space!
To help you gather some inspiration, here is an overview of some of the best bomb shelter design ideas across Singapore. Find out how to transform your BTO bomb shelter today.
HDB bomb shelter interior design ideas: Style inspiration for a Singapore bomb shelter
10. Bomb shelter ventilation cover
The ventilation cover is one of the hardest aspects of a bomb shelter to design around. Luckily, there are a number of competent contractors such as JJ Home Improvements who can help you transform the bulky vent cover into a sleek, seamless opening. They can also help you restore the vent to standard if you change your mind or decide to sell.
09. Bomb shelter mirror
Turning your bomb shelter door into a mirror is the perfect way to hide it in plain sight. The mirror will also make the room feel larger, bouncing light around the space. You can select a mirror with different tints such as black or bronze to suit your décor. This is a great way to turn one of the most incongruous parts of your home into its biggest design asset.
08. Tic tac door bomb shelter
A 'tic tac' is a type of opening style for a door that does not require a handle. With a tic-tac mechanism, you only need to push the door lightly before it will click open (much like a clickable pen). This means that your door can blend almost seamlessly against the wall, cutting down on the bulk and how noticeable the bomb shelter is in your home. With a tic-tac door, your bomb shelter will be basically invisible.
07. Bomb shelter shoe cabinet
Most people use their bomb shelter for some form of storage, whether it be food or things. So why not convert your shelter into a shoe cabinet? It is a great way to keep the rest of your home neat and organized. Plus, the shoes won't take up too much space – so the shelter is still functional! Read more about this particular bomb shelter transformation by The Cott Interior.
06. Conceal bomb shelter with chalkboard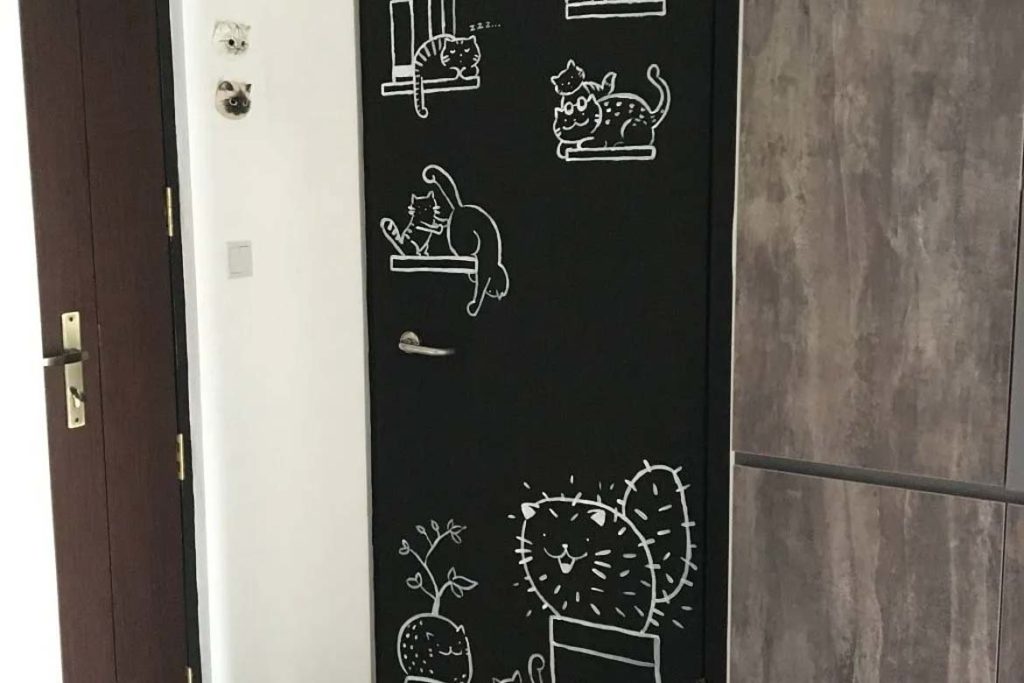 Rather than trying to make your bomb shelter door invisible, why not turn it into a fun feature of your house? Covering it with chalkboard will give you a fun opportunity to be creative with drawings, as well as providing a handy place to note down grocery lists, chores, and messages for the rest of the family.
05. Cozy oasis
Don't forget to use the interior of the bomb shelter too! You can create a comfy reading nook with some books and a bomb shelter bed Singapore which will be perfect for watching a movie or two with friends (or a special someone).
04. Bomb shelter feature wall design
Another option to enhance the style of your bomb shelter is to incorporate it into your façade design such as this ingenious layout by Divine Glitz. This can be achieved with tiles, timber, wallpaper or even a TV feature wall.
03. Bomb shelter maid room design
It is common in Singapore to transform the bomb shelter into a domestic helper's bedroom. However, you should know that this can be dangerous for them because there is not enough ventilation in the bomb shelter – sleeping there is actually not allowed. Nevertheless, turning the room into a cozy area that people can enjoy for short periods of time is a great idea – examples include a music room, library or study.
02. Wallpaper bomb shelter door
Wallpaper is an easy and affordable way to completely change the interior of your home. Placing a bomb shelter door sticker across your wall can hide it completely out of sight. For more information on HDB wallpaper, see here.
01. False wall
Another clever way homeowners have been working around the bulky design of a bomb shelter is to install bomb shelter cover walls – false walls which can be pulled back to reveal the shelter whenever necessary.
---