Stainless steel is a specific type of iron alloy which is resistant to rust and corrosion. The life expectancy of stainless steel is well over fifty years, which is why it has become such a popular material in the home for heavy-damage areas such as kitchen benchtops, islands and splashbacks.
Stainless steel kitchens are rapidly gaining popularity in residential Singaporean homes. Stainless steel is already the accepted standard for commercial kitchens such as restaurants due to its durability. Now it has picked up momentum in residential homes as architects and designers come to realise the aesthetic power of industrial elegance.
Stainless steel kitchens are typically designed to look sleek, sophisticated and contemporary. Common features of a stainless steel kitchen include crisp, clean lines, kitchen islands, and hanging features such as lamps or exhaust fans. There are numerous benefits to a stainless steel kitchen, both practical and aesthetic.
Advantages of a stainless steel kitchen design
1. Rust resistant
Stainless steel is the best metal when it comes to resisting rust. Alloyed stainless steel does not ever rust because it is a reactive metal which will form a passive corrosion product layer to protect itself from exposure to water and air.
2. Hygienic
Stainless steel has a sealed surface that will not collect germs or bacteria. Because stainless steel particles are packed so tightly, there are no gaps in between for unhygienic material to sink through. This makes stainless steel a much safer choice than porous materials such as wood and plastic which may absorb harmful bacteria over time.
3. Durable
Stainless steel is incredibly durable. When the correct type of stainless steel is taken care of the right way, it can last longer than fifty years. It is also stain, wear and fire resistant. With a stainless steel kitchen you can rest assured that your interior will not need updating for many decades – and probably even a lifetime.
4. Easy to clean
Cleaning stainless steel is a simple job. As noted earlier, stainless steel will not absorb bacteria or germs beneath the surface. To wash it, you simply need to use a mild detergent diluted in warm water and rinse. To prevent streaks, you should rinse and wipe down the area with a soft cloth. However, remember that wire wool, bleach, silver polish and abrasive detergents can damage or discolour the surface.
5. Looks beautiful
The reason that stainless steel has been left out of interior kitchen design in the past is because it does not have the reputation of a beautiful material. However, stainless steel can be gorgeous when styled cleverly with a comprehensive design thesis. Particularly with the recent revival of brutalism as a modern style comes an appreciation for industrial materials such as aluminium, steel, brick, glass and timber.
Disadvantages to stainless steel kitchen system Singapore
There are a few drawbacks to having a stainless steel kitchen, of course. Stainless steel reverberates, meaning that it can be quite noisy when you drop dishes or utensils on it. Stainless steel is also susceptible to scratching, so you have to be careful with what you place on it. Stainless steel also does not have the same variety that other materials have; it is one colour and one cut for everything.
Stainless steel kitchen Singapore: The best items and designs for your stainless HDB home kitchen
10. Stainless steel kitchen cabinet
Stainless steel cabinets are a great idea for the safe storage of food, crockery, cutlery, and general kitchen appliances. Their hygienic nature means that your items will be safe from bacteria. Stainless steel cabinets also have a raw elegance that is bound to impress. Many high quality brands have embraced the steel cabinet look, such as Ikea (design pictured above) and Singapore's renowned Song Cho.
09. Stainless steel kitchen rack
For those who don't want to commit completely to a stainless steel kitchen design, consider a stainless steel storage rack. Portable shelves for drying dishes and cutlery or storing dishwashing liquid is a great way to make use of the stainless steel non rusting benefits without having to drastically revamp your entire kitchen. You could also buy a stainless steel table or trolley to the same effect, which could be stored out of sight when not in use.
08. Stainless steel and wood
One way to soften the harsh look of stainless steel is to accent it with a natural timber look. Mixing textures creates interesting visual layers that bring together the best of both worlds.
07. Stainless steel outdoor kitchen
Stainless steel is the ideal material for outdoors as it will not rust with prolonged exposure to the elements.
06. Small stainless steel kitchen
Stainless steel can be overwhelming when there is a lot of it, so consider using a small kitchen instead – this is a great idea if you separate the kitchen into the wet and dry areas.
05. Second hand
One option to lower the price is to purchase a used stainless steel kitchen. Many commercial cooking businesses will sell their equipment in its entirety when they have finished with it.
04. Stainless steel kitchen island
Kitchen islands are extremely useful. Having a stainless steel kitchen island allows you to access the hygienic properties of the material while also providing an elegant design accent to your kitchen setup.
03. Stainless steel equipment and appliances
For those who find an entire stainless steel kitchen too overwhelming, consider just purchasing stainless steel kitchen items. The Kraus stainless steel single bow undermount kitchen sink and tap is available here for $557 SGD and will last your family a lifetime.
02. Stainless steel backsplash
For a touch of contemporary elegance, consider a stainless steel backsplash. This beautiful accent will protect your walls from damage for decades. They are also extremely beautiful and can be paired with natural timber or washed white for a rustic twist.
01. Stainless steel countertop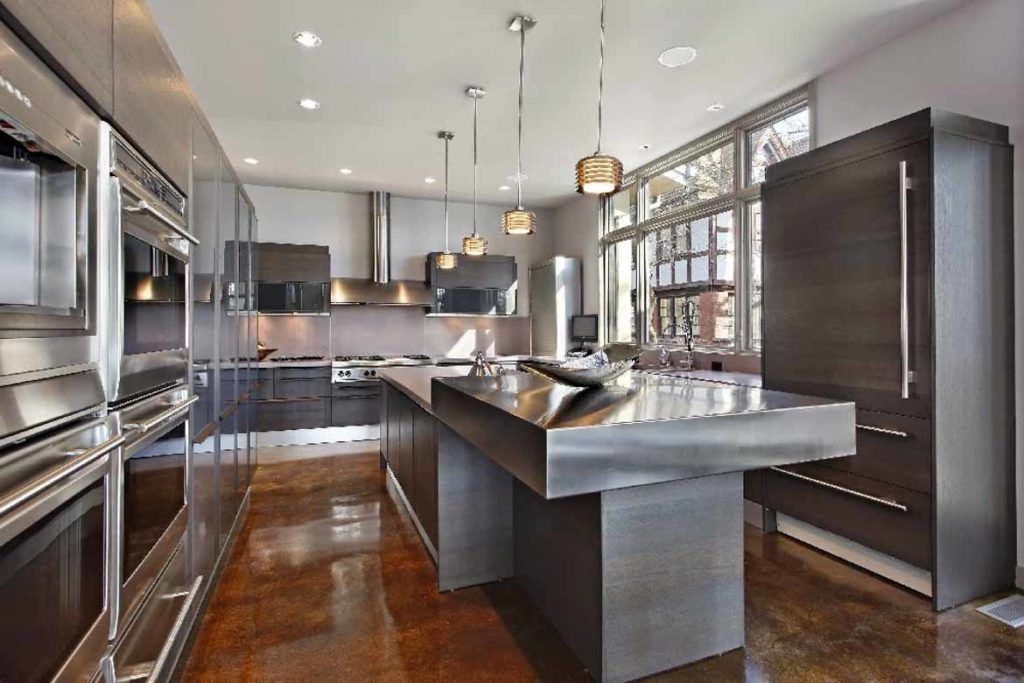 Stainless steel is one of the best kitchen top materials because of its durability. This is a modern look which can be toned down or accentuated to your liking. For a crisp, hygienic kitchen with a raw sophistication, stainless steel will never steer you wrong.
---