As the COVID-19 crisis enters its third year, the role and relevance of the workplace typology has never been more widely scrutinised since the pandemic fast-forwarded a remote working revolution and organisations around the world contemplate how to design an office that people would want to return to. One organisation found answers by focusing on the details and well-being of their employees.
The Wilmar International Headquarters is a newly built workplace project located at Biopolis, within the JTC one-north masterplan designed by Zaha Hadid. Steve Leung Design Group (SLD) curated the interior design of the nature-inspired and highly sustainable building designed by award-winning British architect Eric Parry (in collaboration with RSP Architects), covering approximately 15,210 square metres of the interior including the reception, typical lift lobbies, north and south cores, office fit-out, staff cafeteria, C-suite management offices, boardrooms, VIP lounge, gym, sauna and private dining room.
As one enters the reception from the drop-off, it is evident that the organic shapes of the building's architecture have been mirrored inside the workspaces with every detail thoughtfully conceived and executed. From the Travertine stone at the lift lobby having a consistent tonality and vein direction to the Eucalyptus veneer finish that creates both a warm-residential ambience and energetic vibe befitting a dynamic office space. The overall ambience is characterised by a bright coloured scheme of natural shades dappled with subtle hues of yellow and green to exude a sense of pleasant serenity that encourages employees to feel more at home during working hours.
"Upscale residential designs are our specialty, and you can expect to experience a 'Maison-type of feeling' in this corporate project, where timeless design achieves a soothing, high-end residential-inspired working environment," says Mai Chongchaiyo, Director of Design. There are many signature SLD design elements in this project, including a sophisticated contemporary style mingled with a subtle Chinese flair, which is apparent throughout the office.
"While the interior design seeks to embody the client's traditional corporate needs and preference for effortless elegance without the inclusion of open spaces, the overall approach by SLD revolves around the practice's key design value of 'functional beauty' with a focus towards delivering a sense of comfort for the end-users in their daily workspace," explains Chongchaiyo, who oversaw the project that required careful and skilful spatial planning to express a clear hierarchy of spaces and to showcase the CEO's exquisite collection of Chinese artworks.
Despite initial challenges in translating the client's brief into the built environment, Chongchaiyo and his team successfully encompassed simple elegance and timelessness into the interior design, with the inclusion of a few noteworthy design innovations that also happens to be Chongchaiyo's favourite aspects of the project.
A good example would be the curvaceous spiral staircase connecting the second to fifth floor that echoes the external architectural lexicon. This important element not only injects a sense of dynamism throughout the space, but has also become a focal point for social interaction amongst employees and reduced unnecessary elevator use.
Another highlight includes using landscape as a feature to provide a seamless dialogue between the external and internal spaces through generous full-height windows that draw ample light and the luxuriant greenery inwards. This created an unexpected wow factor, especially in the auditorium.
To top it off, special attention has also been paid to local culture and living habits with the traditional Singaporean kopi (coffee) and hawker cultures reflected within the design features of the staff cafeteria and dining areas respectively. Along with carefully edited furniture, these details add a patina of domestic luxury to the work environment.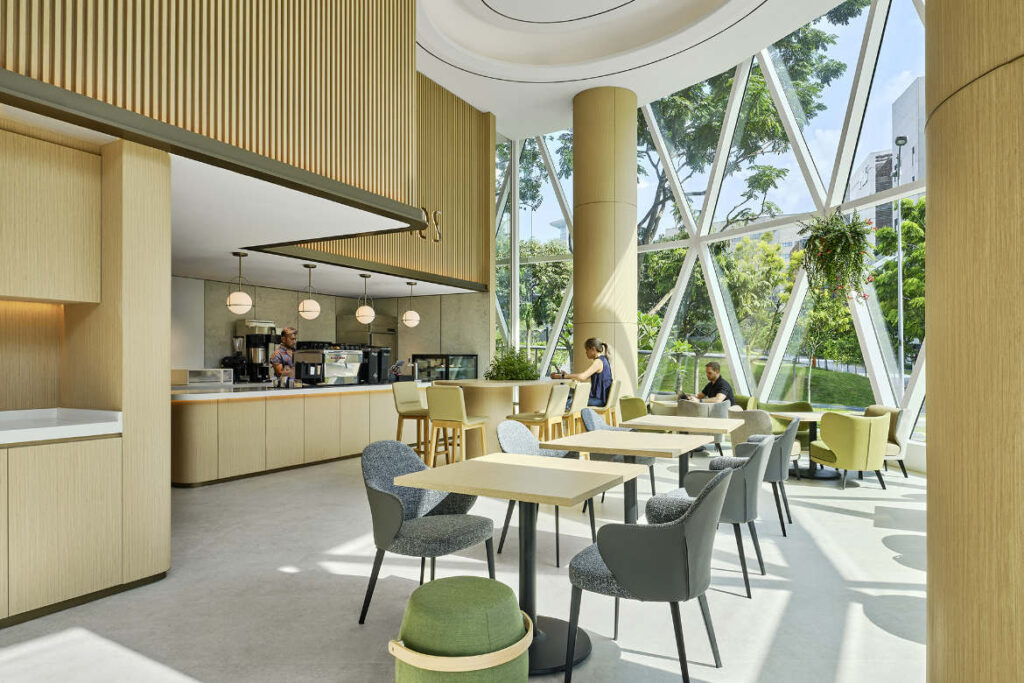 By thoughtfully employing a rich array of holistic good practices, SLD has not only managed to inspire dialogue and inclusivity within the modern workplace, but also reconnect people with nature within the built environment. And while our workspaces will inevitably continue to evolve as humanity faces new challenges, as well as habits and technological advancements, Chongchaiyo is optimistic as he shares about tackling future design iterations. "In the near future, I envision multi-faceted and flexible workplaces designed in a way to ensure proactive resilience and work-life balance under the new normal, with people working in different paradigms: on-site, from home, and even from the fascinating Metaverse universe."
Photography by Owen Raggett
.
Wilmar Headquarters, Singapore
Client: Perennial Real Estate Holdings Ltd.
Location: Singapore
Architect: Eric Parry Studio
Interior designer: Steve Leung Design Group
Design director: Mai Chongchaiyo Soraphong
Design team: Tai Theeravuth Theerawan, Katrina Therese Castro Sadac
Lighting designer: Nipek Pte. Ltd.
AV Consultant: Swee Lee Projects
Builder: Sunray Woodcraft Construction Pte Ltd
Date of completion: September 2021
Time to complete: 36 months (design and construction)
Total floor area: 15,206 sqm
---