Located in the heart of Al Mina al Seyahi, the district of Jumeirah Beach that is best known as the home of the Dubai International Marine Club and its 300-berth marina, the W Dubai – Mina Seyahi is the latest offering of the W Hotel chain.
Unashamedly extravagant, and therefore a natural fit for this part of the world, the new 31-floor facility includes 291 guest rooms, along with 27 'opulent' suites. Beyond this, visitors are sure to notice its exterior, which recalls the shape of traditional local Dhow boasts; its striking marina-front lobby, infinity pool and spa; and its multiple state-of-the-art meeting rooms.
BLINK Design Group, the multi-disciplinary design studio with 16 years of experience in the luxury hospitality industry, was responsible for all of the hotel's interiors. As the studio's founder and creative partner Clint Nagata explains, the project involved consideration of the site, its history, and its culture.
"We drew deep inspiration from the timeless tradition of Al-Halqa, the storytellers' circles as old as Arabian culture itself, where crowds would form around masters who would spin captivating yarns. It's an art form that has been given World Heritage status in Morocco and still thrives for those who know where to look in the UAE," he says.
The designers sought to honour the port's ancient status as a centre of the copper trade and a place where Al-Halqa storytellers were known to spin their tales. Or as Nagata puts it, "…we set out from the ground up to imbue this hotel with the soul of storytelling and the spirit of the souk, a place for people to meet and share the stories of their travels, and a haven for modern day traders, wheelers and dealers."
This concept of Al-Halqa is most notable in the hotel's signature dining experience, Ginger Moon, featuring a spectacular split-level ocean deck connected to the sparkling waters of the bay, with a restaurant and pool bar overlooking The Palm Island.
Similarly, the hotel suites have been envisioned as a place to gather with friends for pre-dinner drinks and gossip, or for a casual meeting. The beds have a luxurious seating area, with a tilted mini-bar in brass and dark blue lacquer, a social space where drinks can be served and a perfect place for lazy grazing.
"The storytelling theme also extends into the bathrooms via a calligraphy theme, with bold black and white colours to echo ink and paper," says Nagata. "The bathroom also has its own seating area, encouraging long bathing rituals, cocktails and conversation."
At W Dubai – Mina Seyahi, guests can expect their stay to be special. They should ready themselves for surprises like treasure chests as bedside tables (that actually contain small treasures) in their rooms, fittings that recall the best work of ancient artisans, and spaces (both private and public) that invite adventure and creativity.
BLINK Design Group
blinkdg.com
Photography by Owen Raggett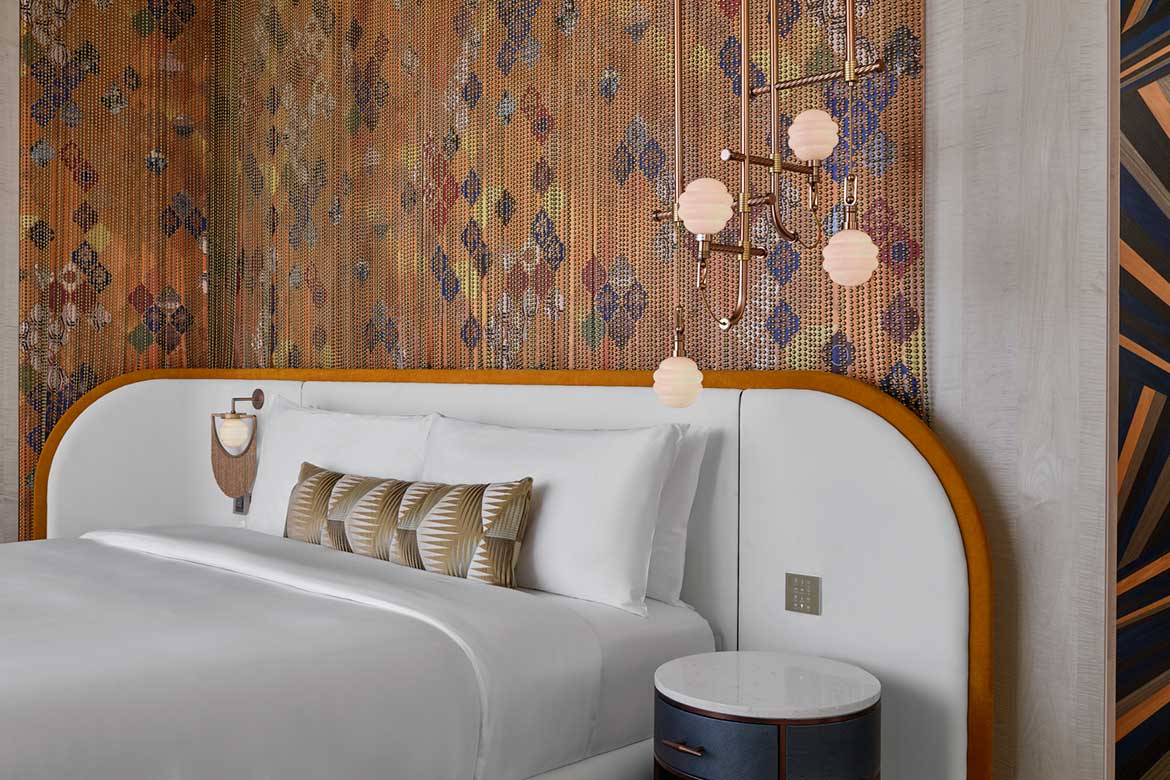 ---