HYLA Architects have designed a house with a strong dual character. It sits on a corner plot in a residential area in Singapore, and has been christened 'Verdant Verandahs'. The house is wrapped on the front and side elevations by a white concrete shell punctuated with a vigorous pattern of apertures. It interlocks with a timber-screen set slightly back to envelop the attic and rear elevation.
This juxtaposition is interesting as the characters of the two elements are so diverse visually. One is robust and modern; the other is light and reminiscent of vernacular Southeast Asian houses. But both serve similar functions, albeit to varying degrees. Privacy, shade, natural ventilation – all these considerations of the tropical climate are mitigated through these skins.
"This corner site has very nice existing trees. As such, the building's external façade and how it relates to the exterior and the trees became a key component of the concept. The timber screen is used to soften the concrete screen as well as provide a counterbalance," explains HYLA Architect's founder and Principal Architect Han Loke Kwang.
The concrete skin has an additional use, incorporating greenery into the façade through planters. "The idea is to blend the architectural concrete elements with the landscaping so that they can become integrated visually," Han explains. A terrace buffers this skin and internal rooms to enable occupants the enjoyment of the views and breeze while within enclosure.
Han ensures that the occupants are always surrounded by nature, be it moving along the house's periphery or deep in the plan. While the planter boxes and first-storey landscaping take care of the former, a double-storey courtyard planted with greenery on the second storey, positioned against the parti wall and abutting the central stairwell, resolves the latter.
This gesture leads to a visually porous interior that enhances connectivity. It also enlivens while lessening the cloistered feel for the second-storey and attic corridors leading to the rooms. In the master bedroom in the attic, the homeowners are privileged with lush green views on both sides – outward toward planters and inward toward the courtyard.
A skylight capping the courtyard flushes the interior with natural light. In the attic, the music room at the rear is also characterised by a physical lightness, being enveloped by the timber trellis on the façade and given a lofty atmosphere due to the raised roof profile that provides a higher ceiling than the other levels.
What makes this house unique is how the façade's duality enables the occupants to encounter diverse ways of interacting with the outdoors while traversing from back to front and vice versa. The dearth of homogeneity in the experience provides rich material for further architectural discourse.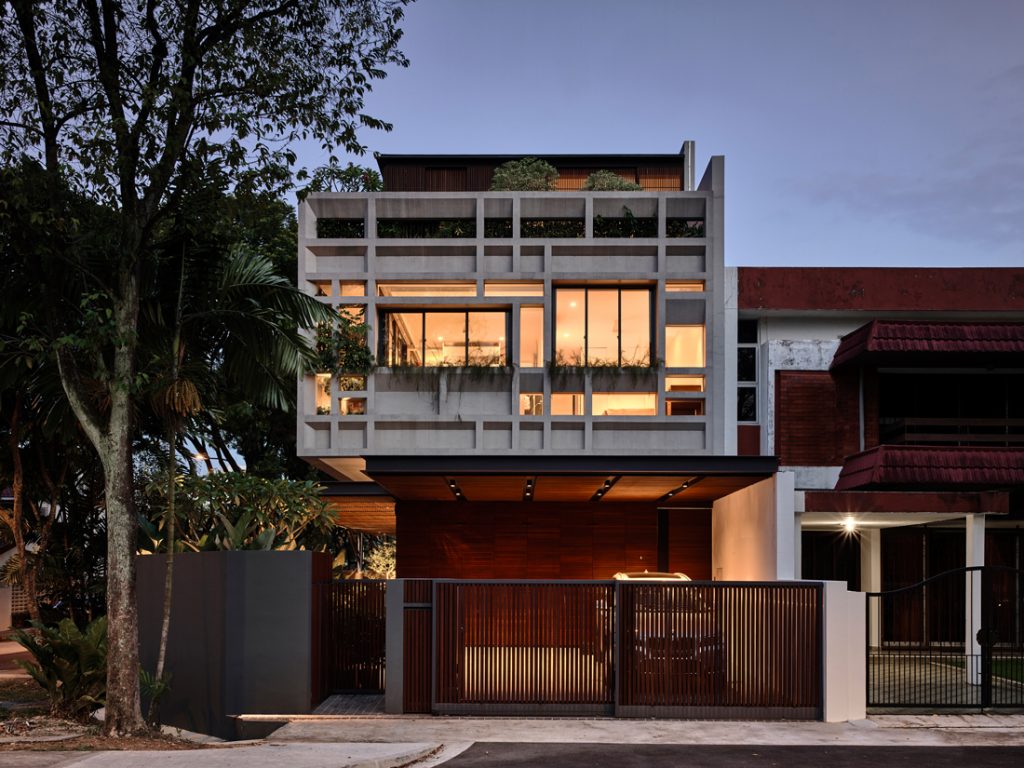 Photography by Derek Swalwell
.
Verdant Verandahs House
Architect: HYLA Architects
Design Team: 'Ann' Tipnipa Pantipjatuporn, Tran Thi Thu Trang, Monero Rochelle Abanes, Thomas Ong
Builder: Praxis Contractors Pte Ltd
Civil Engineer: GCE Consulting Engineers
Landscape Designer: Nyee Phoe Flower Garden Pte Ltd
Interior Designer: Custom joinery designed by HYLA Architects and built by Hiap Chuan Wood Industries Pte Ltd
Bathroom Fittings: Gessi
Sockets and Switches: Schneider
Interior Vinyl Flooring: Bolon
Joinery: Vescom 'Greenland' Fabric
Hardware: Kawajun
Decorative Lighting: Swarovski
---