Located in Gurugram, North India, the Vedanya School is a primary school with interactive and interconnected spaces built for unbridled learning. Perceiving architecture as a tool to transform the educational experience, New Delhi-based multidisciplinary architectural practice, Vijay Gupta Architects (VGA) designed the school around values of openness, mobility and sustainability, aligning to the clients' aspirations to create a forward-looking and innovative place where students would be excited to attend and learn at.
"As paradigms of primary education evolve, architecture is increasingly seen to be a driving force to curate decent learning environments," said the architects at VGA. They saw schools as "a catalyst for learning"; a place that offers endless opportunities for self-directed learning, exploration and participation.
As the team's research revealed that children's cognitive agility and social skills are enhanced when they are allowed to move freely, the Vedanya School diverges from the standard approach of traditional classrooms that are often monotonous and enclosed.
At the Vedanya School, classrooms take on generous curvilinear forms with double-volume spaces that maximise openness and mobility. Situated at the upper floors, they open out to mini terraces with peekaboo windows dotted throughout the corridors, encouraging curious children passing by to peek inside.
According to the architects, the key challenge was to build upon a compact 2,500-square-metre floor plate based on an existing structure. In response, the team opted for a simple layout with functions that revolve around both sides of a central atrium. On alternating sides are a music and movement room, a student's performing area and a spacious library that are interconnected and visible through curving corridors.
At the entrance, a double-height space serves as an outdoor area for play, replacing the need for a campus playground or yard. The curving corridor in the middle doubles up as an activity area, empowering the children to move and play as they wish. There is also a spacious dining room and a double-height maker's lab on the first floor.
Every floor features double-height activity rooms that overlook the atrium through full-length glazing, ensuring visual connectivity and continuity throughout. "Designed to maximise movability, these architectural features catalyse interactions between students and instigate self-learning," adds the architect.
The overall palette is a mix of carefully selected muted, earthy and pastel tones complemented by a timeless base of light-toned wood, grey floors, and black steel frames. Like a blank canvas, the absence of bold colours or materials was intentional, allowing children to form their own identities and thoughts without imposing any strong point of views on them.
From the get-go, the architects also considered passive-climate strategies to be integrated within the building through features such as deep recesses and balconies on the South; service cores on the West that negate the harsh sun; extensive glazing at the North where there is an abundance of natural light, reducing dependence on artificial lighting.
VGA's sensible architectural approach on the Vedanya School to enable unfettered movement, promote interconnectedness and transparency empowers children to be in their most natural state where they are most explorative and curious. The focus on holistic learning and development in the formative years of children goes a long way in building confidence and cultivating the joy of lifelong learning.
Photography by Suryan Dang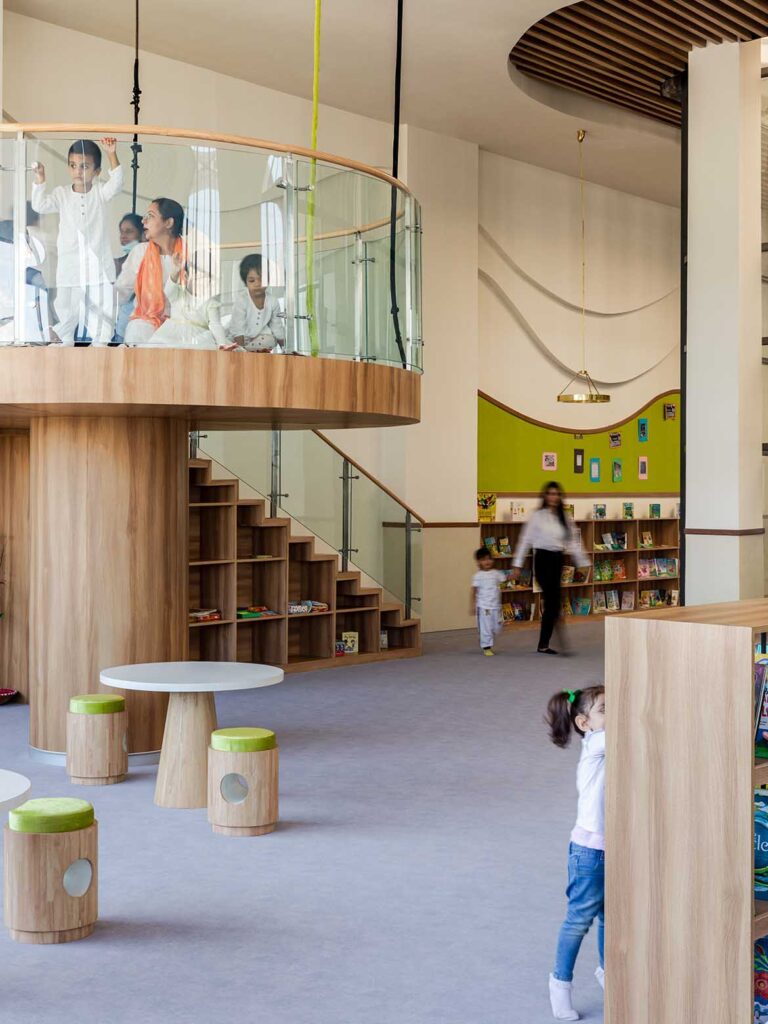 .
Vedanya School
Client: Vedanya International School
Location: Gurugram, Haryana, India
Project Manager: Saurabh Gupta
Interior Designer: Akansha Gupta
Structural Consultant: Kamal Sbharwal
M&E, HVAC and Plumbing Consultant: Gagan Gupta
Date of Completion: March 2022
Site Area: 2,500 sqm
Total Floor Area: 5,000 sqm
---