UNStudio has designed the new Karle Town Centre (KTC) as a development that aims to define Bangalore locally and inspire all of India to "lead by example" when designing urban centres.
KTC is currently under construction across a 62-acre site overlooking Nagavara Lake, adjacent to the established Manyata Tech Park. It taps into Bangalore's ring road and expanding metro lines, and has been envisioned as an activity-filled magnet for people.
Some key features of the master plan include a programmatic mix at the scale of the plot and building; a variety of meeting points; openness along with prioritisation of security; permeability for pedestrians and vehicles; underground roads to reduce congestion and noise; plentiful shade and greenery; and data collection for optimisation of environmental controls.
The slow implementation of master plans due to development phasing often hinders their success in terms of user experience. In an attempt to counter this, UNStudio designed each plot and building into its own microcosm with a programmatic mix of live-work/play functions.
Such blends, however, need to be relevant to their cultural context. "The inclusion of a grand central theatre, event square plazas, elevated retail stages and amphitheatre-style staircases creates a multitude of small and large meeting points with cultural significance," says UNStudio.
UNStudio describes the architecture as a series of "branded contemporary buildings" – dynamic white volumes painted in UNStudio and Monopol Color's patented 'Coolest White' paint. The architectural and landscape environments have been conceived as fused, interwoven forms. Architectural features will be found in the landscape, and greenery will occupy buildings in green pockets and on roof scapes.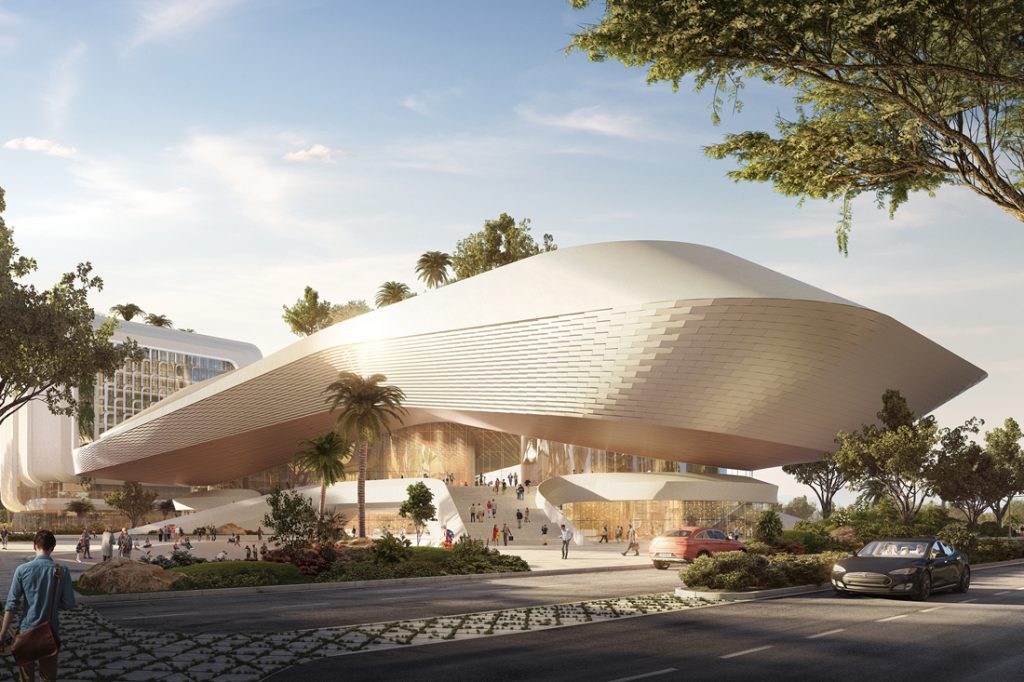 A Twenty-First-Century Garden City
UNStudio collaborated with Amsterdam-based BALJON Landscape Architects to develop the master plan as a means of combatting issues such as the urban heat island effect and fresh water shortages, as well as enhancing quality of life for KTC residents. In the process, the vision is to enhance the green character of Bangalore, whose parks and lakes functioned as the lungs of the city before rapid urbanisation reduced their scale and effectiveness.
Says Lodewijk Baljon, Principal of BALJON Landscape Architects: "As gardens are places of reconciliation between [humans] and nature, the Garden City of the twenty-first century will demonstrate a new way of bringing [humans] in contact with nature. In bringing forward the qualities of nature in the city, KTC will be an innovative cultural phenomenon."

The public realm will be enhanced by elements such as a lakefront promenade, streetside vegetation, semi-public sky gardens throughout the architecture, and integrated urban components (seating, lighting, bike-route paving, bollards, et cetera).
Urban Branding Manual
So many central business centres suffer from stagnation due to the singular functions that dominate them. UNStudio in collaboration with Karle Town Centre developed an Urban Branding Manual to counter this tendency. It focuses on three pillars: Garden, Health and Culture.
The Manual analyses the components of the design in detail, and explains the design intentions and requirements. As such, it serves more as a tool to help facilitate the design intentions of the client, engineers, architects and urban planners with a view to a collective understanding for all project stakeholders of the principles and motivations behind the previous choices and requirements. It's a safeguard for the design, conceived to encourage the proper execution of the urban vision over the life of the project.
Explains Ben van Berkel, Principal of UNStudio, "Traditional master plans focus on general layout and urban planning. Our Urban Branding Manual on the other hand, concentrates on experience and how to translate this experience into reality. With a network of specialists – sometimes more than a few hundred people – you need a clear vision and strategy to stay on course over the long duration of the project. The Urban Branding Manual helps the client to realise this ambitious undertaking."
Data-Driven Urban Design
UNSense, the archi tech company founded by UNStudio, is collaborating with Karle Infra to curate the use of sensor technology throughout the campus. The aim is to optimize the responsiveness of the built environment and promote health by tailoring environmental controls to the physical, mental and social wellbeing of users through data collection.
Says van Berkel: "We have so much data at our finger tips that can be used to analyse behaviour and inform design on an urban scale. We should use this to devise urban solutions that allow us to live in healthy environments that enable social interaction and capitalise on our free time more valuably."
The health of the built environment will also be promoted by passive design techniques. The landscape strategy will provide thermal buffering, wind protection and air filtration (for fine particulates lifted from Bangalore's soil). Underground water retention zones will feed irrigation as well as store and treat grey water.
.
Karle Town Centre, Bangalore
Client: Karle Infra Pvt Ltd
Master Plan and Urban Branding: UNStudio
UNStudio Project Team: Ben van Berkel, Gerard Loozekoot with Harlen Miller, Maurizio Papa, Filippo Lodi, and Atira Ariffin, Bianca Dobru, Dana Behrman, Emma Whitehead, Jacques van Wijk, Jung Jae Suh, Maria Zafeiriadou, Pietro Scarpa, Sibilla Bonfanti, Yuntao Xu
Advisors:
Landscape Architect: BALJON Landscape Architects, Amsterdam
Infrastructure Master Planning: Aurecon, Melbourne
Master Plan consultant: Ross Bonthorne, Sydney
Building surface: 10–13 million sqft or 930,000–1,200,000 sqm
Building site: 62 acres
Images: UNStudio
---