Keppel Cove Marina is the only marina in China with a private immigration port. Given this exclusivity, the master plan for its development unsurprisingly incorporated elements beyond the CIQP (Customs, Immigration, Quarantine, Port Clearance) function: a clubhouse, luxury residential villas, a bridge, roads and external dykes.
The clubhouse serves as a commercial hub for the marina, with publicly accessible and VIP areas, a hotel, a spa with pool, a work space, retail and F&B. As such it provides a destination in itself while also hosting the more transient encounters of travel. Its architecture offers the dual experiences of retreat and relaxation, and excitement and escape.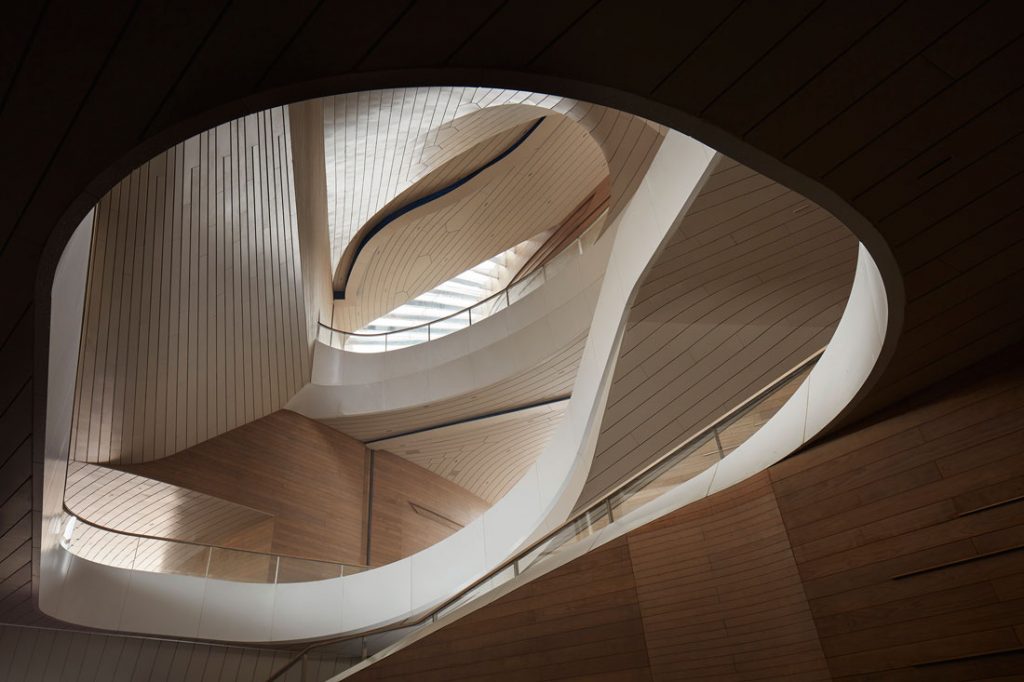 UNStudio devised a concept for the clubhouse that would create a strong identity at the heart of the marina development. The experiences of approaching the clubhouse from land and from the water – with consideration of the key view axes – informed the architecture.
Explains UNStudio, "Whilst from the land side a sculptural landscape builds up gradually as you approach the clubhouse, from the water side a distinct and open facade welcomes seafarers while casting a shimmering reflection on the water." Materials and facade treatments reference speedboats and yachts.
The building fans out toward the water, maximising access to the marina view. Large funnel-like spaces pierce the building mass, allowing for a seamless transition through it in horizontal and vertical terms. The funnels also open up views to the water and the hilly landscape and enable the flow of cooling breezes through the building in the warmer months.
Says Ben van Berkel, Co-founder of UNStudio, "The way the wind is guided through the building in order to cool down the interior is also metaphorically articulated in the design. Within the internal wind funnels, it is almost as though you can see the wind swirling around within the architecture that surrounds you."
A bridge provides the main access route and was designed with thorough consideration of the pedestrian experience. The walking level sits lower than the vehicular level, and offers platforms for rest.
UNStudio Asia, headed by Hannes Pfau, consists of two offices, with 40 staff in Shanghai and 15 staff in Hong Kong.
Photography by Tom Roe, courtesy of UNStudio.
---