When Unicorn Stores, the operator of multiple premium Japanese lifestyle department store and supermarket brands in Hong Kong, set out to transform its headquarters, it looked to UK-trained architects and founders of Bean Buro, Lorène Faure and Kenny Kinugasa-Tsui – French and half-Japanese, half-Hong Kong Chinese respectively. What is clear right from the start, then, is the dazzlingly global set of influences enriching the design.
"We love to fuse different cultural ideas into our projects. In response to our client's brand, we took subtle inspirations from traditional Japanese architecture but interpreted them in a contemporary way," says Faure.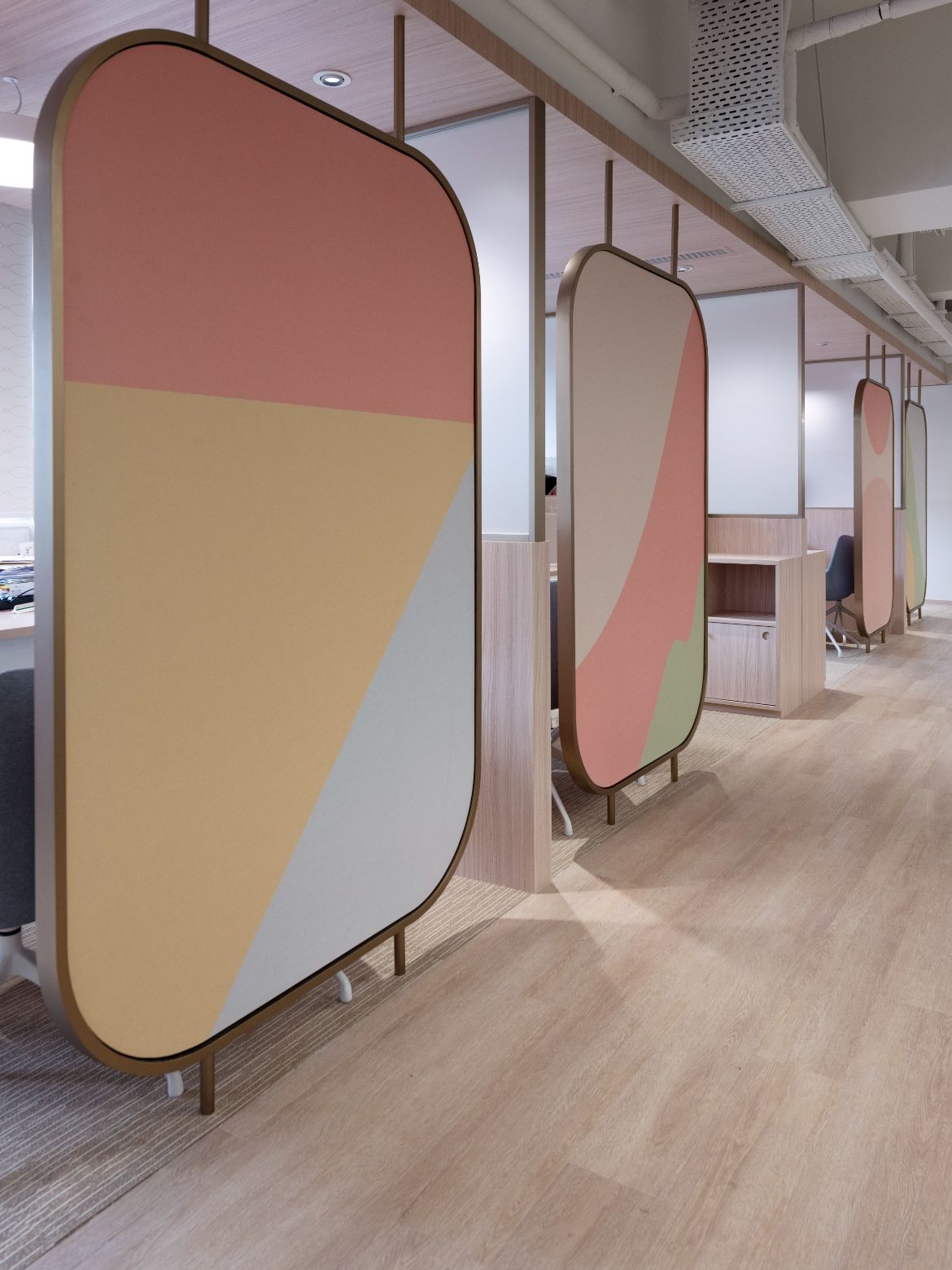 The aim of the project was to transform a traditional working environment into a contemporary one. Bean Buro drew on its core design philosophies to find various solutions to this problem. As Faure explains, this involved "creating layered, porous spaces to intrinsically allow for a diversity of work settings with varying levels of privacy."
The approach found expression in this Hong Kong project through the use of different types of screens as subtle, porous thresholds.
"For instance, in the reception area, we have translucent fluted glass with a gradient effect to partition the collaboration booths, and tinted glass to partition the reception and the workspace behind it. We also made use of Japanese noren as a soft spacial divider," notes Faure.
This design philosophy injects a softness and playfulness into interior space. Kinugasa-Tsui explains: "We wanted the reception area to be very welcoming, warm and cosy. Upon entering the reception, employees and visitors use the seating booths for casual meetings. One also gets glimpses of the main workspace beyond the reception without any doors separating the two spaces."
The reception area sets the tone for the full design and the language of warm materiality continues through to the more recognisably office-like space. Timber is used in various and creative ways, including a gridded lattice lighting system and cladded meeting rooms, to produce an atmosphere of sociability and collaboration.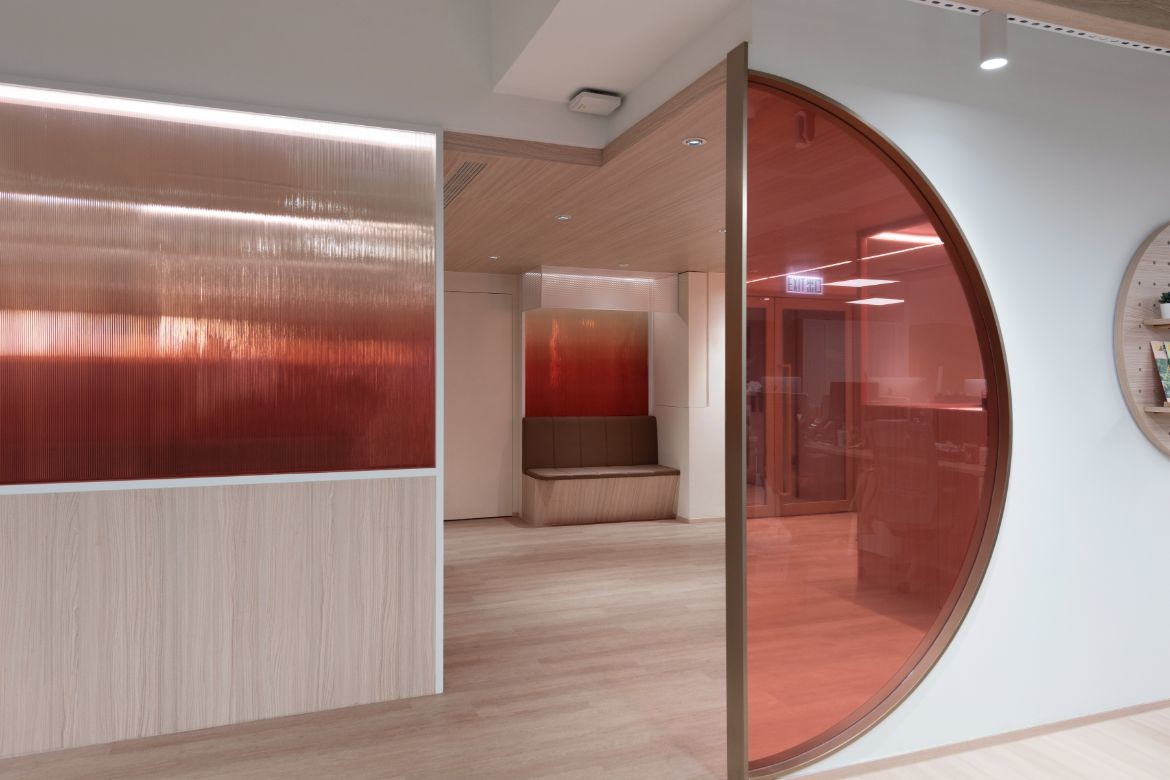 Similarly, a soft colour palette, including bespoke graphical patterns on privacy screens, contributes to a sense of warmth and spatial flexibility. In fact, this was even reflected in the architectural drawings for the project: a set of plans and sections in playful, soft tones.
It all comes together in an aesthetic language whose coherence begins at the lift lobby as one reaches the floor. Unicorn Stores' rejuvenated headquarters is found in a vibrant, post-industrial neighbourhood with multi-use buildings nearby. Bean Buro has designed a welcoming workplace with a style that merges interior design and architecture.
"It was an interior space, but we approached it very architecturally with the use of timber volumes creating a sculptural strategy for all the enclosed rooms," says Faure.
The result is that this workplace encompasses a range of spaces, each one merging into the next and allowing for the flexibility required of the contemporary office. With warmth, a strong international touch and porous spaces throughout, Bean Buro has put a modern stamp on this workplace.
Images courtesy of Bean Buro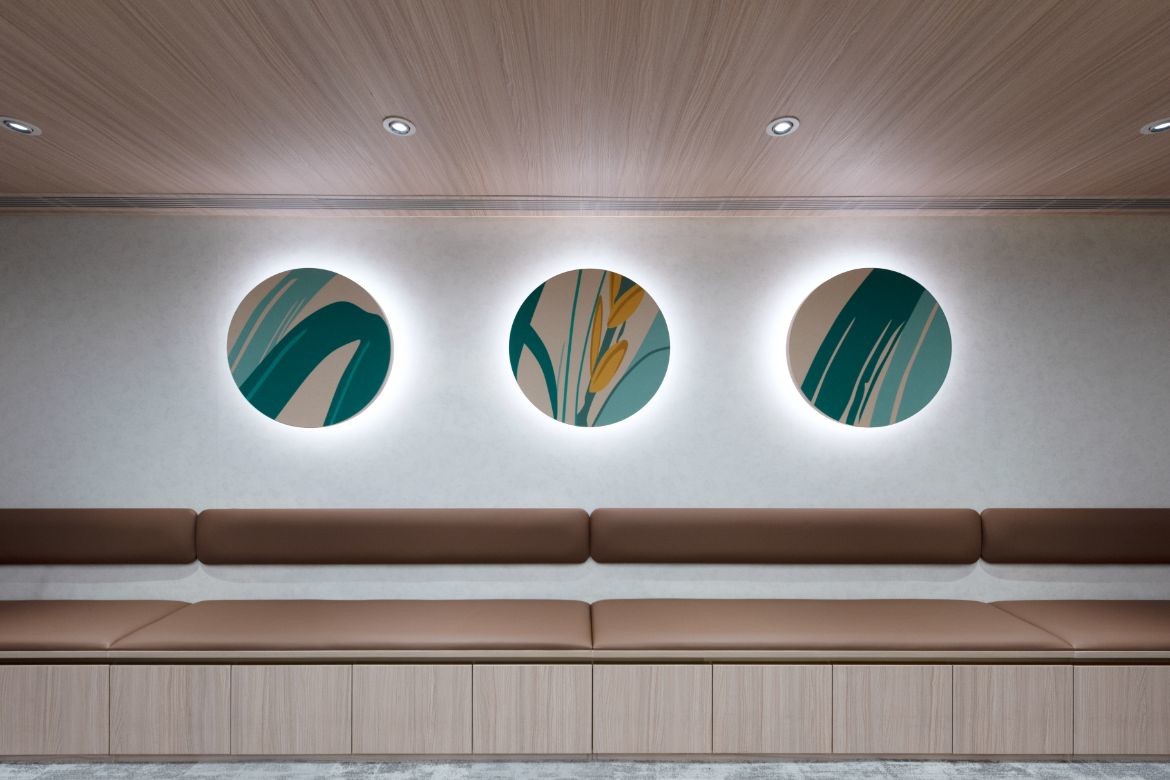 .
Unicorn Headquarters Office
Client: Unicorn Stores HK
Location: Quarry Bay, Hong Kong
Interior Designer: Bean Buro
Project Team: Christina Standaloft, Isabelle Gin, Savannah Wilkins
Main Contractor and Interior Fit-Out Contractor: Element Technologies & Supplies Ltd
Floor Area: 6,600 soft
Completion Date: Q4 2021
---