Studio SKLIM posits that as more people choose to work from home, compact offices may become increasingly prevalent. But how far can a small office be stretched to accommodate the multiple needs of working? The studio's design of a workspace for the Deloitte Centre for the Edge offers some possibilities in response to post-pandemic office needs.
"We wanted a space that embodied the principles of 'provoke', 'inspire' and 'connect' in a real working environment that also showcased the future of work and working," says Duleesha Kulasooriya, executive director of the Deloitte Centre for the Edge.
Designed as a 'third space' that extends the main Deloitte office, it was conceived to accommodate myriad working styles for two to four people within a petite 32-square-metre footprint.
Studio SKLIM studied different anthropometrical work boundaries and patterns and came up with nine distinct work zones. Included here is a dedicated workstation, privacy booth, niche for small-group discussions, collaboration wall for brainstorming sessions and even a bar area.
"Flexibility in office design typically conjures images of mobility–furniture on castor wheels," says Kevin Lim, founding principal of Studio SKLIM. "In this project we chose to adopt a different approach by addressing the issue of flexibility by multiplicity."
Even then, many considerations came into play. For example, movement trajectories had to be kept clear for day-to-day activities while storage for flexible furniture also had to be accommodated. On the latter point, cork stools are cleverly stowed away in docking niches carved into a concrete platform.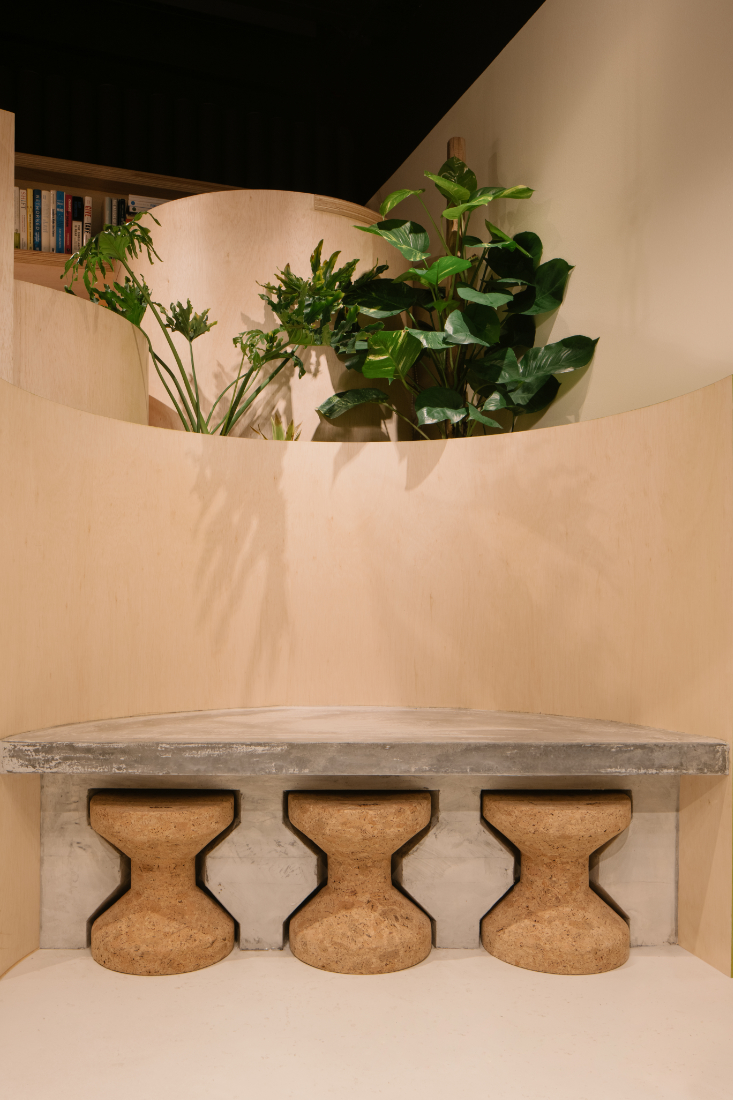 The work zones are concisely expressed as a continuous loop that weaves its way through the space. Curvilinear plywood shells cocoon each work zone, their heights varied according to sightlines and each shell orientated at different angles to create the perception of separate zones. To mitigate feelings of being closed in, cut-outs facilitate visual interaction while shells are staggered to create visual depth and allow daylight into the space.
"The design and construction process has been kept honest and rudimentary to reveal the true nature of materials," says Lim. In addition to the plywood used, everyday stationery such as file binders and clips were used to assemble a shelving wall made of vegan felt.
"In the short time we've been in the space, we've proven that it is a great space for expansive, creative dialogues, as well as collaborative work," says Kulasooriya. "We look forward to expanding its use to host small gatherings as we emerge from the pandemic."
Photography by Khoo Guo Jie
---