When coffee giant Starbucks opened its largest store in Shanghai, China in December of 2017, tea bars across the country pulled up their socks (so to speak). Using design as their instrument for reinvention, they set out to start a fresh conversation with their market of trendy tea drinkers.
Icha Chateau is an exceptional case in point, elevating its interiors by applying a fringed canopy to its ceilings. Working with Spacemen studio to pull off this impressive overhang, the tea bar and restaurant used 35,000 metres of gold chain in three different shades.
Mimicking the shape of Chinese tea plantations, the undulating, sculptural planes form various nooks and niches for patrons seeking privacy, while their soft nature invites people to touch and feel.
Grey mirrors, strategically placed behind the sofas, enhance the narrow site and reflect the gold cloud, creating a sense of dining within a forest. The sculptural piece is used to mask a structural column, turning it into the focal point where all chains are anchored, while its various levels and hues also conceal the store's technical equipment.
Grey terrazzo, matte black stained timber and grey upholstery fabrics compose a muted material palette that provides a sleek background to the gold canopy above.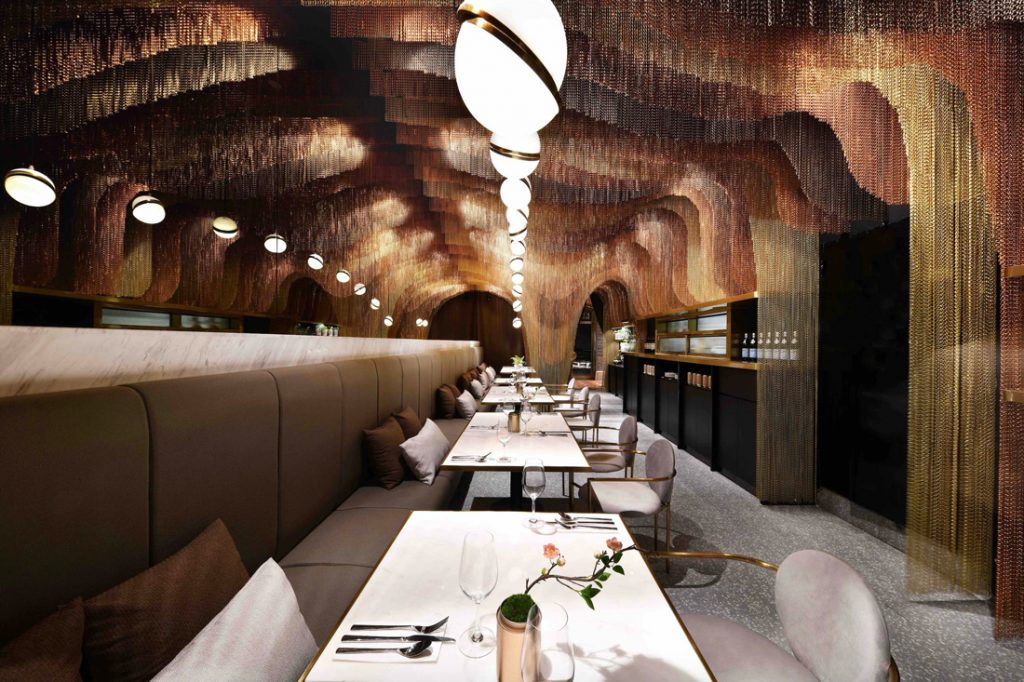 The dream-like interior is a celebration of Chinese tea culture. Through well-conceived design devices, Spacemen brings history and modernity into play, combatting the dominance of Westernised coffee chains to reignite Shanghai's love affair with its heritage.
Photography by Min Chen Xuan.
.
Lighting: Lee Broom 'Mini Crescent Light', Roll & Hill 'Rudi Double Light'
Furniture: Bend 'Lucy Chair', Bride's 'Veil Stool'
.
---