Likened to an ocean liner or a blue whale, Pinghe Bibliotheater pitches out of the ground like a seabound creature pitching out of the water.
As its name suggests, the project is part library, part theatre, and was designed by OPEN Architecture as part of Qingpu Pinghe International School in Shanghai, China.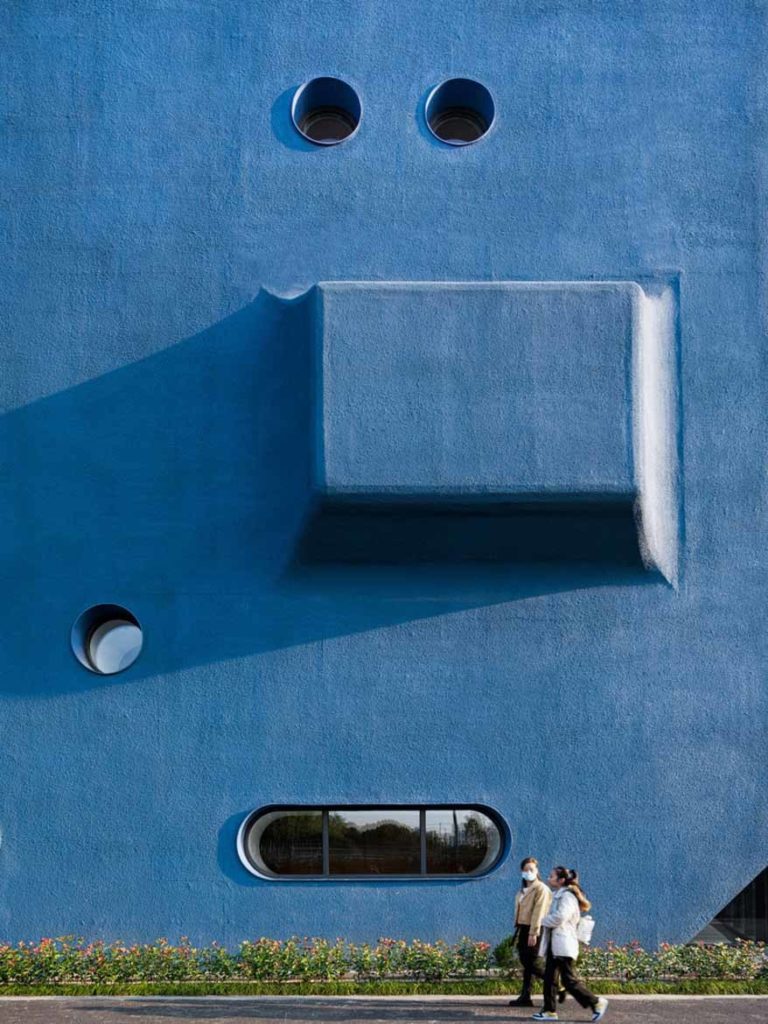 The slanted roof of the blue building points skywards, with porthole-like windows scattered across its surface and a triangular opening reminiscent of a whale's mouth. Abutting a busy highway, the building's eye-catching blue colour draws attention from passersby.
When the architects were given a jumbled plan for a new school that would host 2000 students between the ages of three and 18, they immediately thought about how awful it would be for children to remain in one fixed school building for so many years.
"We decided to break away from the current trend of school-as-megastructure," say the architects.
Consequently, the school became a village-like development which allows its students to "roam free in an ocean of knowledge" through a range of smaller, distinctive buildings. Following this concept, Pinghe Bibliotheater is a large, freestanding and free-flowing structure.
"The marriage of library and theater came from the architect's belief that the act of extensive reading and thinking, and the act of expression through performances, should be critical components of education but are often ignored in test-driven educational systems," say the architects.
"The distinctive qualities of these two programs and the respective physical needs came to inspire the design of the building," they said.
Requiring the least natural light and the most acoustic isolation, the 500-seat theatre and the 150-seat black box theatre occupy the deep central area of the building. 
"Light is crucial to the design of the library, not only fulfilling the functional needs but also giving form to the spaces and animating them with musical rhythm," say the architects.
High ceilings and copious windows lighten the library and communal spaces.
A series of terraces at varying heights provide space for reading, culminating at a bright circular central reading area. Above, a giant oculus drops down from the ceiling to illuminate the centre "in an almost spiritual way".
Pinghe Bibliotheater is a crucial celebration of arts and education in a space that is as inspiring for its students' imaginations on the inside as it is on the out.
Photography by Jonathan Leijonhufvud, courtesy of V2.
---