The client's brief to Park + Associates for the Assembled House was simple enough: five bedrooms for his young five-member family and occasionally visiting grandparents, and open and spacious common areas to spend time together in. Unexpectedly, strict authority regulations were the springboard for an original semi-detached house design that facilitates connectivity through and through.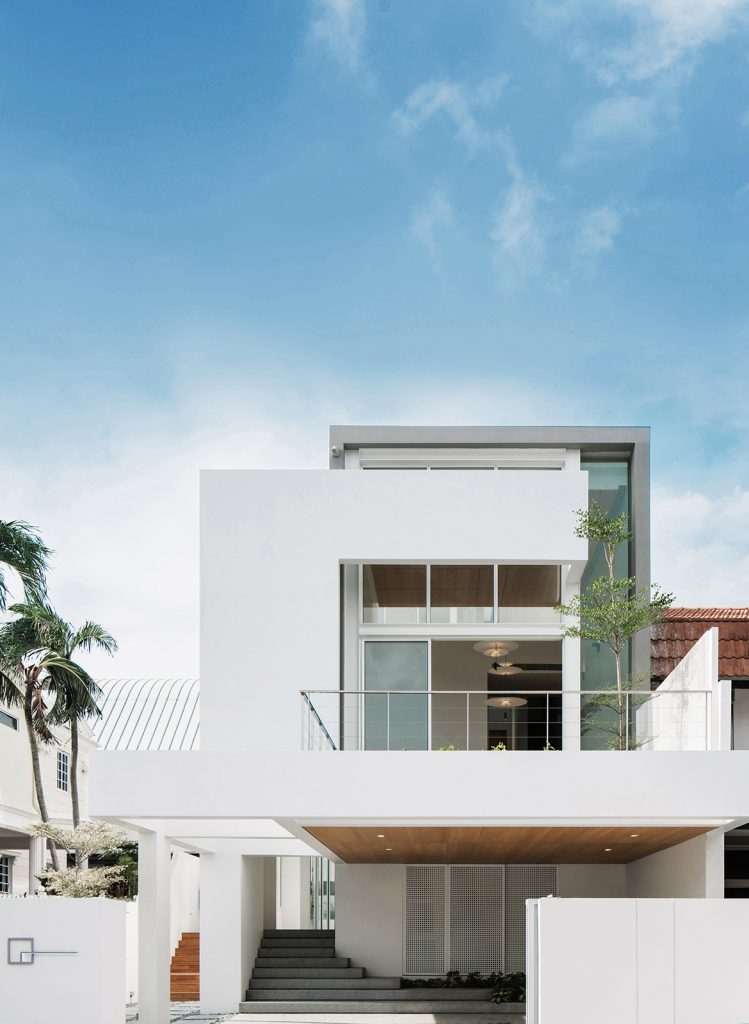 By name – Assembled House – gives clues to the architectural approach. Situated in a low-lying area, the first storey had to be elevated one floor to counter potential flooding. Rather than yield to the standard datum of stacked plans linked by a central circulation core, the architect stretched the residence's section vertically and horizontally, playing jigsaw with volumes and voids to create lofty spaces and split levels that tier naturally with the land's sloping topography.
Granite steps at the entrance lead into the first half level comprising a games room, and the dining room another half level up. Across the split level toward the front is the mezzanine-like living room, which, raised a storey, is accorded much light, privacy and green views of and access to the car porch roof terrace. Along the partiwall, the space narrows to a flight of stairs leading to the bedrooms upstairs. The motif of cross views is echoed in the master bedroom with a mezzanine study overlooking the voluminous sleeping quarter.
"Through this exercise in layering, we were able to overcome the [constraints of the slim] site to create spaces that are lofty and light-filled, says Christin Thean, a director at Park + Associates. The connected volumes ensure continuous visual and physical flow throughout, resulting in an expansive feel.
The play of volumes and proportions in this semi detached house – through heights, widths and lengths – creates drawn-out spatial experiences as one moves through the house where everyone is within sight, describes the design team. Coupled with thoughtfully positioned apertures, the split-levels blur boundaries to enhance interaction between family members.
The interiors' meandering aspect creates a different semi-detached house experience, but comfort and sensibility are still paramount. "While dealing with volumes, we had to ensure that each space was proportioned well and remain compact, and is usable without being too large or too small," shares Fiona Chua, the architect in charge of the project.
This spatial adventure of this semi detached home is contained within simple, planar tectonics of an architecture delimited by clean lines, bands of wall providing shade and privacy and strategic windows that inform the quality of light and vistas within. The composition of deep, too tall, too long spaces brought about the expression of light and shadows in various ways, shares the project team. Skylights bring light into inner spaces while motorised blinds address mid-day heat and glare.
Experiments on spatial proportion are not done in isolation but in relation to the human body. The amplified internal vistas heighten the awareness of oneself in relation to the scale of each space, says Christina. "This was an important achievement for us as we strive in our work to always come back to the human scale, to [understand] how one's body fits within a space."
Photography by Studio Periphery
---