Located in downtown Mong Kok, Hong Kong, ONE SOHO Clubhouse is the latest place to meet, connect and relax. As a destination with hospitality at its core, ONE SOHO Clubhouse brings a slice of creative excellence to this great metropolis.
Designed by via. with Frank Leung, Principal and Lead, the project combines the best of old with new, refining heritage and combining it in a contemporary aesthetic. The design language blends mid-century influences with vibrant colours and reflects the energy of the surrounding historic arts and cultural neighbourhood.
Entry to ONE SOHO Clubhouse is at the Porch, with views of the covered garden, then through a hallway that becomes a transitional space, to the Mailroom where members collect post. At the heart of the clubhouse is the Roastery, a versatile coffee-themed space that also serves as a casual meeting place. The colour palette of rosy salmon and muted earth shades present an interior that is both warm and relaxing.
Next is the Anteroom, an open vestibule and library with outdoor access, and then guests arrive at the Great Room, the all-inclusive lounge and dining venue. Here, there is a complete catering pantry, fireside seating, a bar and dining table. Large windows and skylights provide ample natural light and the beige hue of the walls helps reflect and refract the light.
Embracing the outdoors, the Pavilion is a standalone function space positioned at the far end of the garden. Timber predominates and is complemented by the deep blue hues of the upholstered furniture and drapery. At the opposite end of the clubhouse is the Bar and here the Venetian paint finish of the gold walls helps showcase the variety of objet d'art on display as well as the sleek stone bar table.
The interior of ONE SOHO Clubhouse is consummate, in both design and execution. The spatial flow of the floor plan anticipates guest's needs and use, while the colour palette is concurrently soft and smooth, bold and textural. The furniture curation is not simply appropriate, it brings to life the various areas of the clubhouse and celebrates the interior through comfort and style.
With his usual flair, Leung has created an interior space that combines the hallmarks of history cloaked in a modern aesthetic, and together they form a brilliant interpretation of a hospitality venue of distinction. With ONE SOHO Clubhouse, Leung and his team have created a home away from home where guests can gather or enjoy quiet time and partake in a meal or a drink at their leisure. In such a dynamic and bustling city as Hong Kong, ONE SOHO Clubhouse offers respite from the crowd, but importantly, also feeds the design soul.
Photography by Kenneth Chao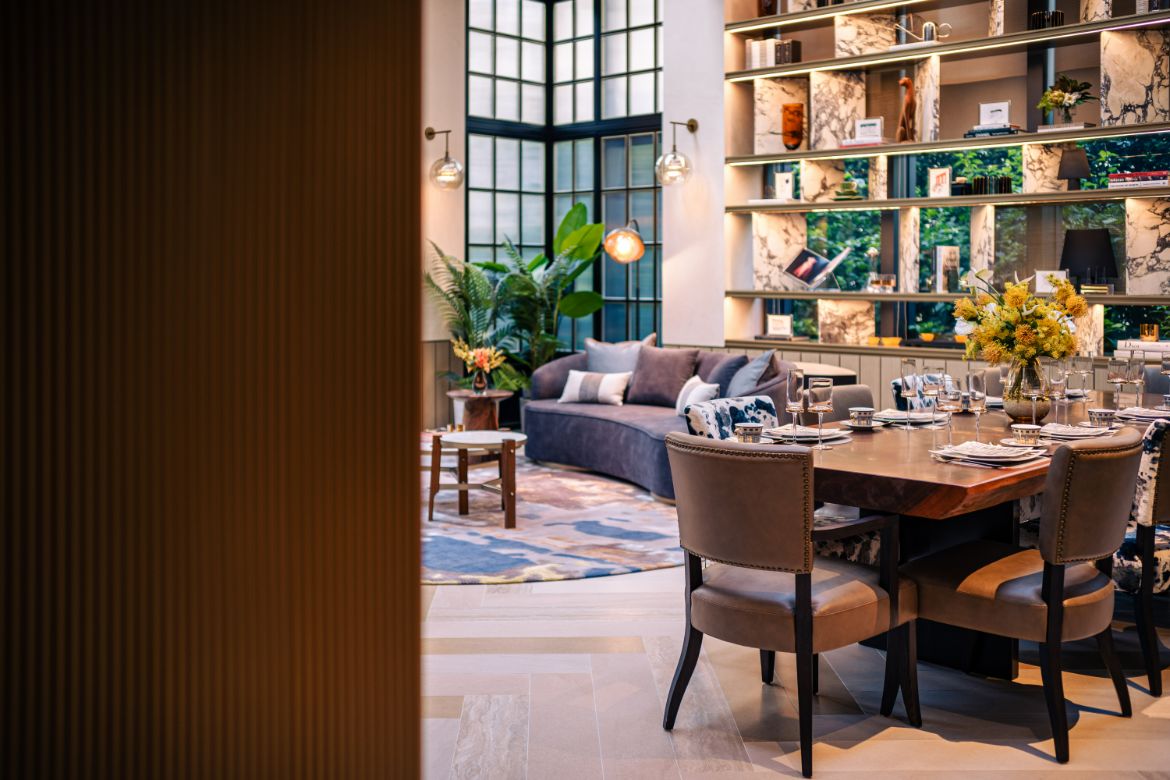 ---