The concept of material re-use has found its way to the highest echelons of luxury. petit h – written purposely in lower case ­– is the name of a family of objects created in a dedicated Hermès workshop using materials and remnants handed down by the brand's other métiers (crafts) – materials that would otherwise have no further use.
These materials (be they leather, silk, crystal, porcelain, horsehair, metal or something else) are assembled with a free and creative spirit into new objects.
Hermès refers to the creative process within the petit h workshop as 'creativity in reverse' – the starting point is not a grand design but leftover materials that take new form via creative intervention and craft skill.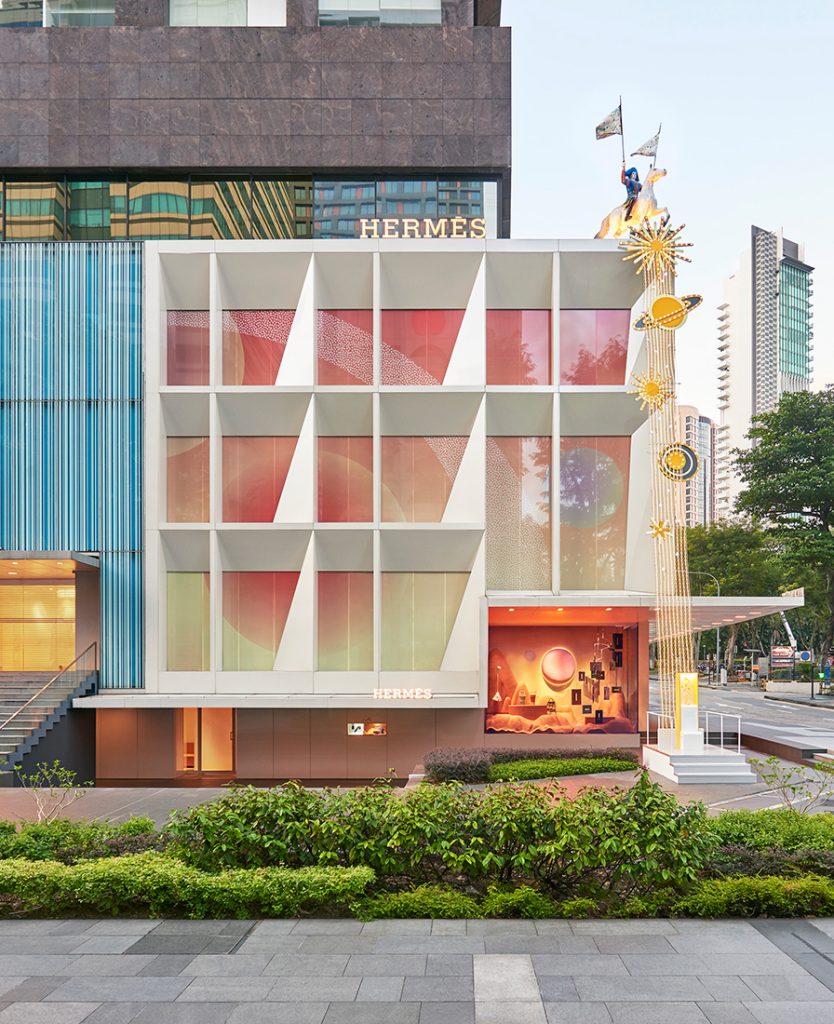 The piece-by-piece nature of the development of petit h objects lends itself to an impermanent retail presence. The objects are presented at Hermès stores around the world several times a year, and otherwise may only be viewed at the rue de Sèvres store in Paris. Presently, it is Singapore's turn to host the petit h universe, and a mesmerising two-floor installation has been created in the Liat Towers Hermès store.
Designer and INDE.Awards Prodigy (2018) Olivia Lee was the creative force behind the installation, as well as special window installations and an interactive game outside the store – an electric wire loop game that will light up stars and planets if your hand is steady enough.
"When I visited the atelier of petit h in Paris, it became very clear to me that what they do is really this creative gymnastics under very tight constraints," says Lee of the petit h creatives.
She continues, "They invent and work around whatever unused material is within the house of Hermès. It reminded me of the scene in the film Apollo 13 where the astronauts had to create a new kind of carbon dioxide recycling machine. The NASA engineers were listing down every single thing that was in the space shuttle and seeing what they could do with it to reinvent something."
She saw a similar resourcefulness, invention and ingenuity in the work of the creatives in the petit h workshop, and the space-travel theme emerged naturally as a conceptual driver for her installation.
As such, on one floor of the store, visitors find themselves in an extraterrestrial landscape of red rocky outcrops – some organically hewn as though by millennia of atmospheric influence; others consciously shaped into tower-like forms with portal-shaped openings that hint at occupation and life.
petit h objects – animal forms, furniture, jewellery, bags, games and more – inhabit all areas the environment against backlighting that gestures at time and distance. But a yellow portal with a plastic strip curtain and a control panel invites exploration upstairs.
There, the clinical and futuristic environment of a space shuttle unfolds in crisp off-white and yellow surfaces, interspersed with the vivid green of tropical plants on walls and shelves. "I also wanted to celebrate the link to Singapore, and showcase its futuristic aspect," says Lee.
"Singapore is also like a spaceship; there are very tight constraints, yet we have found a way to be resourceful in how we think about what we have and what we do with it," she says.
Visitors may reach into the latex gloves of a laboratory isolation box to turn over and inspect the objects displayed within. A conveyor belt transposes shoes through a containment area. Textile offcuts replace the screens on an electronic control panel.
Lee's installation encapsulates the wondrous spirit that journeys hand-in-hand with the creative process, and allows visitors a window to the uncertainty, analysis, intuition and ultimately joy that comes with creation. Catch it at Hermès Liat Towers, 541 Orchard Road, Singapore until 15 December 2019.
.
"Singapore is also like a spaceship; there are very tight constraints, yet we have found a way to be resourceful in how we think about what we have and what we do with it."
– Olivia Lee
.
Photos of the installation by Jovian Lim; of the objects by Studio Rouchon Paris; of the petit h atelier by Eugenia Sierko-Rouchon / Hermes 2019.
---