Office 543 is located in Mohali, Punjab, India and is situated on a small 140-square-metre site in a busy commercial district. Although the spatial footprint is compact, the new head office for a construction company has been designed to utilise every centimetre of space.
Principal architect of Charged Voids, Aman Aggarwal, and his team have produced an inspirational design for both the structure and the interior. Created as a box and closed on two sides, natural ventilation is supplied through courtyards and multiple skylights. The curated positioning of windows allows for aspects of the outside street and also the courtyard inside where ample natural light penetrates the interior.
Inside, two walls intersect in an L-configuration for ease of flow. The ground floor comprises lobby, reception, main office area and a spectacular meeting room. This elliptically shaped space is both surprising and effective and becomes the central visual anchor point of the interior.
A floating metal staircase within a central atrium connects the lobby to the first floor that supports a terrace, workspaces, an office for the accounts team and a small spill-out area on the roof of the meeting room below.
While the width of the building is narrow, openings between rooms have been designed to connect with two courtyards. This encourages engagement with the outside, the planted vegetation and natural light. Thinking ahead, Aggarwal has also designed the building for future expansion with potential workspaces above accessed by a separate exterior staircase.
The materiality of Office 543 is clean and minimal and informs the interior colour palette. Using white marble and Sivakasi gold granite, hints of stainless steel, glazing and painting the interior walls primarily white creates a timeless aesthetic. The stone-clad elliptical office, walls and floors appear concurrently delicate and robust. Hues of white, cream or rose predominate depending on the light and time of day or season.
Established in 2008, Charged Voids aims to create a purposeful dialogue between Western Modernism and elements of Indian architecture. Inspired by Corbusier's core principles, the studio's unique approach has been derived from an examination of the times we live in, coupled with ecological and environmental factors that shape the collective experience.
The portfolio of Charged Voids spans small-scale interiors to master plans across residential, commercial, hospitality and institutional projects and the studio has received multiple accolades and awards for its work.
Instilling into the project the practice's values, Office 543 is a jewel, an intelligent and beautiful design that is functional but also creative. It showcases the builder's craft, houses the operations of the company and is a fine destination for clients. Charged Voids has designed a workplace that is original and spacious, refined and sophisticated and, while small, it makes a giant design statement.
Photography by Javier Callejas Sevilla, Niveditaa Gupta, Purnesh Dev Nikhanj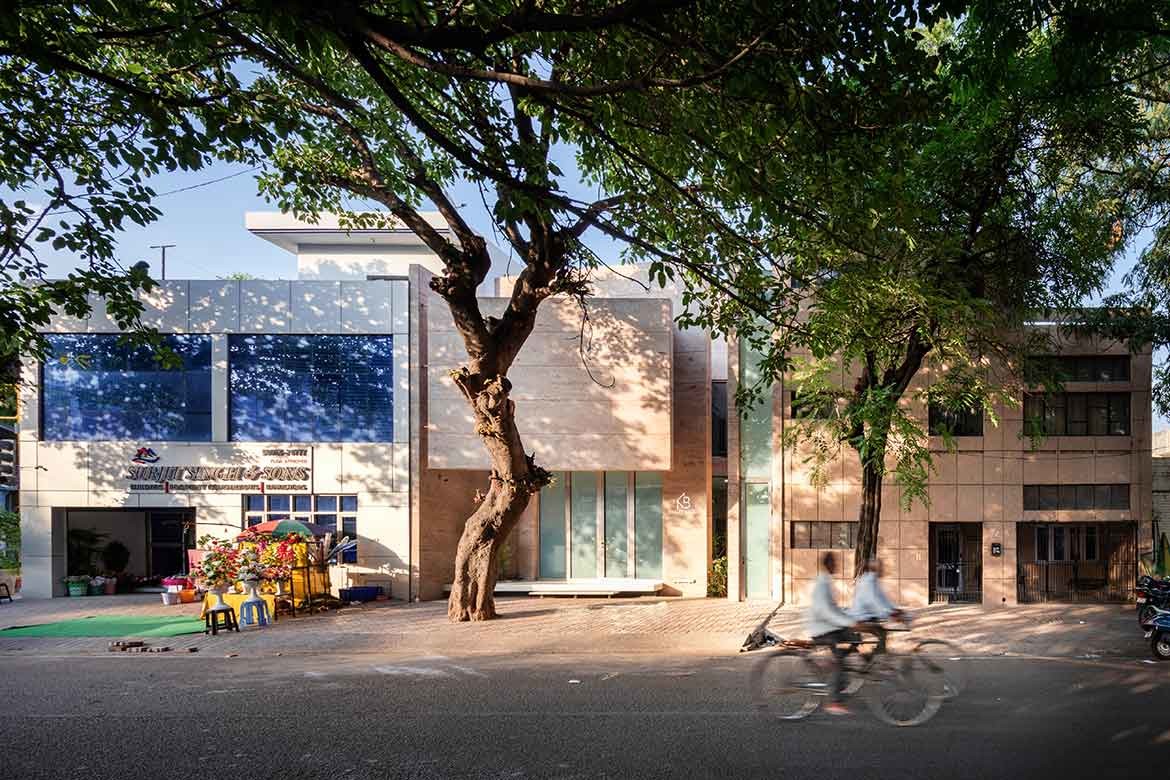 ---