Developed by Q-Plex with architecture and interiors by M Moser Associates, the Nest Art Center has been designed as an exhibition and multi-purpose space that will enhance connectivity and business for the city.
The unique architecture of the building emulates "an egg emerging from a cocoon" with an elliptical structure housed within a glazed frame.
The design seeks to embody the ideas of innovation and distinction creating a thoughtful space for art exhibitions, corporate conferences, roadshows, cocktail parties, offices, meetings and gatherings.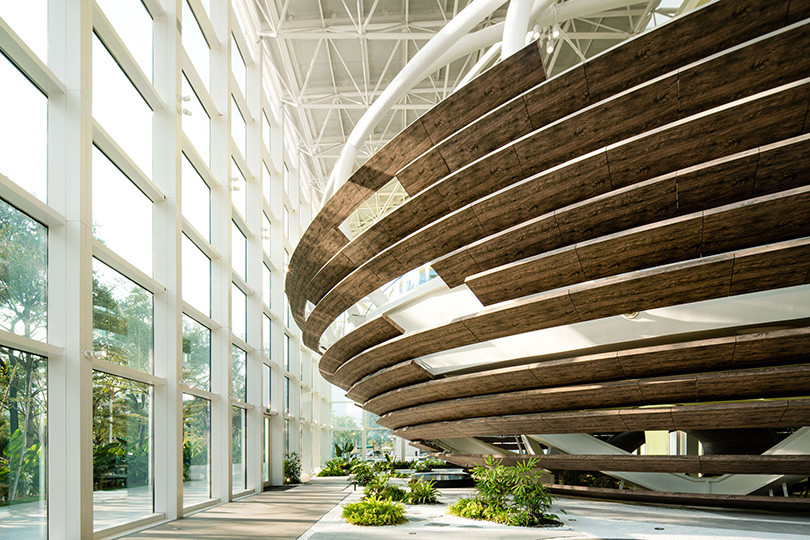 "The placement of an organic element within a rectilinear structure creates a symbiotic relationship between the building and the surrounding natural environment." says Ramesh Subramaniam, design director, M Moser Associates.
Within the building and continuing within the interior, a white grid-like structure extends throughout and gives continuity to the design. The flowing lines create an elegant contrast and as light is reflected on a circular glass curtain wall there is a real sense of transparency.
The 2280-square-metre interior floorplan is straightforward but flexible, with the main venue situated on the upper floor, accessed by a winding pathway. The ground level boasts a reception desk and around this is a system of pillars designed to be light-emitting membrane lamps.
The ceiling above is embedded with ribbon-shaped fluorescent lamps that wind between the pillars and help draw the eye through the space. There is also a café and event space however this level is generally reserved for business or leisure activities.
The materials in the lower part of the ellipse comprise of metal plates clad in wood veneer created with 3D printing and this unusual decorative feature provides textural relief within the interior.
Wooden shutters provide a connection with the external courtyard and timber has also been used in the steps to the upper level. Bringing the outside in, artificial turf has been laid within the "egg" and is symbolic of the landscape beyond.
Already there have been multiple art exhibitions and events held at the Nest Art Center. For example, an immersive art exhibition by Ron English, who is otherwise known as the "Godfather of Street Art".
There's also been the national launch of the new Ghost from Rolls Royce, TEDXShenzhen forums and Color Wheel. But this is just the beginning for this extraordinary event space.
M Moser Associates has created an extraordinary building that incorporates artistic expression and creativity. Unique in its setting, the Nest Art Center is certain to become the centre for art and business in Shenzhen and China.
Photography by Zheng Yan
---