Blending traditional Chinese references in a distinctly contemporary setting, MUME is a vision of Evgeniya Lazareva and Aleksandra Koroleva, founders of the Singapore-based boutique design studio Hot Design Folks. Located within the Federation Tower in Moscow City, the newly renovated restaurant masterfully fuses contemporary silhouettes and organic elements with an Oriental flair.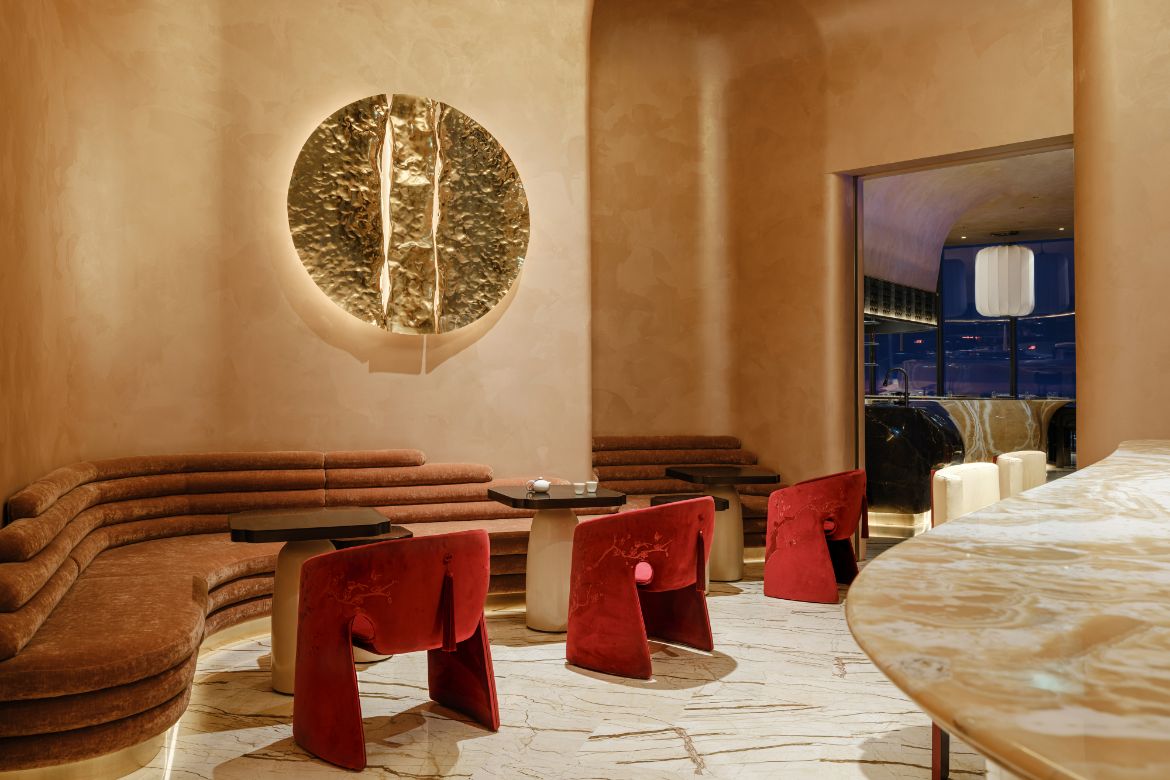 Taking inspiration from the restaurant's original name, Mei Hua, meaning plum blossom, the restaurant takes its diners on a journey of transformation of this tender and rich fruit through its interiors that blend sophistication and innovative use of exquisite materials.
The first glimpse of MUME presents itself right after an elevator ride to the 90th floor, where a set of selenite doors clad in futon clay tiles of different shapes and directions greet upon arrival. Stepping through the doors onto the book-matched Sofitel marble floor, a reception counter awaits.
The space is replete with large cream-coloured petal-like screens embossed with plum blossom patterns that appear to bow down to greet the arriving diners. Carved from a solid block of onyx, a host desk weighing nearly 900 kilograms stands proud amidst the panels, bearing the shape of the Chinese character 'Mei Hua'.
The bar area, decorated with curved walls in warm neutral colours, is unveiled next and is a warm and intimate space that serves diners with a pre-dinner signature cocktail. It also acts as a cosy space for an after-meal drink.
Drawing from the Celestial Beauty, MUME's bar interior features a captivating piece of custom brass artwork, inspired by the graceful lunar eclipse. The solid brass and onyx veneer bar counter opens up a view to the backbar screen, made from brass and textured glass, shaped in forms of a mountainous landscape inspired by traditional calligraphy artworks.
The main restaurant space is a vision to take in with floor-to-ceiling glass walls that overlook the city. Here, high gloss red lacquered panelling hugs large columns with custom-cut clay tiles in the shape of dragon scales running down the centre. These columns are flanked by shelves that display the founder's family antiques, accessories and books.
MUME interior is a blend of the old and the new. The main show kitchen area combines contemporary kitchenware with traditional materials and finishes, representing the family's long standing traditions. The canopy of the kitchen ceiling sports traditional roof-end tiles, while Spanish Emperador marble counters showcase seafood and restaurant fares.
The counters' organic shapes were achieved with onyx and marble veneers, a unique technique which allows for a sustainable and nearly waste free stone usage. This technique also helped with careful consideration of the 90th floor load-bearing limitations, allowing for a much lighter overall weight of the marble and onyx counters.
The restaurant's two VIP rooms both pack a unique wow factor showcased in different ways. The first VIP room presents a signature ceiling design covered with a blanket of paper scrolls, featuring poetry about Mei Hua. The colours on the walls and surfaces represent the bloom emerging from the snow. With its adjacency to an event space through a set of connecting doors, this VIP room caters for meetings and, thus, features a more formal furniture set up of a rectangular dining table and a sliding panel which conceals a TV screen.
The second VIP room is distinctly Chinese, dressed in reds, golds and lacquered finishes. A large round table centred on a bespoke rug anchors the room, welcoming intimate gatherings. Lighting comes via a sizable dome-shaped pendant hung over the lacquered table. The internal surface of this pendant is decorated with hand-painted lacquer motifs depicting ancient rural life in Chinese villages.
No detail was spared in the design of MUME. Even the powder rooms are set up as interior design masterpieces. Walls, ceiling and vanity finished in a Ming Dynasty blue hue are exposed through the doors and walkways in mirrored finishes, creating an infinity effect  and wrapping up the multi-sensory experience that elevates the journey through Chinese haute cuisine.
Images courtesy of Hot Design Folks.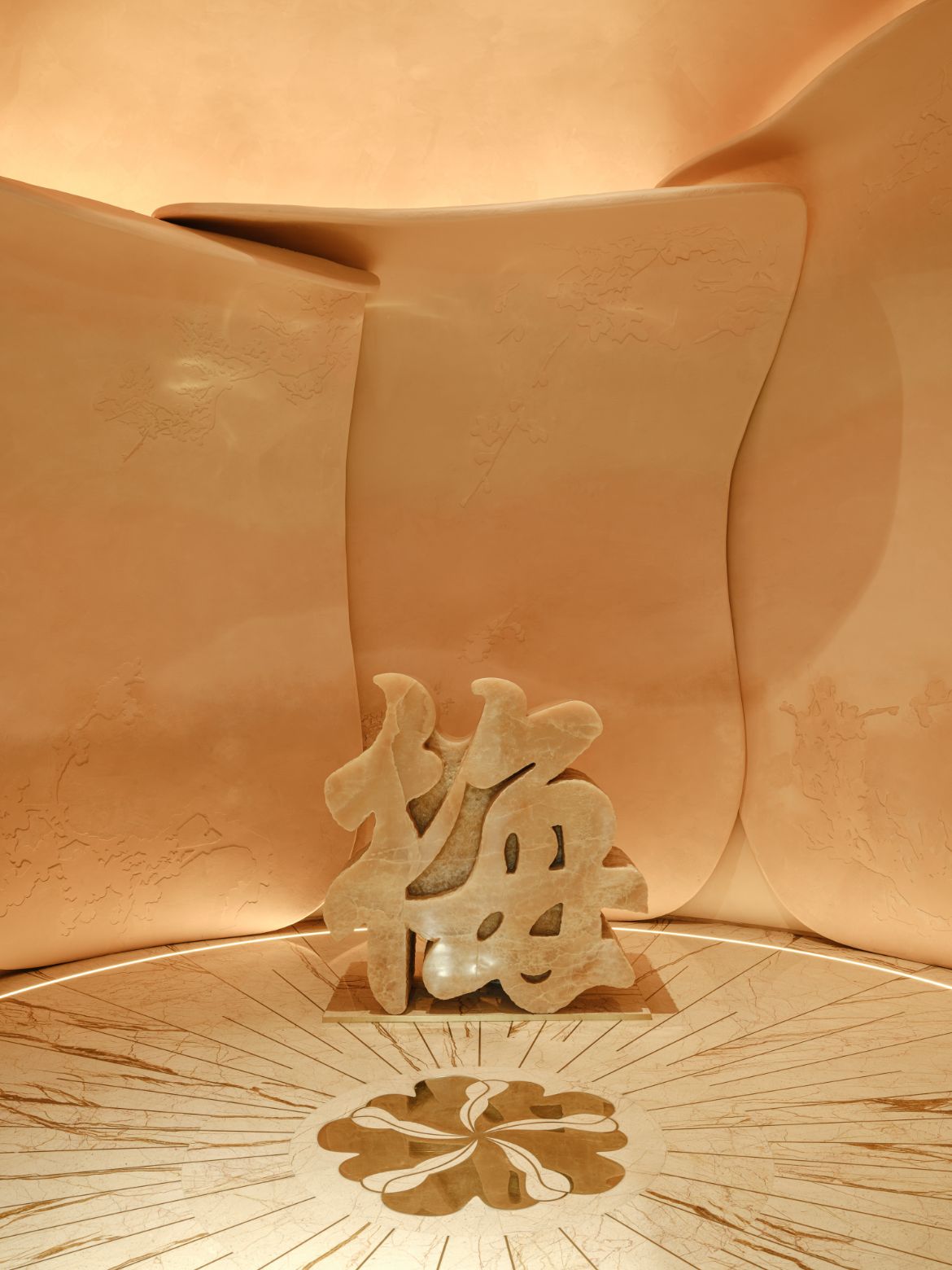 ---