In the quest to bring healthcare to the residents of suburban Delhi, India, the forward-thinking practice of Architecture Discipline has designed a portable solution that is certain to become a template for future wellbeing.
As a practice, Architecture Discipline is always ahead of the game. Its projects span diverse sectors such as hospitality, residential, retail, workspace, public and urban design, and product. So, it's not surprising that Principal Architect, Architecture Discipline, Akshat Bhatt and his team are resolved to use their expertise for the power of good, creating opportunities for health and well-being in local neighbourhoods.
The project, Mohalla Clinics, has been developed with the support of Tata Power–DDL for the Delhi government's Aam Aadmi Mohalla Clinics programme. The concept is simple, to upcycle shipping containers and create compact and portable primary healthcare destinations for local Delhi neighbourhoods. In phase one, two clinics have been installed in two urban environments within Delhi, Shakur Basti and Rani Bagh.
The clinics are built from shipping containers salvaged from various container yards in Delhi and Haryana. Two seven-metre-long containers are joined to form a single space that includes an examination room, a reception and waiting area, a washroom and a pharmacy accessible from the outside. The clinic has amenity that can provide routine health checks, testing and medicine purchase.
While the structures are pre-fabricated, they come pre-installed with electrical and lighting fixtures, essential interior finishes and furniture. Ensuring flexibility, they can be easily transported to various locations and then installed with minimal onsite construction.
Bhatt says, "We have been experimenting with the use of shipping containers as a building material for a long time now, in typologies ranging from hotels to workspaces. Our own studio has an extension created out of a repurposed shipping container."
Designing a movable clinic that is hygienic, with anti-microbial vinyl flooring and medical-grade stainless steel countertops, air-conditioning and insulation to protect staff and patients from Delhi's very hot climate will help bring quality healthcare to the masses.
"The clinic's design capitalises on the structural strength of a discarded shipping container and works with it as a module, reducing the need for costly modifications or custom-built additions. In this manner, it redefines post-industrial waste as a medium for universal affordable healthcare. By taking something forgotten and giving it a new lease of life, the Mohalla Clinics present a sustainable solution for the health infrastructure crisis in our country." Bhatt reflects.
Architecture Discipline has achieved something seriously special with Mohalla Clinics. It is design at its best, that helps people and responds to the dynamics of health and wellbeing in the real world. As well as a tool to help better people's lives, Mohalla Clinics is also a great visual statement where colour, form and function all combine to achieve a great result.
Akshat Bhatt is a member of the 2022 INDE.Awards jury.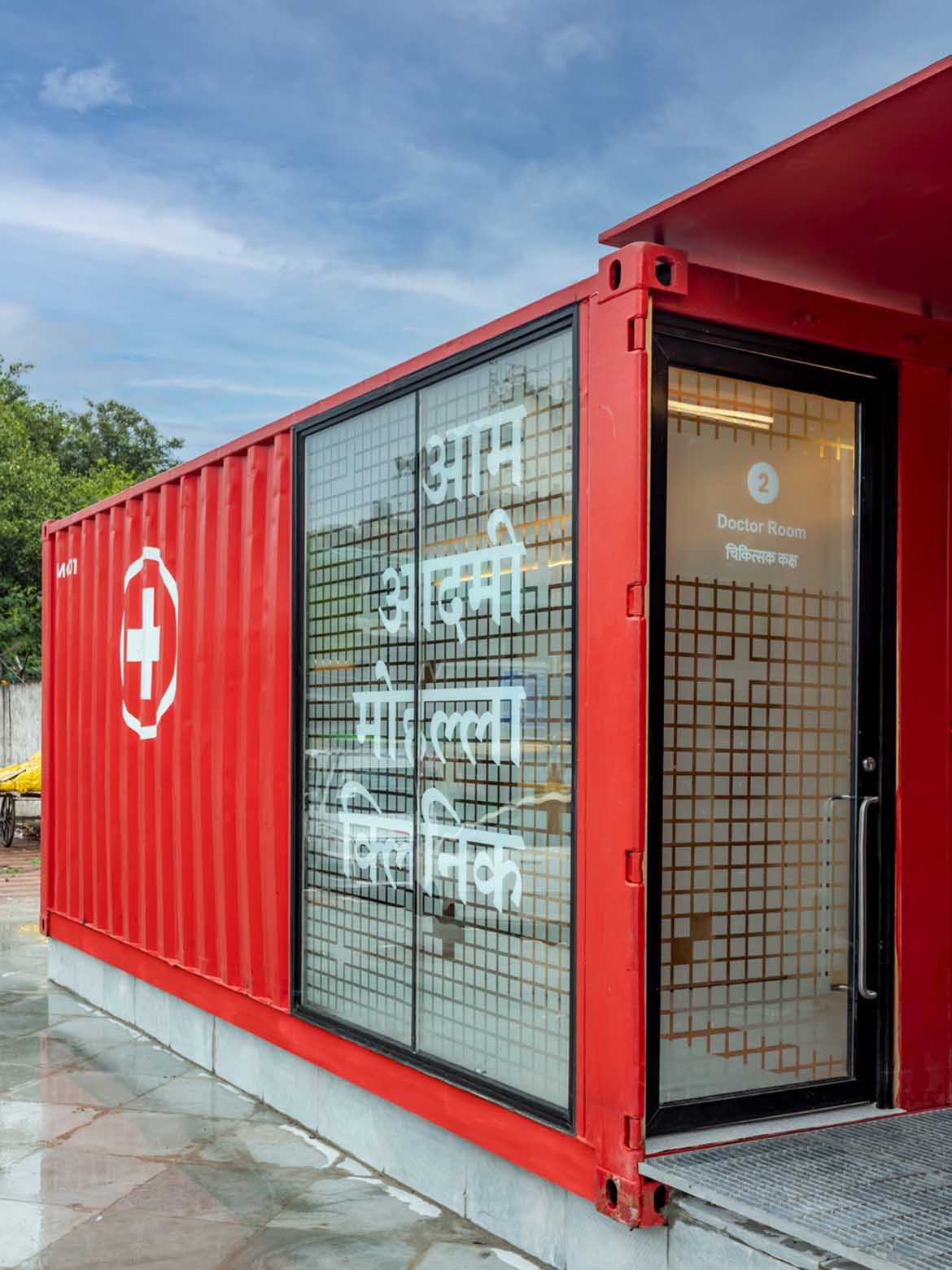 ---