Yip Yuen Hong is an architect who eschews the superfluous. Asked to describe his creations, "simple" and "honest" are choice descriptors. Yet, there is nothing simple about the effect his architecture has on both users and pedestrians. Robust forms fused with stark materiality, they are anomalies in Singapore's residential landscape, which runs the gamut of soulless glass boxes and terracotta-roofed dollhouses.
The founder of ip:li Architects is a maverick in the local architecture scene for quietly championing passive ways of living in the tropics, with the traditional kampung and black-and-white bungalows as precedents. Earlier works are streamlined, timber-clad interpretations with all-around balconies. More recent experiments, in contrast, are bold, fortress-like edifices in off-form concrete – suggesting protective retreats from the exterior cacophony and the region's harsh sun and strong rains. Always, he demonstrates a critical concern for the good performance of his buildings with regard to the climate.
The House in Watten Estate is a recent project continuing this exercise with equal parts drama and restraint. At the entrance, one encounters a three-and-a-half-storey block, its reticent frontage in off-form concrete peppered with a rhythmic play of window openings. Unlike previous iterations, here the columns and beams are clearly expressed, presenting a gridded face and rustic aesthetic.
The building's footprint follows the site's shape, fanning from front to back. Rooms look into an airy triple-volume sheltered patio behind. The latter is the project's pièce de résistance, maximising the panoramic view of luxuriant green from the vantage point of higher ground and staking a claim for comfortable dwelling in the outdoors. Housing a dry kitchen counter and outdoor dining area, it is the heart of the home enjoyed by the young couple that lives here and the entire family of residents: their parents, aunts, sister, three children and a domestic helper.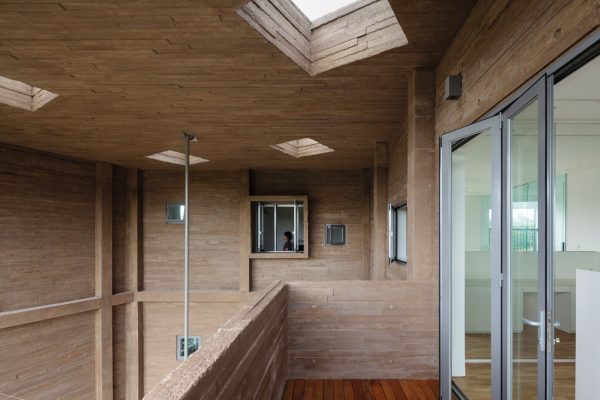 Photography by Marc Tan / Studio Periphery and Fabian Ong.
Read the full story in Cubes issue 89, on sale now!
---