Located near Guilin in Guangxi Province, China, INTEGRAL is at one with the landscape that surrounds it. INTEGRAL is a modern garment factory and the project designed by Ronald Lu & Partners (RLP) is exceptional in both its concept and realisation.
Considered to be a 'sustainable development garden', the facility embraces the fundamental concepts of Buddhism through its architecture and sustainability elements are incorporated into every aspect of its design.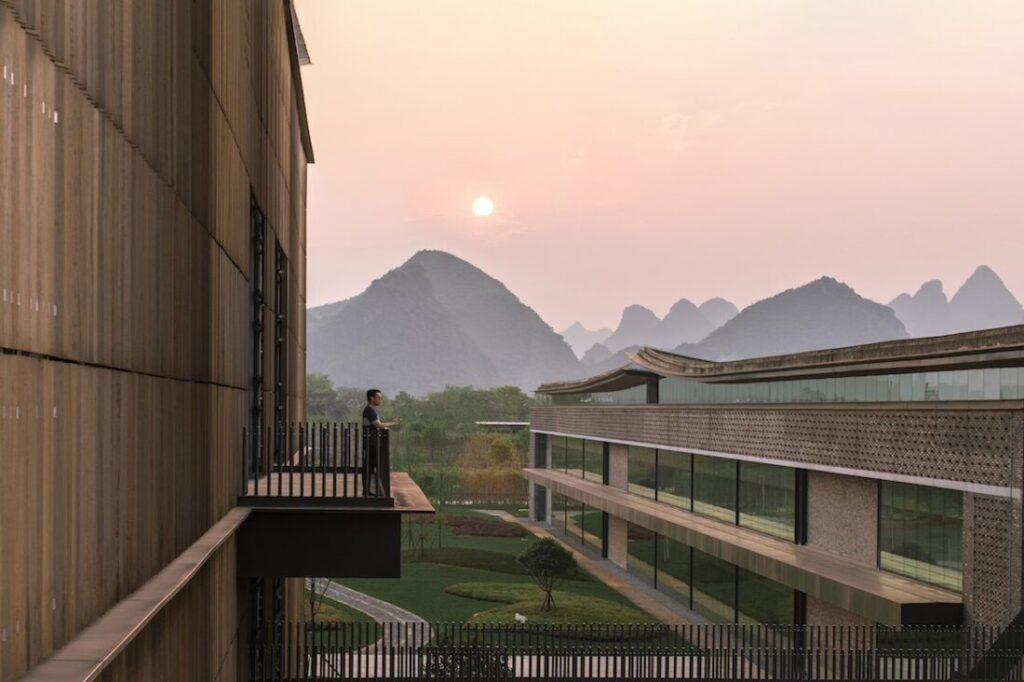 The total site is large, at more than 511,800 square metres, with the highest point of the building only 22 metres in elevation.
The architect has devised the project horizontally instead of vertically and has integrated the production workshop and craft centre seamlessly into the surrounding environment.
The natural landscape is the main focus of this large factory where the buildings play a supporting role to the green aesthetic.
With deference to the location and to culture the architectural language of INTEGRAL includes distinctive blue bricks and bamboo panels in the exterior and a large semi-transparent bamboo curtain on the façade of the craft centre's wall helps to soften the overall mass of the structure.
"Meaningful biophilic design is applied in the urban spaces around us through natural shapes, forms and materials used in building design, and by daylighting, natural ventilation, greening, and inward and outward views," says lead architect on the project, Guymo Wong, Director and Head of China at Ronald Lu & Partners.
Adding to the rich portfolio of projects both completed and on the drawing board, INTEGRAL is a masterful project from RLP.
Established in 1976 by Dr Ronald Lu, the practice focuses on human-centric design for the future and at the core of each concept is sustainability.
Commissions span the range of trans-orientated development, commercial, education, residential, civic and community and healthcare projects as well as hospitality and retail and INTEGRAL is yet another exemplar project from this renowned practice.
Photography by Wuqingshan, Arch-Exist
.
INTEGRAL
Client: Esquel Group
Location: Guilin, China
Architect: Ronald Lu & Partners
Principal Architect: Guimo Wong
Design team: Henry Cheung, Matthias Ma, Darren Tsang, Zhu Mufeng, Tim Williams
Interior design: Ray Chen + Partners Architect
Landscape Designer: P Landscape Co., Ltd.
Services Engineer: Tianjin Zhongtian Architecture Design 
Builder: China Construction First Building (Group) Corporation Limited
Date of completion: September 2020
Site area: 511,800 sqm
Gross floor area: 285,725 sqm
---