Why do we travel for leisure? To experience new cultures, to find inspiration and excitement, to grow, to reflect, to recharge – these seem to be the general consensus, according to Templewell Studio. Tasked to design a global travel technology company's regional hub in Singapore, Templewell Studio sought to recreate that experience in a workplace.
Project Wanderlust is a child of the new-gen working culture. Templewell Studio is part of Design Stables, "a collective of culturally aligned design studios who partner on select projects to deliver exceptional solutions." The collective comprises boutique practices Templewell Studio, Rezen Studio and Lahaus Studio.
Teaming up with local consultant PDM, Templewell with Design Stables aimed to capture the wanderlust spirit while elevating the service offering of a workplace.
"Inspired by hotels, the space is designed to create a sophisticated, seamless experience for employees and visitors alike," says Fiona Chong, Lead Designer at Templewell Studio.
The collaboration spaces, comprising the 'community marketplace' – an innovation area where one can recline, put on a VR headset and visit the destinations that the company promotes – event space and bar, and gathering spaces take the centre stage, with the open vista to Singapore's downtown. The atmosphere of these spaces changes throughout.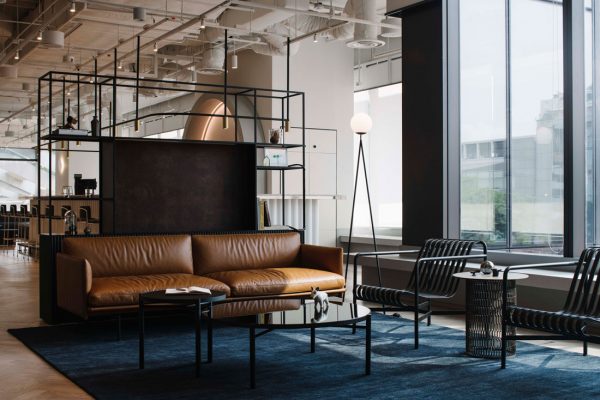 Upon entry, one is greeted by a concierge, invited to enjoy a refreshment, stow the luggage safely, take a refreshing shower in the shower room before a meeting, or simply settle in to work at any of various work settings within the premise.
A ten-metre-long bar can serve as a tea point by day, and dress up as a tiki beach bar or a sultry Parisian hotel bar by night.
A host of flexible furniture settings support the dynamic workflow while moving platforms form a stage for performance: a setting for a night hawker's market, perhaps, or a plinth for a technology expo or simply an inviting place to sit, meet and gather.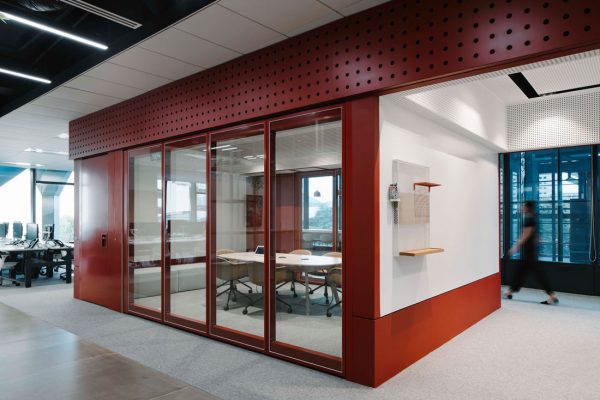 The design places emphasis on wellness by carefully considering the allocation and placement of active spaces to collaborate and quiet spaces to retreat and focus, harnessing natural light and views, and enabling movement and connectivity.
"The workplace becomes a chameleon-like backdrop, able to transform depending on the requirements of the activities in the space," shares Chong. "This open nature of the environment allows for inherent flexibility and room for evolution that accommodates the changing needs of the business as it grows into and defines their new way of working."
Photography by Studio Periphery.
Project Wanderlust has been Shortlisted in Working Space category of the INDE.Awards 2019. Will it be a winner? Find out at the INDE.Awards 2019 Gala in Melbourne on 21 June!
---