Off-form concrete features widely in Edmund Ng's projects as a key material. The dusty grey surfaces provide an industrial charm to an otherwise refined palette of marble, steel and glass that clads his clean, modernist volumes. "Off-form concrete is true to its material. Its texture is versatile and the flaws in the concrete give it character. It [perfectly represents] the concept of wabi-sabi," says the architect, referring to the Japanese aesthetic philosophy that finds beauty in imperfection.
A recent house by Ng, who heads an eponymous studio, continues this exploration but takes a slightly varied approach. The wabi-sabi concept extends beyond off-form concrete to the use of Corten steel, whose russet colour will transform with time as it rusts. This material fronts the property and – with aluminium fins on the eastern side and the off-form concrete – builds a natural palette complementing the lush landscaping.
The home was built for a couple with two primary school-aged children. "They wanted a house that addresses tropical architectural issues, and a comfortable environment for the kids; a simple home, nothing flamboyant," describes Ng.
To achieve this, Ng first had to navigate a difficult site. The semi-detached property is narrow at the front, but fans out wider toward the back. The plan follows this shape, but a void next to the parti wall brings natural light deep into the plan.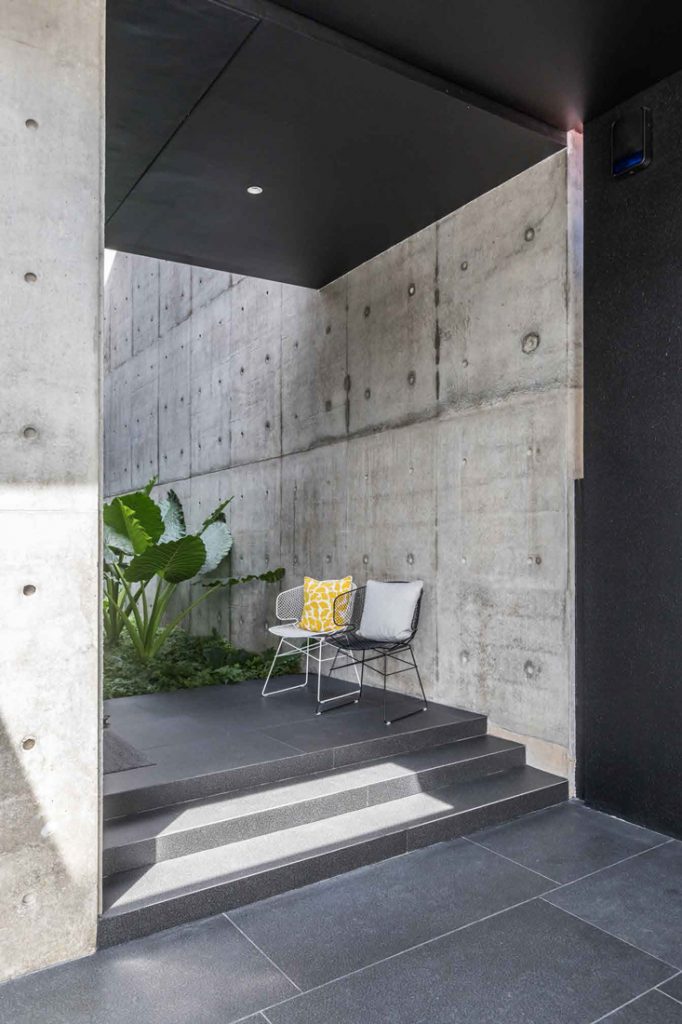 "The client required more privacy and landscape in the house. The void makes the semi-detached house [feel] like a detached property. The void helps as a cut-off form the neighbour, giving more privacy," says Ng, who also ensured all the rooms have a view of landscape, be it inward toward courtyards or outward with strategically placed windows.
On the first storey, the living segues into the dining and kitchen and is edged by an outdoor garden on one end and the courtyard on the other. "In order to locate the open gardens as close as possible to the living space, they dig deep into the mass and create a tight relationship with the spaces around them. Despite it being a narrow and deep site, there is still room to breathe and to feel the openness. That's the strategy we used to convert the unfavourable site conditions to a more reasonable one," explains Ng.
Thermal comfort is provided with the green buffers as well as the screen on the eastern front that mitigates direct sunlight and heat. Cross ventilation equips all bedrooms with breeze. With this and the omnipresence of nature within the home, Ng fulfils the client's requirements for a tropical home.
Photography by Senichiro Nogami (courtesy of Edmund Ng Architects).
---