Creating a timeless home comes from taking the effort to understand the lifestyle, habits, personalities and interactions of homeowners rather than pander to the designer's ego.
In the case of the Grange Garden Apartment, the clients requested for a home that was "inviting, breezy, bright, airy and spacious". It also had to maximise the apartment's panoramic view while accommodating sufficient storage to keep their two young children's things out of sight when entertaining, which they enjoy.
Tan incorporates storage into the interior architecture and furniture for a clutter-free ambience. For instance, two large, round columns in the living room are concealed with wraparound shelving, whose materiality extends into the ceiling.
A low custom-designed marble side table has neat mitre joinery hiding a drawer. Behind the sofa, cabinetry doubles as shelving without adding visual weight to the space. In the dry kitchen, cabinet doors offer the option of tucking away work counters and shelves.
.

"A design is deemed successful if the client is happy with the space at handover and still in love with their home a couple of years later."

Gabriel Tan

.
Not only physical clutter is organised, but also visual clutter, highlights Tan. This approach continues into the architectural finishes.
He complements the existing crème-coloured marble flooring with other natural materials – unfilled silver travertine wall cladding and warm whitewashed ash timber ceiling whose dynamic lines draw the eye to exterior vistas.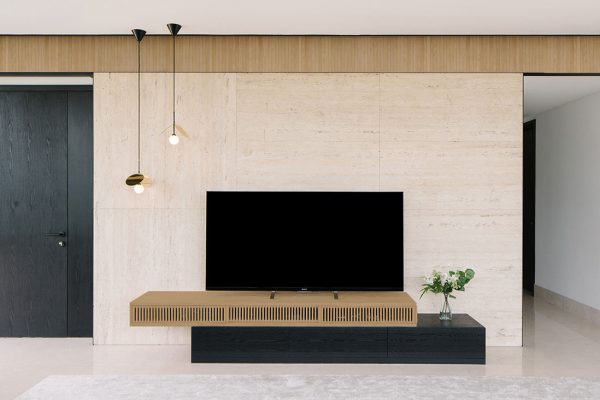 Throughout, sandblasted black ash joinery, stained cork wallpaper and bronze acid etched mirrors add definition, texture and shine.
The finishes were chosen for the way sunlight hits them and reflects around the spaces. They also add depth and, as in the case of the dining room, create focal points.
Here, the clients requested a touch of culture. Gabriel responded with a wall melding hydraulic tiles – reminiscent of traditional Peranakan shophouse interiors – with the rhythmic grace of rounded-edge, carved oak planks.
"Not only does [the latter] help to diffuse sound, it adds a softness and warmth to this communal space," says Tan. Sliding glass doors, which contain uproars during game nights, provide continuity of visual expanse and light into the corridor.
Gabriel's background in product design came in handy when he couldn't find suitable furniture. In the living room, he created an extra-long TV console whose cantilevering profile – inspired by architecture – accords the space a feeling of lightness, while a petite sofa nestles into a study room's bookshelf niche.
A chest-of-drawers and sideboard in the master bedroom with child-friendly rounded edges, and a curved upholstered bench in the dining room perfect for accommodating extra persons, considers the family's way of living.
Designing across scales has enabled Gabriel to create a holistic environment, where space and furniture are co-dependent to creating comfortable, well-proportioned and timeless interior environments. The Grange Garden Apartment is a fitting illustration.
Photography by Studio Periphery
Dissection Information
Bathroom and kitchen fittings from TOTO, American Standard and Blanco
Power sockets and light switches from Legrand
Cork wall finish by Dekwall
2065 lighting from the Sarfatti Collection by Flos from Astep
Ambit Rail lamp from Muuto
Åhus Easy Chair by Outofstock Design from Blå Station
TV entertainment console and chest of drawers from Gabriel Tan Studio
Curved dining bench, sofa and side table from Gabriel Tan Studio
Hepburn bed from De Le Espada
Saarinen dining table and armless chair from Knoll
Furnishings from Hunter Douglas and Ferm Living