When patrons come to eat at popular Pizza 4P's 'Eat a Pizza in a Forest' eateries in Ho Chi Minh, Vietnam, it is not just the food that draws attention. The spaces are equally – or even more – arresting. In one outlet, there are textured columns of recycled timber shingles that emulate tree trunks. In the second outlet, columns clad with reclaimed unfinished bricks give a rustic feel to the interior, while the third outlet has columns wrapped with bundles of bamboo that rises up to the ceiling as a feathery surface of green swirls.
Forming the 'Eat a Pizza in a Forest' series, these three restaurants are designed by G8A Architecture and Urban Planning (G8A), which has offices in Vietnam, Switzerland and Singapore. "The series proposes mystical experiences, transplanting an eerie forest ambience into the stark mall context. By transporting patrons into highly organic and tactile spaces, the project questions the artificiality of these shopping environments," says Manuel Der Hagopian, Partner and General Director of G8A.
Each outlet has an open plan, punctuated by the columns that are crafted from recycled materials. "These column 'trees' reintroduce curved and imprecise movements common in natural environments, into the dense and consumerist spaces," says Der Hagopian.
The columns are a motif deployed to augment the narrative. They are also functional. "The 'trunks' must be understood as a spatial devise for generating disorientation of the consumer and proposing pockets of intimacy for families. The materiality of the 'trees' contribute as well to providing good acoustics for the restaurants," Der Hagopian highlights.
Walls are finished in mortar finish in either black or dark green hues to complete the nature-focused theme. "We integrated acoustic panels with a dual purpose: as functional sound management tools and aesthetic statements on walls or ceilings," adds Der Hagopian.
The concrete screed floors are combined with either repurposed tile remnants or brass inserts that provide some shine within the industrial surfaces. These are matched with hydraulic cement tiles.
The lighting was also designed to create evocative, exploratory moods. Explains Der Hagopian, "The effect of surprise and rediscovery is encouraged by ambient lighting and the sparkling floor finishes, which draw the patrons further into an atmosphere of mystery. The ambient lighting contributes to generating an intimate sense of place. On the other hand, functional lighting was accommodated to properly light the table and dishes."
These restaurants front the street. The interesting interiors can be viewed clearly through large panels of glass even from afar. It offers a sort of spectacle for passers-by, with the larger-than-life columns as backdrops like in a play; among them, the patrons are the protagonists.
"These 'capsules of nature' are shown as 'paintings' from the outside. There is no entry from the outside to force the patrons to go through the generic spaces of the shopping mall before entering these new, artificialised nature environments," Der Hagopian expounds.
Rather than creating a homogeneous interior design, the distinctive spaces of each outlet also serves as a clever branding strategy as patrons look forward to each iteration or remember each outlet's location based on the material differentiation.
Projects such as this restaurant serve as vehicles for exploring creative ways of engagement and environmental response. "With three offices spanning three stations from Switzerland to Vietnam and Singapore across seemingly contrasting environments of east and west, thematic cohesion brings G8A's practice to one that can be formally translated in terms of architecture and more aptly, in terms of society and sustainability," says Der Hagopian.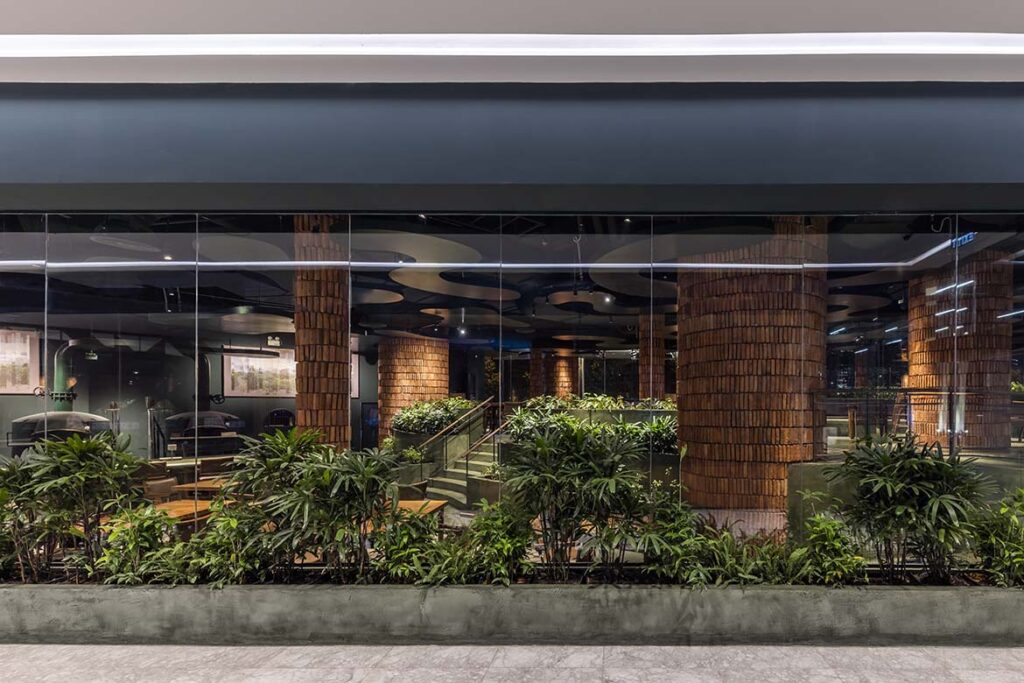 To date, the firm has completed several projects in the region, including many sustainably focused housing schemes in Singapore. One of them is the competition-winning scheme for Punggol Waterway Terraces in Singapore that was completed in 2015. The design explored creative resolutions to large-scale public housing in dense Asian cities, featuring, among other strategies, units shielded from the heat and rain by undulating ribbons of 'Juliet' balconies that double as decorative sun-shading devices.
In Ho Chi Minh, fans of Pizza 4P's can look forward to more spatial storytelling. G8A has started on another series called 'Pizza in a Stilt House' that explores the traditional Vietnamese house.
Photography by Oki Hiroyuki
.
Eat a Pizza in a Forest
Client: Pizza 4P's
Location: Ho Chi Minh, Vietnam
Architect: G8A Architecture and Urban Planning
Project Manager: Manuel Der Hagopian, Laurence Savy
Project Team: Nguyen Duy Tan, Andrea Archanco Astorga
Builders: Viet Foundation Construction Management Corporation / Kha Viet Company Limited / Toan Dinh Construction
Date of Completion: December 2021 / May 2022 / December 2022
Total Floor Area: 465sqm / 491sqm / 553sqm
---