"It's boring because the same shops are repeated over and over."
So said Dario Reicherl, CEO Asia at Republic of Fritz Hansen, at Singapore Indesign 2017's Design Conversation session that talked about the shifting ground and what matters in retail design today. The comment was his observation on the decline of footfall in Orchard Road and what's not working in Singapore's retail scene in general.
Fritz Hansen certainly has broken from this boring mould in Asia in the past two years with one exciting concept after another. The Danish furniture brand has opened 'House of Fritz Hansen' in Bangkok and Jakarta, the former is housed inside a renovated 1950s house and the latter was a house built from scratch for the brand; a ridiculously chic flagship in Xi'an (which we will be talking about in the upcoming Cubes July issue); and the latest concept here in Singapore: the Fritz Hansen Lounge.
Officially opened last Friday with a fabulous party lit by a disco ball, the Fritz Hansen Lounge is located on the thirteenth floor of the Tan Boon Liat Building, a surprising choice of venue. Or is it?
Perhaps, recalling Reicherl's comments on how he wanted Fritz Hansen's brand experience to feel like going to someone's house, and the future of retail as "focusing on people, and giving them inspiration again", this move to TanBoon Liat, Singapore's home for furniture stores (which recently experienced a sort of renaissance with the presence of Vitra's monobrand store), is exactly a master class in strategic branding.
Designed by Jaime Hayon, the Fritz Hansen Lounge unfolds in a series of cozy spaces articulated with pale terrazzo, wood, pops of colours and Hayon's signature whimsical patterns.
"My idea for the Fritz Hansen store in Singapore was to bring a touch of cool Scandinavian air to tropical Singapore, providing a relaxing respite for customers coming in from outside," said Hayon of the design concept of the Lounge.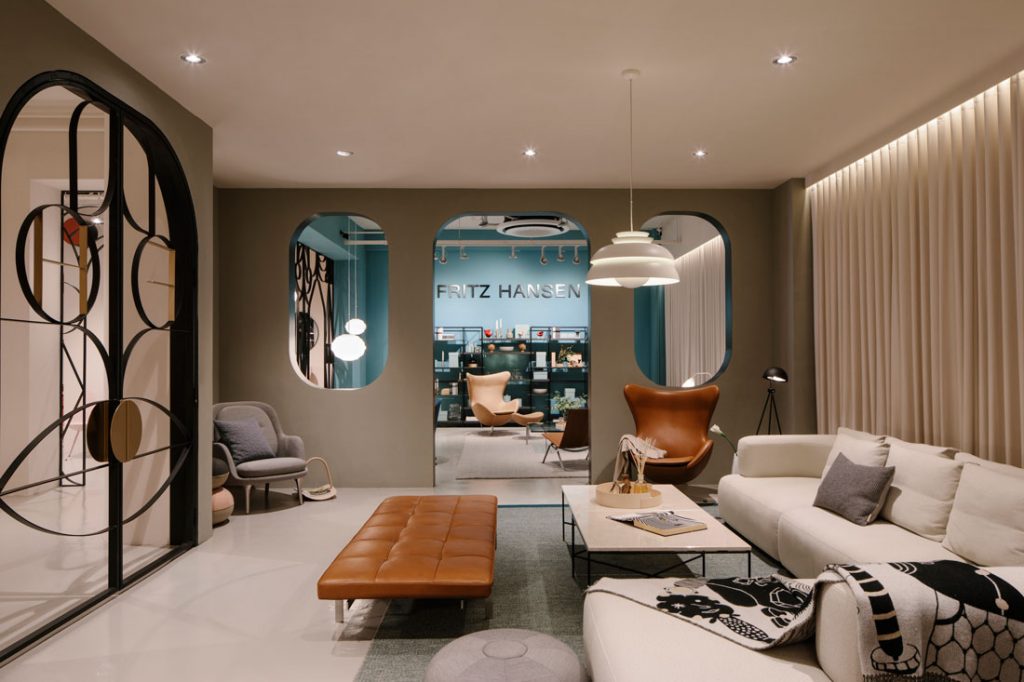 Past its duck-egg-blue entrance, the overall feel of the showroom is soft and welcoming, quite a contrast with Tan Boon Liat's decidedly industrial environ. The Lounge's interior is rendered open and breathable thanks to its many arches and rounded square wall openings.
In its rooms Fritz Hansen iconic pieces such as Arne Jacobssen's Egg, Swan and Drop chairs are showcased along with contemporary pieces by Hayon and Nendo and lighting pieces by Lightyears. Greenery and the presence of Aesop, one of the contemporary world's hallmarks of good taste, complete the ambience. It's another strong entry in Fritz Hansen's brand.
Said Gani Atmadiredja, Managing Director of retailer partner W.Atelier, "The opening of the Fritz Hansen Lounge marks Fritz Hansen's growing presence in the Asian market and makes space for even more cutting-edge products that derive from their illustrious list of leading international designers."
---