Foolscap Studio has transformed ANZ's executive quarters into a thriving hub of activity and interaction, in an exciting reimagining of mixed-use spaces. The design studio conquered the competition, involving some of Australia's top design firms, in the bid to win the project commission, thanks to its inspired vision involving a highly detailed and bespoke design approach – now brought to life in ANZ Open House.
Underpinned by a culture of hospitality, conviviality and connectivity, ANZ Open House sees a myriad of zones reimagined to offer visitors a warm welcome while catering to numerous needs at executive, staff and client levels. Heightening the beauty and celebration of these spaces, are a set of bespoke furniture commissions and environmentally conscious design insertions – each a point of pride and source of rich storytelling for the client.
Bringing improved functionality and dual purpose into the arrival area, Foolscap has reimagined a previously formal reception zone as a vibrant, multi-use space. Modelled along the lines of an airline lounge meets national gallery, it breaks down the corporate atmosphere to offer a hotel lobby-style experience.
At the centre of the arrivals area sit two sculptural workpoints – a serviceable set of sit-or-stand desks, consciously constructed from pieces of repurposed travertine. The travertine, salvaged during the project's demolition phase, is fused together with polished stainless steel and topped with fly ash.
.
Modelled along the lines of an airline lounge meets national gallery, it breaks down the corporate atmosphere to offer a hotel lobby-style experience.
.
Contributing to the dynamism of this zone is a gallery element, with artworks suspended from laminated glass panels featuring a layer of alternating brass or silver metal mesh. A concealed ceiling-mounted track system enables the panels to be smoothly reconfigured.
Adjacent to the reception sit the 'living rooms' – a variety of agile settings which draw on tenets of residential and hospitality design to provide lounge, cafe and meeting break-out settings. Furnishings and finishes are selected for both comfort and quality. Sheer drapery and banquette seating upholstered in rich finishes of leather and mohair velvet are evocative of a restaurant setting. Generous yet robust, the loose furniture pieces speak to a more contemporary workplace environment.
Anchoring the various zones is a custom 'Palladiana' inset floor, designed by Foolscap using pieces of repurposed travertine, saved from the demolished walls of the original fit-out and lovingly reused in a specially- named 'travazzo' finish.
Among the living rooms' many amenities is the lounge zone, which can be sealed off from its neighbouring café and standing zones using sliding metal-mesh glass doors: a dedicated break- out for ANZ board meetings. Servicing the living rooms' many working and meeting modes is a purpose-designed breakout bar, an oasis of refreshment featuring integrated tea stations, filtered water taps and a 'TopBrewer' espresso machine.
The open kitchen and catered meeting room puts the emphasis on sustenance, stories and connections. At its centre lies a custom Australian-designed and made banquette table. Six metres in length and large enough to sit 20, the JX8 Table by Hugh McCarthy conjures the warmth and refinement of high-end hospitality environments. Brass details, walnut veneer surfacing and sculptural curves complement an interior palette of native blackbutt joinery, richly- coloured carpet, brass accents, textured surfaces and natural stone.
Bringing enhanced functionality to the floorplate, the new studios needed to cater to ANZ's centralisation of staff and operations from their former Queen Street site to their Docklands precinct. This provided the opportunity to consolidate formerly off-site activities into one location. Here, a fully operable wall system allows the spaces to unfold from private, task-oriented training rooms into large conference or banquet mode. Services above the open mesh ceiling treatments have been sprayed out and uplit, with a new datum line carried through to maximise senses of height and lightness.
Embracing the boardroom with a distinctly 'Open House' spirit, Foolscap has transformed this space into a welcoming, light-filled space. At its centre sits a monolithic boardroom table, set beneath a new Barrisol disc. Infusing the space with natural warmth are elements of Blackbutt timber lining the ceiling fins, with fluted velvet upholstery encasing the base build columns.
The boardroom table is an original feature of the fit-out, retained and endowed with new purpose and functionality by Australian furniture crafters, Manapan. Manapan's first encounter with the table immediately inspired a storyline around the 'Macassan Well', the only source of fresh water on Milingimbi Island (situated off the coast of the Northern Territory).
Tamarind seeds, brought to the island by Macassan traders, were planted around the well's perimeter to strengthen its banks, conserve its water, and allow the locals to thrive. This narrative plays out through intricate carvings of tamarind seeds and lapping water. At the table's centre, arched lines link together those seated around the 24-seat table.
Photography by Willem-Dirk du Toit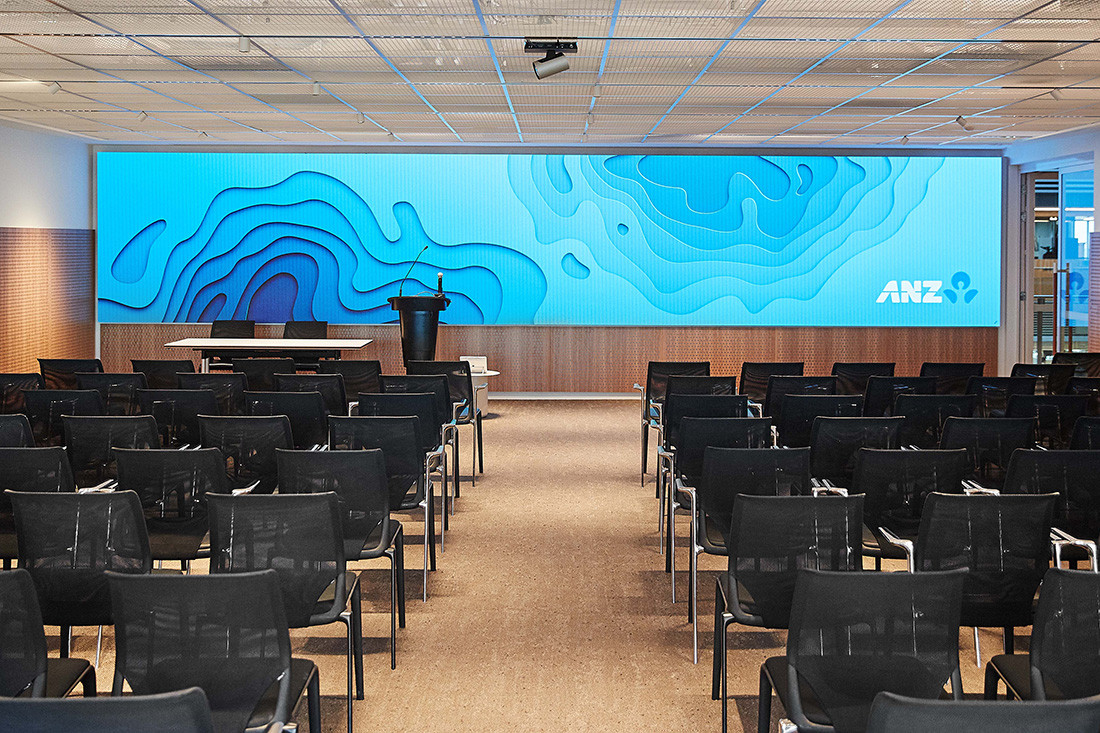 .
ANZ Open House
Location: Melbourne, Australia
Interior Designer: Foolscap Studio
Design Team: Adèle Winteridge (Director), Rob Harper (Project Lead), Sri Boriharnvanakhet, Jessica Humpston, Samuel McIntyre, Emily Minchin, Aaron Shipperlee.
Architectural lighting:
FPOV
Date of completion: Jan 2020
Time to complete: 13 months (design and build)
Blackbutt engineered timber flooring,
G. Fethers
Wool cut-pile carpet, 
Forbo Flooring
Carpet tiles,
Whitecliffe Imports
Textiles & leathers,
Kvadrat Maharam
Metal-mesh glazing,
AGC Products
Suspended mesh ceilings,
Armstrong Ceilings
Custom 'Travazzo' floor,
Covet International
Fly Ash,
Exile Global Technologies
Boardroom Table Insert,
Manapan Furniture
Catered Meeting Table, 
Hugh McCarthy
---