Designed as an homage to both space and hospitality, LU Style Restaurant boasts a spectacular interior that complements fine dining in Chaoyang District, Beijing, China.
Spread over a floorplate of 1,630 square metres, there is space to move, places tucked away and unusual features that create another world far from the hustle and bustle of busy city life.
To set the scene and establish an atmosphere of relaxation and peace within the restaurant, beyond the entrance to the building, is a secret garden that occupies a quiet outdoor terrace. Liu Daohua, Principal of LDH Design who designed the restaurant has also separated the interior from the exterior with a large glass curtain wall.
reDaohua has used simple building blocks and planes interlaced with curved and straight surfaces to create a distinctive aesthetic. High voids and expansive planes combine to re-define typical restaurant design. To create spatial perception, the designer has incorporated suspended ceilings in each area and this helps create a cathedral-like aesthetic within. The result is indeed a contemporary change of architecture for a hospitality venue.
One feature of note is the wall of liquor bottles that are stacked together within the restaurant. This reflects a love of wine and spirits but is also a functional part of the interior.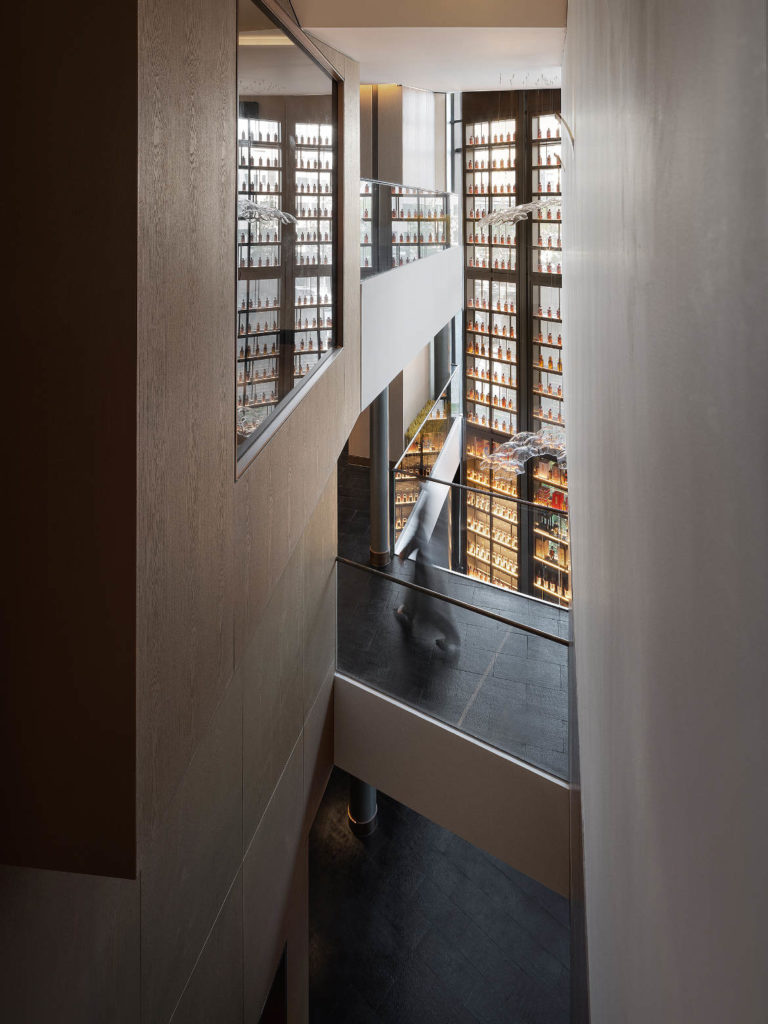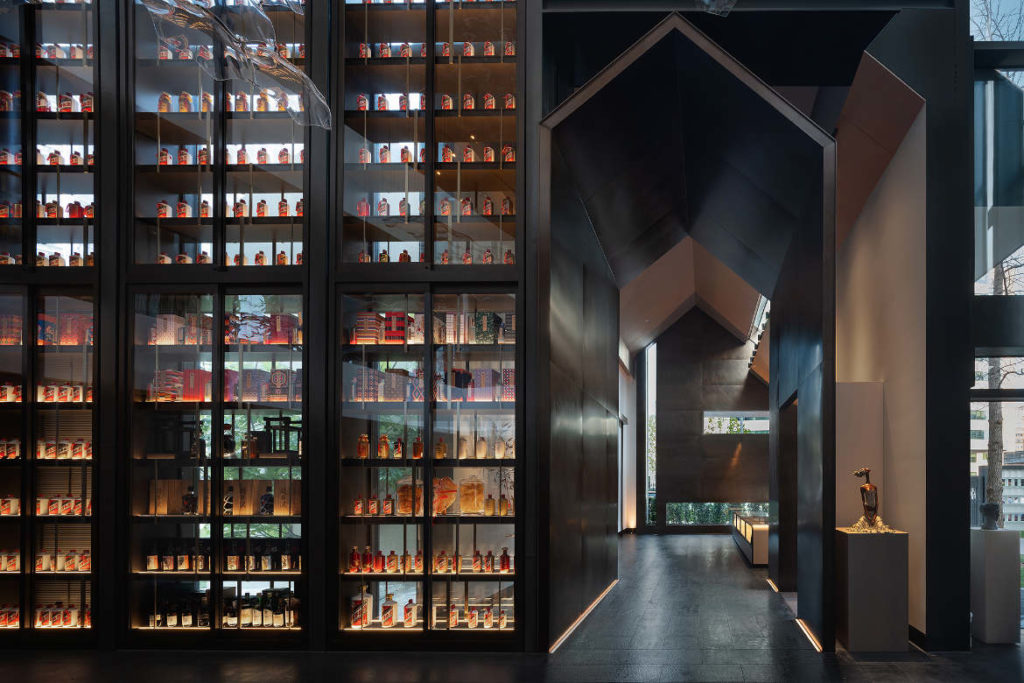 The ceiling dazzles with starry lighting that becomes a bright artistic installation and the small and delicate crystal chandeliers intersect with silk threads. Diners not only enjoy the delicious food and expert service on offer but really are in a new dimension when visiting LU Style Restaurant.
A range of different timbers have been employed as flooring, on bar facades and as cladding for walls, while stone adds gravitas in furniture pieces. The colour palette is minimal and conservative but oh so chic, with light and chocolate browns, greys and creams that define areas and also provide connectivity throughout the restaurant. LU Style Restaurant is a building within a building; and shape and space make this design a stand-out to visit.
LDH Design was conceived by Liu Daohua as a practice that integrates and promotes aesthetics between business, culture, design and space. For the practice, the experiential is first and foremost; and design concepts are always pared back and deconstructed to present fine design and function coupled with economics. The studio focuses on hospitality design and has been the recipient of multiple awards both in China and globally.
With LU Style Restaurant, Daohua has designed a place of architectural interest that pushes boundaries to reinvent the ubiquitous. This restaurant is a design par excellence that re-defines the idea of experiential dining through an interior that is both imaginative and beautifully resolved.
Photography by Lu Haha
.
LU Style Restaurant – Landmark series
Location: Chaoyang District, Beijing
Completion date: June 2020
Architect: Liu Daohua
Interior designers: Liu Daohua, Wang Kexin, Qu Tianyou, Wang Yanjuan, Yang Ping, Li Youzhe
Lighting Consultant: Zhu Haiyan
---