Bigger, taller, faster – when it comes to architecture and construction, China has proven time and again that it operates on a more colossal scale compared to the rest of the world. And often it does so in a significantly tighter timeframe. Architect Moshe Safdie, on the other hand, is renowned in the Asian region for creating colossal landmarks that paint distinct silhouettes on the city skyline.
Safdie Architects' latest completed project in China is still colossal in scale and distinct in silhouette, but it is also a delightful demonstration of the firm's continuous commitment to humanising scale.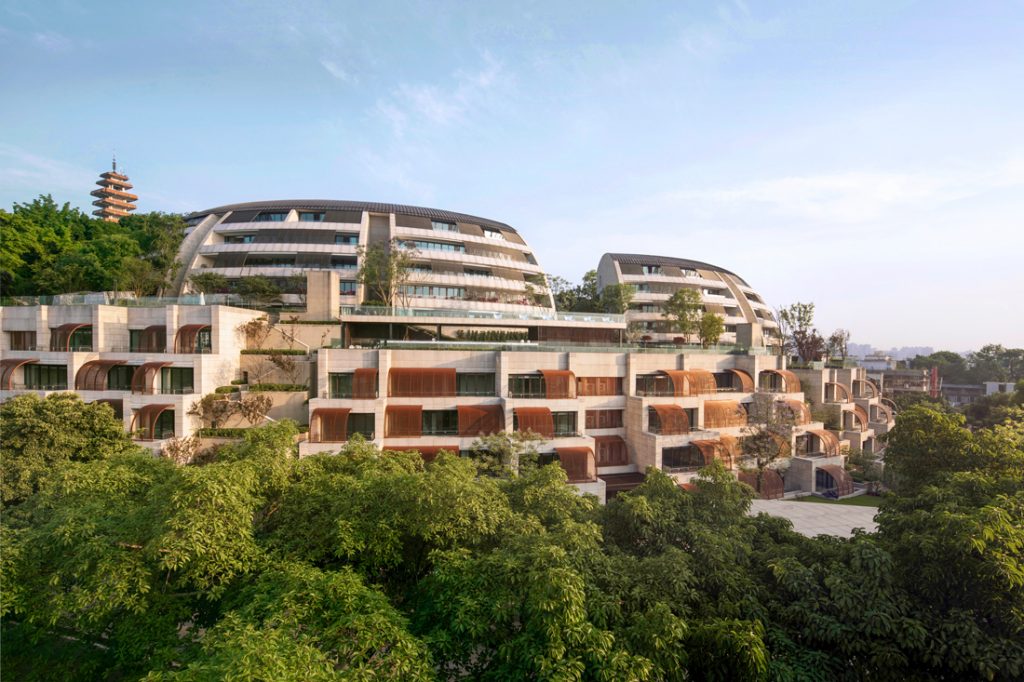 The Eling Residences project is a 460,000-square foot multi-residential development built on the highest plateau of Eling Hill, a picturesque elevated area in Chongqing. The location boasts a 360-degree view that includes the adjacent Eling Park, the Yangtze River and Chongqing municipality's central point the Yuzhong Peninsula.
The project has been developed in partnership with Singapore-based City Developments Limited (CDL) and Vanke, one of China's largest residential estate developers.
Eling Residences comprises 126 apartments stacked and organised on terraces to mimic the hill's topography. At the foot of the hill, six and seven storey buildings are embedded three-storey deep into the hill. Above them are the four-storey terraced apartments. And quite literally rounding off the topographical procession are two freestanding dome-shaped villas at the summit of the hill. Meanwhile, a four-story clubhouse, pools, and other recreational areas create a sense of community.
The units' staggered formation has provided all individual apartments with access to natural light, air, greenery, and an uninterrupted view of the surroundings. Curving architectural screens partially shade individual apartments, reinforcing the topographical design intent and extending living spaces outward into the landscape.
The landscape design intricately weaves terraces, gardens, trellises, overlooks, stairs and promenades throughout the site, which work in tandem to evoke the character of a lush hanging garden that feels like a natural extension of the adjacent Eling Park.
Local Design Institute: CCTEG Chongqing
Facade Consultant and Interior Design: Design Paradigms
Landscape Architect: FuturePolis and Change Landscape Studio
Lighting Design: BPI
Photography: ArchExist
---