For the flagship of Dr Kevin Chua Medical & Aesthetic Clinic located along Orchard Road, UPSTAIRS_ was tasked to create a comfortable and contemporary environment be it for medical or pampering treatments. "The typical clinic experience tends to be, for the lack of a better word, 'clinical'," reveals Dennis Cheok, Creative Director of UPSTAIRS_. Elaborating that this is partly due to stringent material guidelines for medical facilities.
Looking at customer flow as a point of inspiration, the new clinic focused on implementing the medically-approved materials in a visually impactful way—restrained or in full colour where necessary while considering the customer's state of mind at different stages.
Upon approaching the 1450-square-feet clinic, the space breaks into two spatial sections: the 'medispa' to the left and the aesthetic clinic to the right, catering to the different client groups. Both sections are segmented by a curved wall—a teaser to the multi-layered space within.
At the entrance of the aesthetic clinic, the concierge sits behind a curved counter clad in reflective brass. After registering, the customer is guided through an undulating walkway inspired by the interaction of light and movement—elements drawn from the clinic's cutting-edge technology. "On a micro level, we begin to understand each of the procedures as a kinetic dialogue between light and the human physique, which in turn sheds and renews itself in layers," says Cheok.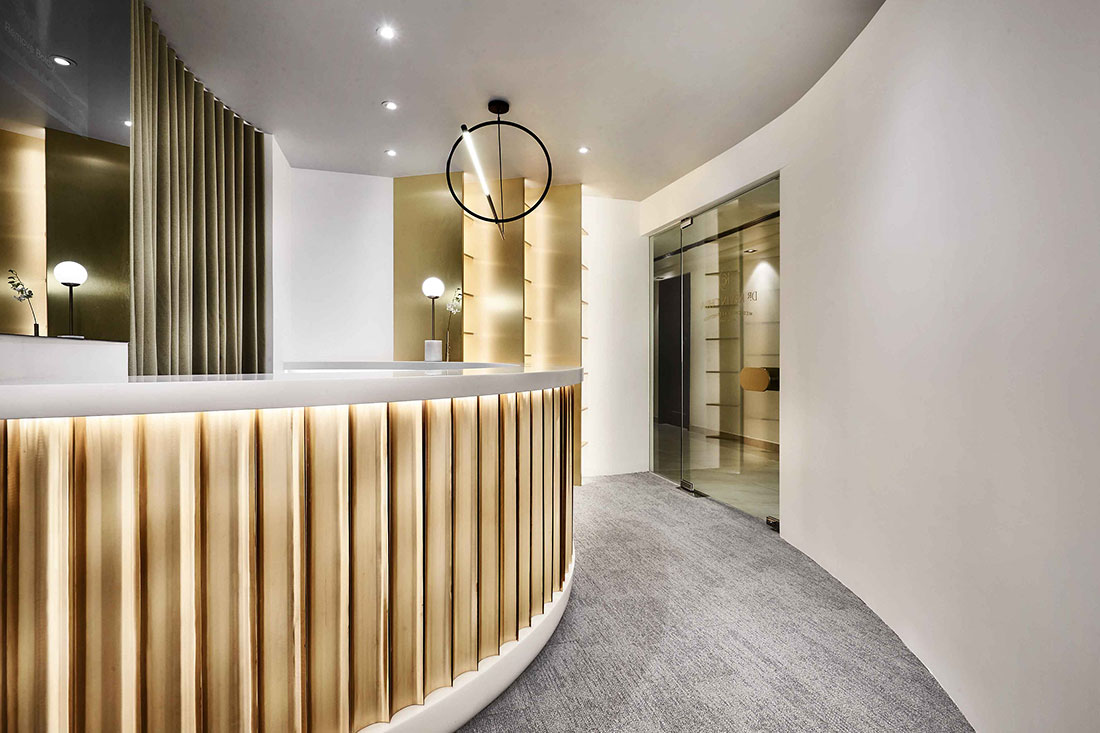 The 12-metre walkway exudes a clean palette: white with hints of brass. The entire journey conjures a sense of sleek fluidity, seemingly assuring visitors that they are in good hands. The lack of superfluous details reflects the non-surgical, minimally-invasive treatments the clinic is known for.
The treatment rooms are each marked by thin bands of light with botanical names, such as Sage or Dahlia, giving clue to the room's soothing shade displayed in full glory. Immersing in the room, one breaks away from the monochromatic exteriors for a more intimate experience with their therapist. Each room is complete with a brass-trimmed rounded wash counter, sculptural stools, geometric lighting and joinery for stowing treatment tools and products.
At the end of the undulating passageway, a lounge backdropped by views of greenery awaits. Designed to invite pause, fabric seating pods have been tailored to create moments of privacy, drawing the mind away from the city rush. Exiting the space, the same passageway back reveals itself in reverse, dialling down with diffused lighting to steady the customer as they step back out into the hustle and bustle of life.
Photography courtesy UPSTAIRS_
---