Celesta Heights, a stunning residential project situated in the heart of Ho Chi Minh City's Nha Be district, is surrounded by low-rise developments, offering unblocked views of lush greenery and tranquil waterbodies. Designed by Aedas Excecutive Director, Steven Thor, the project harmoniously blends tropical aesthetics with modern living.
Architectural elegance
Shady loggias, shading fins, and deep overhangs provide shade and shelter, while wall-to-wall windows and generous balconies flood the interiors with natural light and fresh air. The result is a seamless indoor-outdoor relationship that's both inviting and comfortable.
Tower design
The project features four 20-storey residential towers, including penthouses, single units, and duplex residences. Each tower is meticulously designed to offer a 180-degree view of the city, ensuring privacy for all residents and creating a garden-like atmosphere at residential entrances.
Distinctive identity
The towers are crowned with tall, brilliantly lit facades, featuring extended facade fins and bold frames. This unique architectural feature, combined with greenery integrated into both sky-rise and ground-level spaces, gives Celesta Heights a distinct identity that exudes luxury and a strong connection to nature.
Sky bridge and amenities
One of the standout features of Celesta Heights is the 80-metre-long sky bridge located at the podium-roof linear deck. This bridge not only connects various towers but also functions as an amenity level and an artistic canvas for seasonal lighting projections, art installations, and cultural celebrations. It adds vibrancy and colour to the public space. The ground level is a lively hub, featuring a plaza, a swimming pool, jogging paths, gardens, and sports facilities. These spaces help build a community of like-minded owners and instill the architecture with a distinctive Vietnamese identity.
Community spaces
Celesta Heights is not just a residential complex; it's a vibrant community. The development incorporates communal and commercial spaces, creating an inviting atmosphere with shophouses that seamlessly blend into the streetscape. Floating and terraced clubhouses, hovering four stories above road level, symbolise an elevated, leisurely lifestyle that reflect the aspirations of the residents.
Images courtesy of Aedas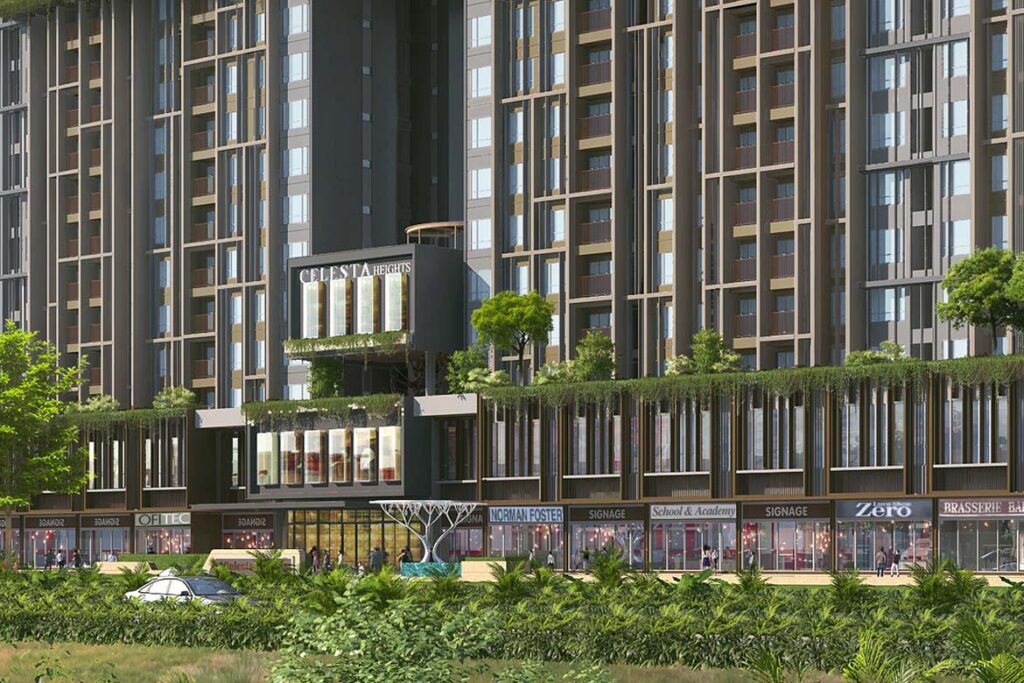 .
Celesta Heights
Client: Keppel Land and Phu Long 
Location: Ho Chi Minh City, Vietnam
Design and Project Architect: Aedas
Design Director: Steven Thor, Executive Director 
Total Floor Area: 90,141 sqm
Date of Completion: 2023
---