A lot can happen in four years. For Bates Smart's Australian Unity project, which was four years in the making, was all about instilling change and executing a new workplace that responds to the evolving needs of a large corporation. As one of Australia's oldest insurance companies, taking time to build its new office the right way, and not rushing the process, came all too naturally. But given the project's scale, the design required thoughtful consideration for how the business may continue to adapt.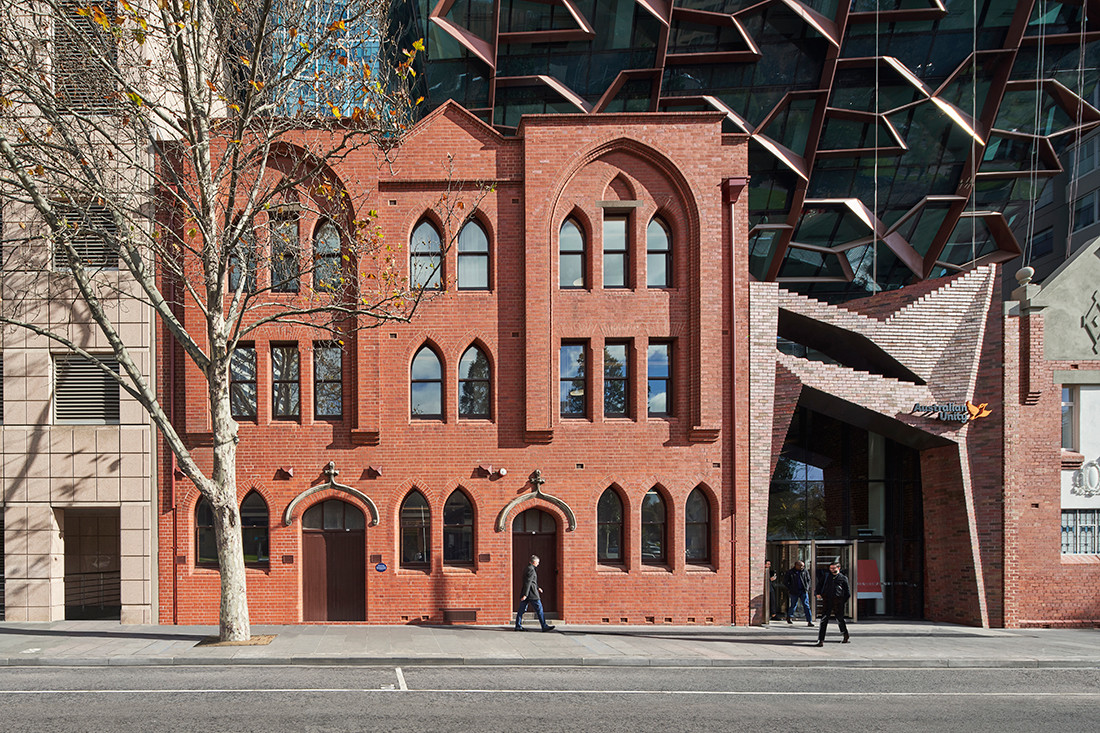 The base build was designed by John Wardle Architects and features a single tower that swallows two existing heritage buildings – The Elms Family Hotel and The Church of England Mission Hall, which happened to be designed by Bates Smart (then Bates, Peebles and Smart) in 1894. The new headquarters is home to 1000 staff members comprising 12,500-square-metres of workspace, a job the Bates Smart team tackled by bringing timeless aesthetics together with a rigorous approach.
Aesthetically, a classic interior palette of timbers, tan leathers and soft greys complement the Australia Unity identity. "Part of our process was getting an understanding of Australian Unity and what they do, which always came back to wellbeing. So we looked at ways to bring concepts of wellness into the interior, in particular, the use of natural light and a softer colour palette," shares Bates Smart associate director and project lead Grant Filipoff.
Given the volume of workable floor space, the Bates Smart team had to strategically divide it up. The lower levels house semi-private client spaces, meeting and training rooms, a theatre, a café and a conference space that can house 150 guests. Sandwiched in the middle are levels six to 14, making up the core layers of varying work zones. And level 15 offers more private spaces for HR, finance and the executive suite.
The overarching vertical levels are complemented by a more intimate verticality, which Bates Smart coined "villages", alongside horizontal zoning, called "neighbourhoods".
The villages breakdown nine levels of work floors into three sets of three, encouraging a more cohesive team environment. Each set of three floors are interconnected by a central stair and void, with the middle layer hosting a larger social and kitchen space, to further entice interaction among the villages. Then, within each village are a series of neighbourhoods, these human-scaled areas are sized for 25 people and consist of collaborative, touchdown and breakout areas.
Finding the equilibrium of neighbourhood size came through extensive research and study: "Australian Unity wanted connectivity and interaction. To achieve this we did a number of studies and worked out details like where to position the core and how many workstations and meeting rooms per group," says Filipoff. The design thinking that went into the voids and interconnected floors was to bust silos and allow for fluid collaboration, an oft-cited reason for open-plan spaces, but one that has been successfully expressed through the village and neighbourhood methodology.
As with any large scale project, spatial planning was paramount. The Bates Smart team worked outwards from the core, which is positioned on the edge of Elms building.
The spatial flow follows the natural rhythm of how a typical day unfolds: "you come in, you get your locker, you get your cup of coffee and then you go to your desk".
Filipoff explains that this radiating progression of activity also "goes from noisy to quiet as the end-user reaches the periphery of the floor plate". Workstations and open-plan arrangements take advantage of the building's glass facade and northern views on the edge of the city. While, offices and small meeting areas are pushed back and centralised with the noisier activities and breakout zones, thus creating a sense of egalitarianism.
The change management piece on this project required a robust strategy to ensure staff buy-in. Given the "long runway" it was handled in various ways from both the design team and the client. Australian Unity worked with a slew of change managers over the life of the project, each brought in for different elements.
Alongside that, Filipoff shares that the client also instigated a "strong champion program, bringing the early adopters of the business along for the journey". This involved having employees embed the process of packing up each day and get used to using a locker – a core feature of any agile workplace. While for Bates Smart, it was all about getting people used to the idea of the more human-scaled villages. "It's quite a different space from where they've come from," adds Filipoff.
Australian Unity's new headquarters is fluid and adaptable, yet timeless in its appeal – a dichotomy that perfectly encapsulates a company that has stood the test time while constantly evolving.
Photography by Peter Clarke.
---