Temperature is the resultant equilibrium of thermal energies interacting. Similarly, the capsule hotel °C (Do-C) Ebisu (hereafter °C) can be read as the harmonised outcome of the interplay between two different creative energies.
°C is a new spin-off brand from the successful 'ninehours' (hereafter 9h) capsule hotel chain renowned for its uber-minimalist interpretation of capsule hotels. It also represents several significant departures from 9h: the brand renovates existing capsule hotels (a sound business decision given the prohibitive construction costs in Japan today), with saunas as featured amenities.
The raw aesthetic of Schemata Architects' work emerges from its underlying creative principle of subtraction, traceable to early projects such as HAPPA (2007) and Sayama Flat (2008). This approach of removing non-essential elements to derive an unadulterated context can be observed in °C. The designers first decanted the contents of the original capsule hotel to separate out its core element – the capsule – and then used it to inform the design premise to a significant extent.
For example, the palette of the scheme had to revolve around the retro beige colour of the capsules. This led to the richness and warmth of the overall materiality, which augments the image of °C. The coordinated material treatment also extends from interior to exterior, where a steel escape staircase was stripped and refinished in a reddish-brown corrosion-resistant paint. The rest of the facade was painted in the same shade, which became the building's signature colour.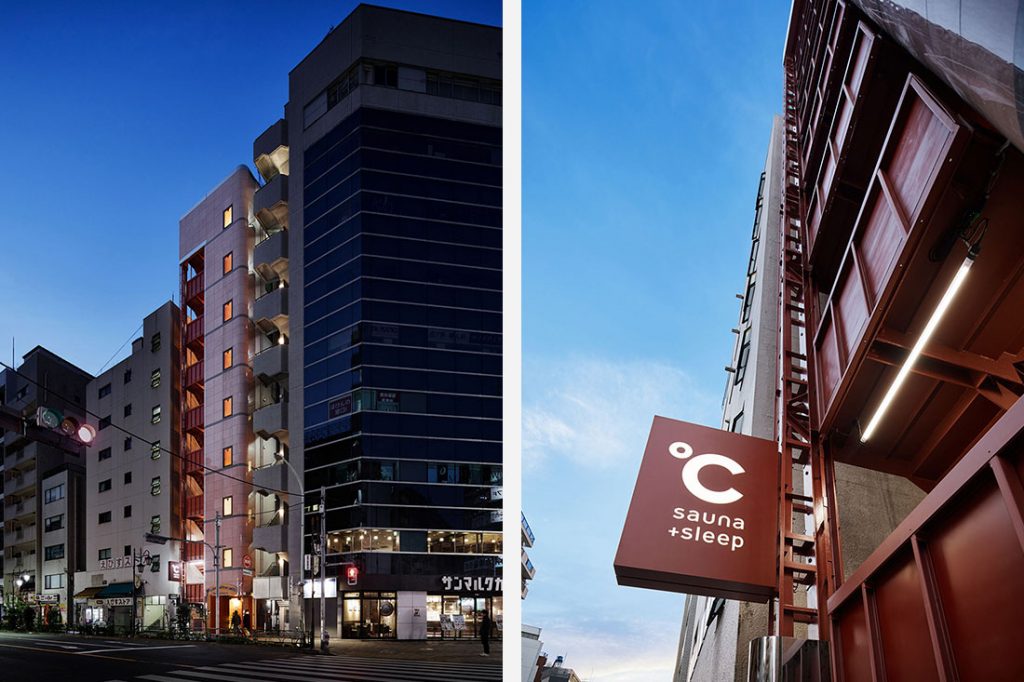 The iconic look of the capsules also provided a connection to the origins of capsule hotels for a brand that is evolving the typology. In fact, saunas were intentionally added by the architects to evoke the stereotypical relationship between saunas and capsule hotels in Japan, as well as complement the branding of °C.
Saunas were imported from Finnish culture as a means for public bathhouses to remain relevant as bathtubs became increasingly commonplace in Japanese homes in the boom years after the war. In line with this historical narrative and the notion of subtraction, the architects not only sought to create a more authentic sauna experience but also a more intimate one. Waterproofing FRP panels separating shower cubicles allow one to see and be seen as a silhouette on the other side of a translucent screen.
Although Schemata Architects' works can be consumed aesthetically for their powerful material composition, it is a much more rewarding experience to take time to uncover the layers that the architects have embedded within their designs, allow a taste of the true depth of their work.
Schemata Architects (headed by Jo Nagasaka) collaborated with Hiromura Design Office and Design Studio S on the project.
Photography by Nacasa & Partners Inc.
---