In September 2022 together with Carlo Ratti Associati that collaborated on its architecture, public space design and digital user experience, Danish architecture firm Bjark Ingels Group (BIG) completed a dynamic and progressive structure in Singapore. CapitaSpring is a 280-metre-tall skyscraper in the heart of the Central Business District, animating the skyline with a futuristic façade of vertical aluminium fins that peels apart at sections to reveal garden oases. 
Designed for CapitaLand Development (CLD), CapitaLand Integrated Commercial Trust and Mitsubishi Estate Co., Ltd., the 93,000-square-metre, mixed-used tower houses premium Grade A office spaces, the Citadines Raffles Place Singapore serviced apartments, a hawker centre, restaurants and public spaces in the sky.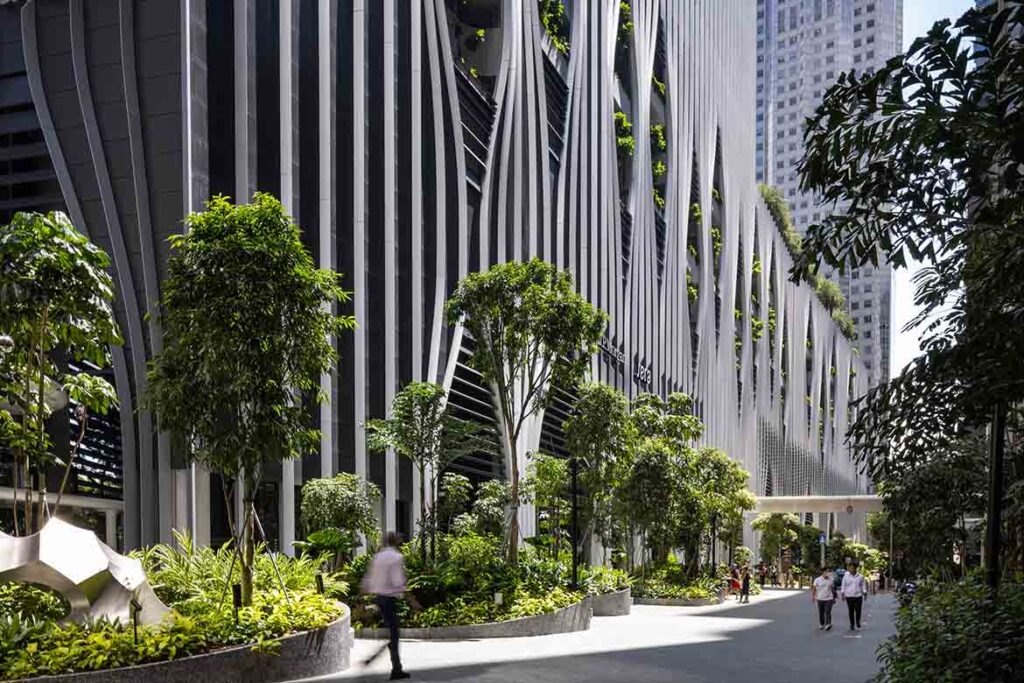 Its biophilic architecture "embodies CapitaLand's vision to build a greener and sustainable future, as laid out in Singapore's 2030 Sustainability Master Plan," says Tan Yew Chin, CEO of CLD (Singapore). CapitaSpring has a Green Plot Ratio of more than 1:1.4 with over 80,000 plants. This translates to a total landscaped area of more than 8,300 square metres – equivalent to 140 per cent of its site area.
"Our design seeks to continue Singapore's pioneering vertical urbanism with the 280-metre-tall diverse neighbourhood of places to work, live and play inside as well as outside," says BIG's founding partner Bjark Ingels. "Due to the unique character of Singapore's urbanism – both extremely dense and green – we decided to make the design a vertical exploration of tropical urbanism."
He adds, "At grade, the street is closed to form a new linear park and public plaza. A vertical park in the middle of the tower forms a spiralling promenade ascending among tropical tree trunks and canopies. On top, an urban forest feeds all the restaurants and cafes in the building, and allows visitors to enjoy the lushness of the summit. CapitaSpring is like a vision of a future in which city and countryside, culture and nature can coexist, and urban landscapes can expand unrestricted into the vertical dimension."
This gesture restores and gives even more back of the public realm to the plot that used to house a public carpark and the historically significant Market Street Hawker Centre. Meandering garden paths create natural entryways into what is termed the City Room – an 18-metre-high soaring space at the tower's base that shelters from the harsh tropical sunlight and perennial rainfall while providing a welcoming ambience for the building's workplace and residential tenants, as well as shoppers and diners at the food centre spread across the second and third storeys. The lush landscaping is also a visual and green respite in the high-density district for neighbouring tenants and passers-by.
Between the Citadines Raffles Place Singapore on the first eight floors and 29 levels of office space are four connected levels of softscape dubbed the 'Green Oasis'. The 35-metre, open-air garden allows for work, casual strolls, exercise and events to take place. The vertical softscape here mimics the plant hierarchy of the tropical rainforests, and the layers of vegetation correspond to the necessary light availability. 
At the rooftop garden, the 1-Arden Food Forest houses over 150 species of fruits, vegetables, herbs and flowers, grown across five thematic plots to supply the building's restaurant with fresh greens. In line with the Singapore Green Plan 2030 that supports a sustainable transport vision, there are 165 bicycle lots, fully equipped end-of-trip facilities and a 600-metre cycling path around the building's perimeter that to the Central Area cycling network. These and the host of sustainable features garnered CapitaSpring the Green Mark Platinum & Universal Design Gold (PLUS) certifications given by the Building and Construction Authority of Singapore.  
Photography by Finbarr Fallon
---