Over the years, the convenience of online shopping has led retailers to rethink the purpose of the brick-and-mortar store. More than just a place to purchase products, the physical store is an opportunity for brands to showcase everything it has to offer and what it stands for. When done compellingly, retail experiences can leave a lasting impression and complement the online marketplace.
Leather goods brand Braun Buffel takes a leap with Urban Bloom, its new flagship store located in IOI City Mall at Putrajaya, Malaysia. Designed by the Shanghai- and Kuala Lumpur-based Spacemen Studio, this is the first of a series of conceptual stores from the label. "The brand has been a mainstay in the Malaysian market for many years. [It is] especially well-known for men's small leather goods, therefore they came to me with the proposition to create a completely fresh concept that would appeal to a broader consumer target market," says Edward Tan, Founder and Director of Spaceman Studio.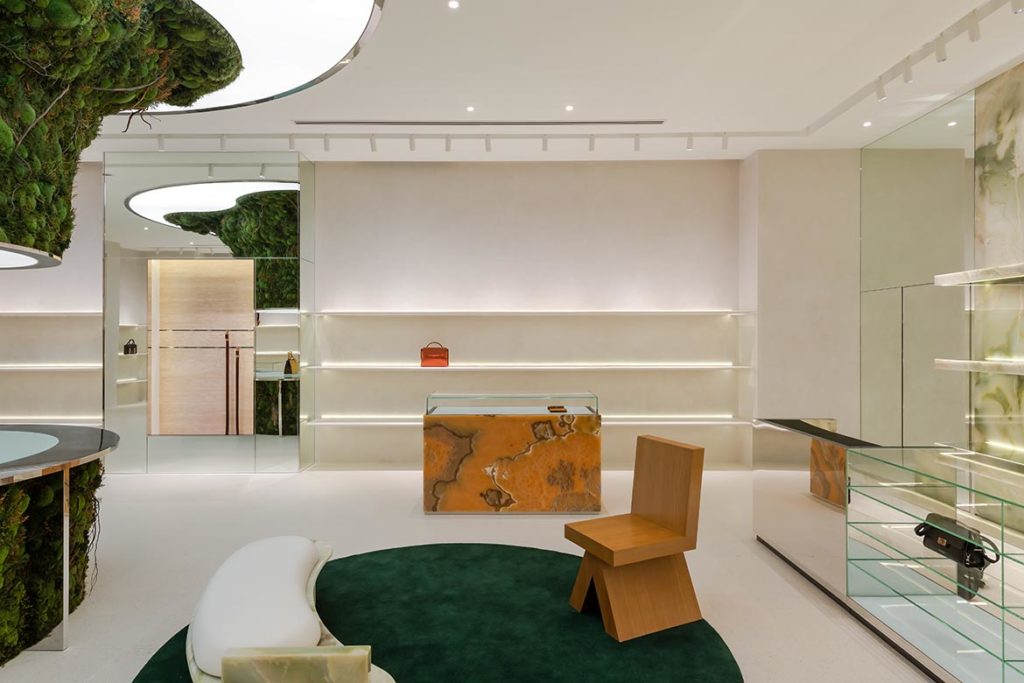 Aligning with the brand's new positioning to appeal to a younger market, the flagship store takes on a bold and experimental approach with a biophilic centrepiece that is more of an art installation than retail display. It aims to entice people into the store while creating a unique shopping experience within a modest 180-square-metre footprint, which is often the case for standard Braun Buffel stores.
Sprouting from floor to ceiling, and seemingly growing towards a sun or light source, the living tree installation was made to resemble an experiment straight out of a sci-fi laboratory. "We integrated a membrane lighting ceiling above it, just like how [a living tree] would outgrow a mad scientist's lab towards natural light," Tan shares.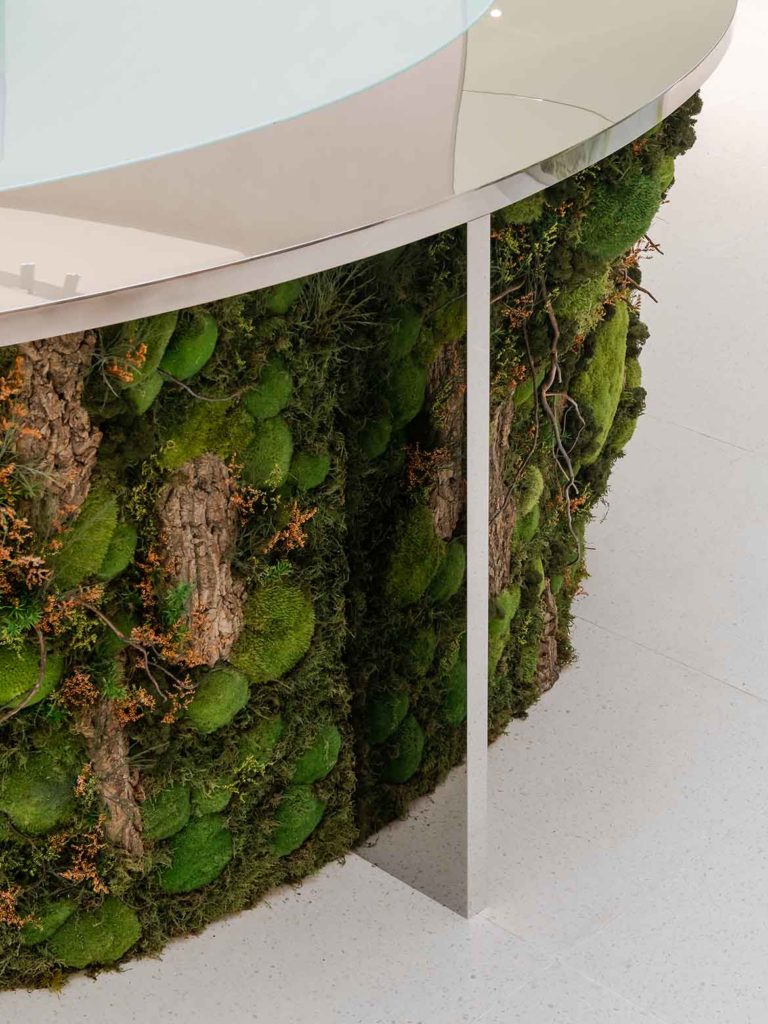 According to Tan, a significant amount of time was dedicated to research and development when developing the organic sculpture. "Our main objective was to recreate an abstract tree without having to use synthetic materials to replicate nature as it would just come off looking cheap or fake," he says. The team opted for preserved moss as an abstract representation of tree bark and leaves, working closely with moss artist Ohsum Mossum. Tan was also mindful that while the size and scale of the centrepiece had to be significant, it should not intimidate the customer but invite them to approach the products on display.
Contrasting the experimental laboratory is a gallery-style product showcase that sits within the same space. A base palette of pale plaster walls was employed as a canvas throughout the space while playing with the dramatic textures of precious stones. 
The duo jade marble-clad counters at the front of the store, green onyx feature wall at the back and resting curved bench for waiting customers each complement the moss installation while lending a sense of luxe that adhere to the premium quality of the products. Orange stone counters accent various leather goods, introduced as a tribute to the sun as a vital source of energy for the natural world.  
"Despite the contrasting materials and elements, we were able to weave them into a very balanced yet quirky interior architecture," says Tan. The team is said to have completed another Braun Buffel store with a fresh narrative that keeps the shopping experience at various stores relevant and exciting. 
"With clients like Braun Buffel leading the way, the retail landscape in Malaysia is evolving for the better as I am sure other brands will follow suit and step up their game to come up with something newer and even crazier very soon," he says.
Photography by David Yeow
.
Urban Bloom
Client: Braun Buffel
Location: Putrajaya, Malaysia
Designer: Spacemen Studio
Lead Designer: Edward Tan
Project Team: Edward Chan, Raymond Tang, Phyllis Zhang, Kuma Ni, Alvin Zhou
Completed: September 2022
Gross Built Area: 180 sqm
---