Hotel lobbies belong to a typology of interior architecture straddling transience and dependability, rooted in specificity and yet variegated in function. People incessantly moving, people waiting – curious, excited, bleary-eyed – there is nothing and yet also a lot going on.
Imagine this scenario in the soaring lobby of the 2,561-room Marina Bay Sands hotel, and you get the idea of the complexities that Robert Cheng of Brewin Design Office faced when tasked to design contemporary Chinese restaurant Blossom, which sits in this arena. His aims were to design a space that would reflect the cuisine offered while providing an intimate and comfortable dining experience within the bustling and imposing void.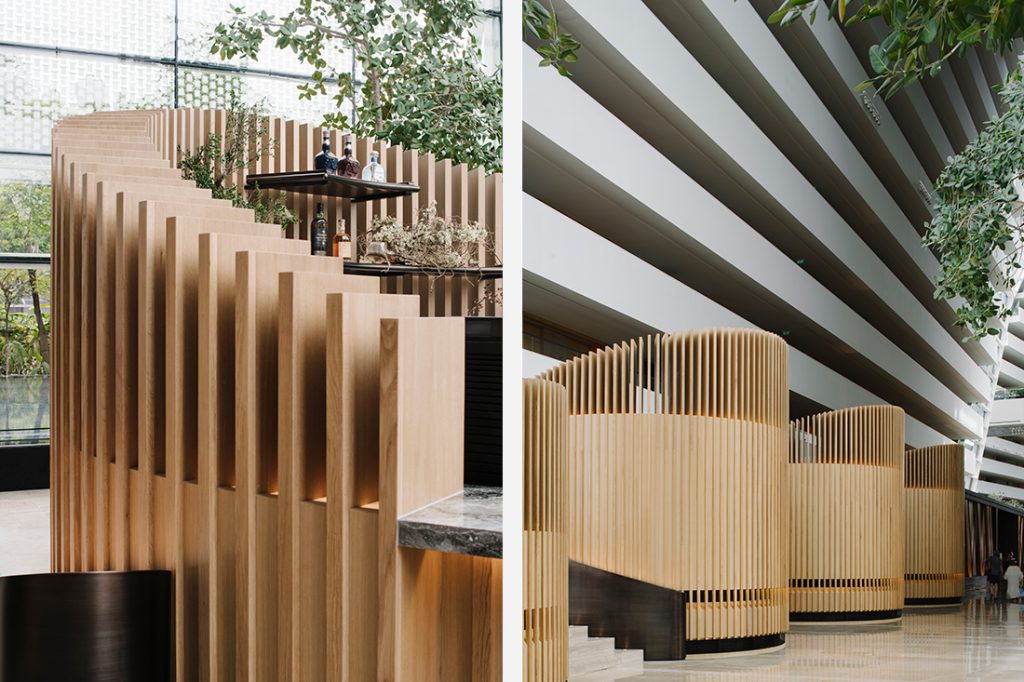 Cheng drew inspiration from the context, taking a more three-dimensional approach rather than simply mixing colours and patterns. The result is noticeably sculptural and modern, with nuances of the Eastern but no trace of pastiche or predictability.
The key datum is a line of seven modular pods fronting the restaurant that provides an interesting visual and tactile encounter for patrons and passers-by alike, and can be appreciated even from the tiers of corridors above. Three taller pods are capped by a radial timber canopy, three are roofless with shorter fins, and a mid-height pod houses the bar counter. A consistent language of white oak fins emitting ambient light binds them aesthetically, creating a tableau of life-sized lanterns.
.
"I felt it was important to create an architectural feature; to think about the design from a larger scheme of things that would mitigate the fact that this restaurant's 'ceiling' is literally 20 storeys up."
Robert Cheng
.
As a direct response to the architecture, the Blossom pods are integrated into an undulating platform inserted by architect Moshe Safdie when he designed the building. An architectural topography is created with the height play, which is further accentuated by the pods' slanting profiles. The dining pods' interiors are wrapped in contemporary black Maharam technical fabric with subtle gold dots. It is easy to maintain and adds texture without being excessively decorative.
In the taller pods, some of the fins extend inwards to form an internal timber grid, culminating in a canopy that, together with the bespoke chandelier and the abundance of natural illumination from the building's glass facades, casts shadow theatrics into the room. Material play continues within the shorter pods, whose structure stops short at half circle and is completed on the floor with a travertine semi-circle outline.
The rest of Blossom restaurant takes its cue from the design of the pods. A more "stylistic and playful" pod in a figure-eight shape contains the reception desk and accounts room – its upward-rising spiral projecting a sense of movement and skin of high-gloss figured sycamore veneer and dark-brown lacquer lending a touch of polish. Internal structures in four private dining rooms lining the restaurant's rear are highlighted, as in the pods. Within them, feature panels of tinted mirror and powder-coated metal grilles offer subtle adornment.
Light fixtures mimicking street lamps inspired by Shanghai streets pepper the restaurant, adjusting patrons' sense of scale within the huge atrium. And as with his other projects, furniture is custom-designed. Solid timber chairs with curved backs influenced by Ming-style furniture and dining tables with clover-shaped bases that extend to the tables' surfaces as elegant graphics reflect the timelessness, sophistication and attention to detail that Cheng has woven throughout the restaurant.
Photography by Marc Tan (Studio Periphery).
---